Why Is St John Using Virtual Reality in First Aid Training?
17 Jun 2019
Over 6400 people suffered a cardiac arrest in 2018 in Victoria alone, but only 40% received CPR from a bystander – a figure St John is hoping to improve to 90% over the next 5 years.
Cardiac arrest can happen anywhere, anytime and to people of all ages, backgrounds and health status. In most cases, the first person to respond to a cardiac arrest emergency may be a citizen/bystander. Bystander Cardiopulmonary Resuscitation (CPR) is a crucial component in what is known as the 'chain of survival', and research has shown that a person suffering from a cardiac arrest who receive bystander CPR is more than two times likely to survive.

CPR from a bystander in a sudden cardiac arrest is critical; but unfortunately, even some trained bystanders may lack the confidence to provide lifesaving CPR in the real world
Training Organisations around the world are looking into ways to tackle the issues around bystander response and many are exploring simulation technology such as Virtual Reality (VR) which presents a powerful tool for CPR training.
With a study done by the American Heart Association on CPR using VR, bystander response was significantly increased with the addition of VR training. The study showed that incorporating VR with existing CPR training improved the response of the bystander in the Chain of Survival variables (call 911, perform CPR, use AED).
By
incorporating VR in CPR training
, St John Ambulance Victoria aims to enhance existing training by immersing the bystander in a realistic cardiac arrest scenario, therefore reducing the barrier to performing life-saving CPR when presented with a real-world emergency.
ABOUT SJx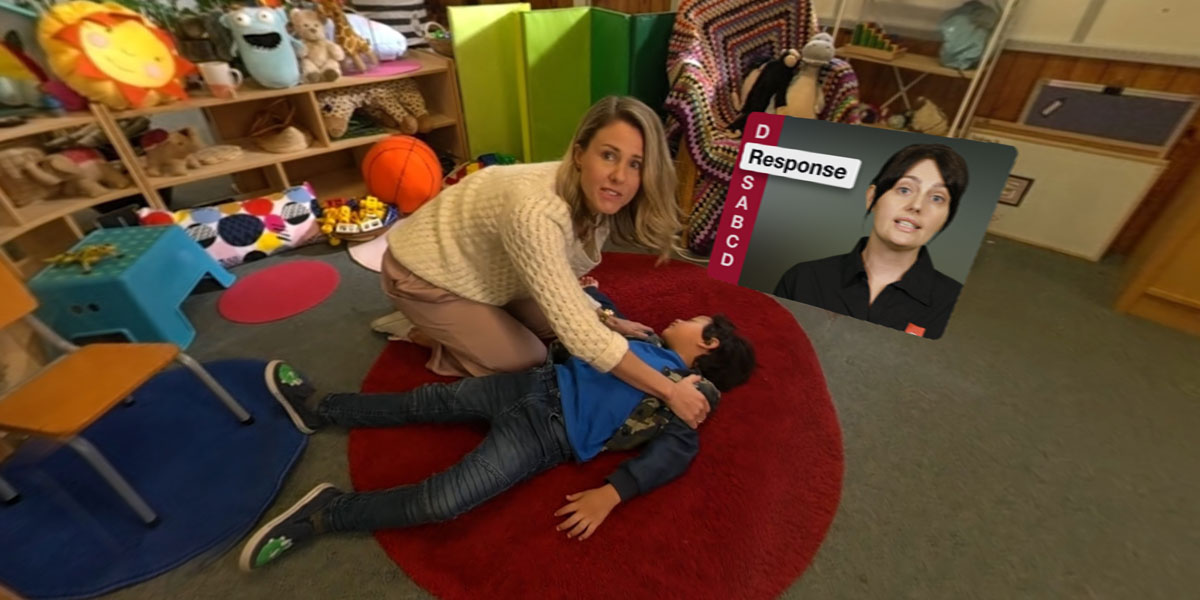 Known as SJx, St John's interactive VR training guides the student through different training simulations (such as a carpark and a childcare centre), where they are presented with a real-life simulation of a medical emergency and guided through various stages of the DRSABCD action plan.
SJx allows the student to respond to hazards and questions while immersed in the experience, with research showing that students who are trained through virtual reality answer questions correctly 82% of the time, which is eight per cent higher than the average respondent.
The VR CPR course also significantly reduces training time by as much as 75%, allowing St John Ambulance Victoria to deliver their premium training experience in a more efficient and economical way. The VR CPR course can be delivered via two methods: a one-hour delivery for four students using virtual reality or a two-hour delivery for a group of 20 students using immersive learning. This will cut up to two hours from the traditional time it takes to deliver and undertake CPR training.
Watch the video below to hear what people had to say about SJx at the recent launch at Southern Cross station:
SJx training is offered at St John Ambulance Victoria's Melbourne city venue located at Level 6, 310 King Street, Melbourne or delivered to groups by St John Ambulance Victoria trainers at workplaces around Victoria.
For more information on booking a SJx First Aid training course, click here.
PROVIDE FIRST AID
Learn how to manage a range of common first aid scenarios.
HLTAID001 PROVIDE CARDIOPULMONARY RESUSCITATION (CPR)
Gain the knowledge and confidence to perform CPR on adults, children and infants.
EDUCATION AND CARE FIRST AID WITH ASTHMA AND ANAPHYLAXIS
Designed to meet the needs of people working in the childcare and early childhood industry.