This free Program teaches primary school students on the importance of First Aid and what to do in an event of an emergency.
PROGRAM BOOKINGS
Term 1 2024 bookings now open
2024 sessions will be delivered face to face at your school. All bookings are subject to staffing availability.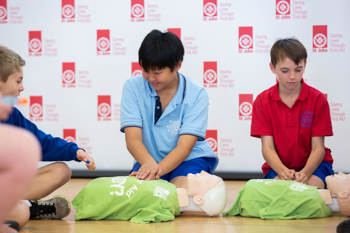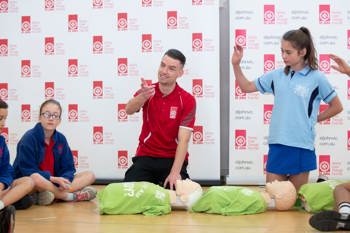 About the Schools Program
So far, we have taught more than 1.2 million children since the program started in 2013.
The knowledge and skills gained in our First Aid in Schools Program will develop First Aid awareness in school children and contribute to building a more resilient community. This learning is age-appropriate and integrates with the Victoria Curriculum F-10. 
Bringing to life the importance of First Aid and what to do in an emergency, including calling 000 and performing CPR, is our passion. The interactive games, Storytime and Action Plan scenarios make the program more enjoyable than ever before, with an average teacher rating of 9.53 out of 10.
We are very excited to be able to visit you for face to face training once again, but remember you must book in a minimum of 90 students on any given day. (Rural schools please contact the Community Co-ordinator)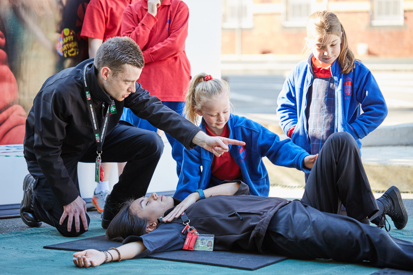 The Kindergarten program is closed until further notice. If you are a Kindergarten or Early Learning Centre interested in the program, complete an Expression of Interest (EOI) here to go on the waitlist.
CLICK ON THE RELEVANT YEAR LEVEL TO READ MORE ABOUT HOW WE DELIVER MODULES TO SUIT THEIR NEEDS:
Storytime
30 MINS
Through a storybook, the children will see how Johnny Bear identifies an emergency, puts the Danger, Response and Send for help strategy into action and helps call 000 in an informative session. Students will learn the first aid chant that will help them remember what to do in an emergency. Includes a fun quiz on first aid to get students up and involved.
45 MINS
Students learn how to spot DANGER in an emergency, RESPOND accordingly and SEND for help. They will be guided on what number to call and act out a scenario to get them comfortable calling 000 in real life. Students will play a fun and interactive game as teams compete in the first aid quiz. By the end of the program, students will leave with essential skills and knowledge which they can call upon in an emergency situation.
45 MINS
Following on from the Prep – Grade 2 modules, students will revise 'DRS' which involves assessing for dangers, obtaining a response and calling Triple Zero. The main focus of this module will be demonstrating how to check airway and breathing and how to place a patient into the recovery position. Students will then apply the knowledge they have learnt through an interactive game based on the DRSAB action plan.
45 MINS
Reiterates the learning of standard modules 1 & 2, however incorporates a practical CPR component, guiding students through how to perform CPR and when it is required in a First Aid situation. Students will also participate in group problem-solving scenarios based on a variety of first aid situations allowing them to apply their knowledge.
What Schools Are Saying About the Program
The presenter Matt was very engaging with the students. He related to them quickly and spoke with them at their age level, making sure he changed how he presented for the different age groups. He was extremely knowledgeable and was sure to pass this on to the students. The use of an iPad to support what was discussed was a great way to break up the session. All teachers at our school were very impressed with the sessions presented.
Erin Lewis
Dimboola Primary School
Our presenter, Sarah was very professional and enthusiastic. The children gained so much from this experience which could potentially save lives. The curriculum was age-appropriate and very engaging.
Louis Lero
Kingsville Primary School
The students were engaged and loved the presentation. They looked forward to participating and learning about First Aid. Thank you so much Kerry. We will definitely book again for 2019.
Sonia Dunne
The Currajong School