About St John Youth – Who we are
St John Youth is a national youth program that commenced in the 1920s, based on the values of St John Ambulance and founded on a strong community focus, it encourages an active role in Service, Community, First Aid and Leadership.
St John Youth in Victoria has over 500 youth members and is led by over 100 Adult Youth Staff in community and school-based divisions. Our program provides opportunities for young people from the ages of 12 to 18 years to be involved in a community based First Aid oriented youth program with opportunities to directly contribute to the community through voluntary service delivering First Aid at events. St John values inclusion and diversity and guarantees a safe and inspiring space for members to grow and learn.
St John Youth is all about having fun, meeting new people, learning invaluable First Aid skills and embracing service through adventure! What are you waiting for?
About the Youth Program 
St John Youth Member's participate in regular training sessions at their local division, usually on a weekly basis, for up to 2 hours during school terms. First Aid training includes a blend of accredited qualifications and non-accredited training delivered in a sequential manner from basic First Aid skills through to those of a First Responder and the pre-requisites for adult membership.
In addition to accredited qualifications and non-accredited training, training nights offer members a place to socialise, take part in fun activities and help build their leadership skills.
Central to the St John Youth program is our focus on 'Service to the community'. Youth members are encouraged to attend public events with experienced adult members, including qualified health professionals, to provide First Aid and assist their community.
For further detailed information about St John Youth please read:
Membership cost
The first year of membership costs $200, and subsequent years are $150. Potential new members are welcome to visit a division for two or three meetings before applying to join and then the fees must be paid promptly. Other costs may occur throughout the program for various activities or camps which members may choose to attend.
Hear from our Members
At St John Youth we embrace inclusivity and diversity. Our members come from diverse cultural and social backgrounds. Meet some of our wonderful members below and learn about their journey with St John Youth.
Nicholas' Story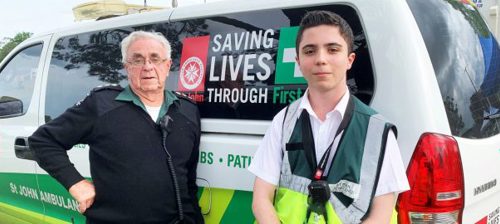 Nicholas is a member of our Altona Youth Division (pictured right).
Nicholas joined St John in hope to continue his grandfather's legacy of 40 years with St John, and to have the skills and knowledge to help others in the community.
"I enjoy the expansive opportunities that come with being a Youth Member. This doesn't exclusively include the duties, but also the ability to socialise with others my age and work cooperatively with them. That's what makes the youth program so engaging. I'm loving my time at St John, and I hope to continue being part of the organisation in the years to come." 

Lachlan's Story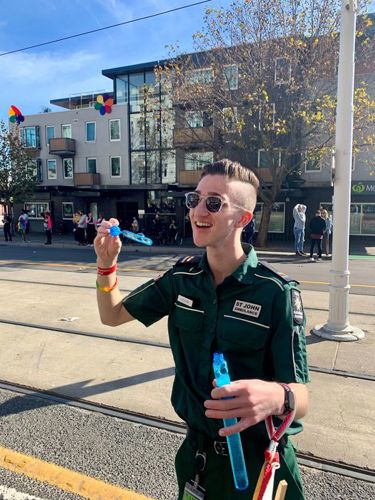 This is Lachlan. He started his St John volunteering journey as a youth member when he was 15 years old.
"Having joined St John as a Youth Member at 15, I was amazed at the amount of depth our learning went into while creating a fun space for a diverse group of kids to socialise! Going on duties, being able to treat real-life patients at such a young age is fantastic! It was the St John Youth Program that ultimately led me to peruse a career in healthcare after finishing high school. Since joining, I've been fortunate enough to participate in a range of leadership and clinical training which has led me to the privilege of being able to sit on the Youth Advisory Committee for St John Ambulance Victoria where we collaborate to provide the youth members of Victoria with new events, clinical training updates while acting as a voice for those members. Fast forward to adulthood and I'm honoured to now lead my local division as a youth leader, helping them on their St John journey alongside completing my Bachelor of Nursing. I'd recommend St John Youth to anybody considering a future in healthcare or if they'd just like to meet some really cool people and be a part of some amazing life experiences! 
Leadership Opportunities
Many Youth Members feel ready to take on a leadership role in their division. St John makes this possible by offering Youth Leadership courses for members aspiring to become leaders!
St John Youth offers leadership training in three levels. The Youth Leadership course level 1 & 2 prepares youth members to take on the leadership positions of Squad Leader or Senior Leader within their division.
The Youth Leadership course level 3 provides young adult members with more advanced leadership training and prepares them to take on the role of Youth Leader. A Youth Leader is an Adult Member aged between 18-21.
These courses provide you with the knowledge, skill and confidence to become a valued leader within your division and community. Covering many essential leadership skills such as:
Modelling positive behaviour
Self-empowerment and Team building
Conducting training sessions
Child Safety
Workplace Health and Safety
Time management
AND so much more...
Awards and Recognition
There a several exciting awards and special recognition that you can obtain as a St John Youth Member. Your division will have their own local awards throughout the year. Additionally, you can choose to achieve the below awards and recognition, helping your each your own personal goals and realise your full potential as a St John Youth Member! 

Grand Prior's Award
Once you become a St John Youth Member you can start to work towards achieving Proficiency Courses and being awarded Proficiency Badges. Youth members have 20 Proficiency Courses to choose from! Once you achieve your Proficiency Course, you will be awarded a certificate and a badge to place on your uniform.  
When you achieve your first badge, you will be on your way to meeting the requirements of The Grand Prior's Award (which requires a minimum of 12 badges). The Grand Prior Award is a major achievement for Youth Members, this is an international award for all St John Youth Members across the world.  
Check out our range of fun and exciting Proficiency Courses below!
Southern Cross Award
The Southern Cross Award has been designed for you to set your own personal goals and work within your timeframes, accommodating the busy lives of our members. You can make your own decision in relation to identifying opportunities to help you achieve your goals!
The St John Southern Cross Award program is comprised of four different subject areas, based on the four arms of the Amalfi Cross - Service, Relationships, Community and Challenge.
There are three levels to the St John Southern Cross Award: Bronze, Silver and Gold. The achieve the Southern Cross Award you must complete one activity from each subject area at each award level.


The Special Service Shield
Once you have gained adequate First Aid skills you can start lending a hand within your community, such as by attending events or assisting with First Aid competitions. To acknowledge your voluntary services, you can be awarded a Shield.
To gain a Shield you need to complete a certain number of service hours. You will need to record your hours, and when you reach a target level of service hours you will receive certificate and a Special Service Shield to add to your uniform!
Competitions, Camps and Activities
St John Youth undertake a variety of fun and interesting activities each year! 
Social activities with your division – movie nights, go-karting, bowling. 

Adventure Camps – service through adventure! Where you can take part in outdoor recreation whilst meeting and networking with likeminded people. 

 

First Aid skill-based competitions - A great learning experience and really good fun! Youth First Aid competitions consist of two elements: 

 


1.

 Challenges in clinical skills and knowledge

 


2. 

Challenges in other skills and attributes (leadership, presentations, problem solving, teamwork)

 
State competitions are held annually with the opportunity to represent Victoria at a national level in January each year. 
The primary focus of our camps, competitions and activities is the development of skills that enhance service to the community, promote social interaction and help shape young resilient leaders. 
Future Pathways
St John Youth Membership can lead to exciting future pathways with St John and beyond. Many of our youth members stay on with St John Youth after they turn 18 and become valuable Youth Leaders, they may choose to become an adult member with Event Health Service or even seek paid employment with St John, such as with our Non-Emergency Patient Transport (NEPT).
Maybe you dream of being a Paramedic, Doctor or Nurse? The First Aid skills you will acquire throughout your membership can lead to fulfilling career pathways in medicine. St John Youth is a great first step in the right direction. 
The Duke of Edinburgh's International Award began in 1956, an initiative by His Royal Highness, Prince Phillip. This is a prestigious award and with more than 140 countries around the globe involved. The Award is obtainable for young people aged from 14 to 25 years and consists of three levels: Bronze, Silver and Gold. Offering four subject areas:
Physical recreation, Skill, Service and Adventurous journey.
To achieve an Award, each young person must learn a skill, improve their physical wellbeing, volunteer in their community, and experience a team adventure in a new environment!
You can find further information about the Duke of Edinburgh's International Award at HERE

Youth Members who demonstrate a history of volunteering, leadership and community engagement can apply for early entry programs at two universities in Victoria. The experience and achievements of St John Youth Members can help secure them an early offer into their chosen university course! For more information visit the websites below: 
 
The Aspire Early Admissions Program 
The La Trobe University Aspire program rewards students for their leadership, volunteering or community contributions.  
Community Achiever Program (CAP) 
The Australian Catholic University CAP program offers early entry to undergraduate students who are active in their community. 

St John Youth divisions operate within a few school communities. They are open to members who are students at that school and is a great option for students in schools to get involved with First Aid. Currently St John Youth has divisions at:
Caulfield Grammar School

 

Dromana Secondary College

 

Pascoe Vale Girls' Secondary College

 

St Monica's College

 
For further information about these school-based divisions or about starting a St John Youth division at your school, please contact youth.recruit@stjohnvic.com.au 
Wearing a uniform lets your community know that you are trained in first aid, that you can provide help/assistance and you are a St John Youth member. Your St John uniform will include:
A shirt
Your epaulettes
Trousers
Jumper
Cap
Please note you will be required to provide your own black shoes and socks. You'll be given your uniform once you complete a First Aid qualification and your Induction!
If you have any additional questions about the St John Youth Program please email youth.recruit@stjohnvic.com.au and we will be in touch with you soon. Please do not enquire via phone as email is the best form of initial contact.