ANNOUNCEMENT
Due to the COVID-19 pandemic, St John Community Transport ensures all customers and drivers:
Do not have any Flu-like symptoms
Have not been overseas in the last 14 days or been in contact with anyone that has been overseas in the last 14 days
Have not been in contact with anyone with a suspected or confirmed case of COVID-19
If customers have answered "Yes" to any of the above, unfortunately St John Community Transport is not in a position to transport them.
All customers are to be seated in the backseat of the vehicle and both the customer and driver must wear a face mask at all times (mask provided).
Please note, all seats, door handles, seat belts and other commonly used areas are wiped down with disinfectant wipes between each customer.
The St John Community Transport Service assists meeting everyday needs of people in our local community by being more mobile and having safe and reliable transport.
Our non-profit community transport service is staffed by qualified and friendly St John volunteers, offering you a reliable, cost effective transport solution to meet your needs, starting at only $17.
TO ENQUIRE OR BOOK
Contact us (8:30AM - 5PM Monday to Friday)
Please note: We accept payment over the phone with credit card.
Community Transport Service Fees
| | | | |
| --- | --- | --- | --- |
| One Way Range | One Way Cost | Round Trip Range | Round Trip Cost |
| 10km | $17.00 | 20km | $26.00 |
| 20km | $22.00 | 40km | $33.00 |
| 30km | $28.00 | 60km | $42.00 |
| 40km | $34.00 | 80km | $51.00 |
| 50km | $39.00 | 100km | $58.00 |
| 60km | $45.00 | 120km | $67.00 |
Tolls: Where it is foreseen that tolled roads will be travelled on, toll charges must be applied.
Companion Service Rates
| | |
| --- | --- |
| Hours | Cost |
| 1 | $35 |
| 2 | $70 |
| 3 | $105 |
| 4 | $140 |
| 5 | $175 |
| 6 | $210 |
| 7 | $245 |
| 8 | $280 |
Companion and Transport Cases Combined: Cost of Transport Case plus cost of Companion Case as per above rates. Companion time is calculated outside of estimated transport time.
How to Pay
We accept payment over the phone with credit card.
Contact Community Transport Services on 1300 785 646 (8:30am-5:00pm) or email communitytransport@stjohnvic.com.au for more info.
Cancellation Fees
$10 fee retained by St John if case cancelled with less than 24 hours' notice. Full refund if cancellation greater than 24 hours.
Our Service is Ideal for
Visits to the doctors and medical appointments
Getting you to regular medical appointments
Visiting friends and loved ones
Transport to and from events and functions
Family gatherings and celebrations
Shopping trips
The Community Transport Service includes
Trained Volunteers - A First Aid trained St John volunteer as a companion to accompany clients (drop off and pick up)
Defib Fitted - All vehicles fitted with defibrillators and First Aid Kits
Working with Children Check - All staff have a current Working with Children Check and National Criminal History Check (National Police Check)
Free Additional Passengers​ - ​No added charges for additional people, companions or family members (max. 3 people per vehicle)
Dedicated fleet of vehicles
Ability to bring walking frames and support equipment
Optional companionship service in addition to pick up and drop off
Service currently available across Melbourne
The St John Difference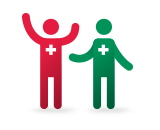 Unlike commercial operators, our volunteers work for St John because they are passionate about the community and helping people. All our volunteers are trained in First Aid including using a defibrillator in case of a medical emergency.
Optional Companion Service
As part of our transport service we also offer the option of a companion service at $35 per hour. This ideal for those wanting further assistance with carrying shopping, medical appointments, attendance to events and other situations requiring a companion.
Fred was a delight! He went above and beyond to make me feel safe, secure and comfortable . A gold star from me!
Teresa, 65
Croydon
I can really recommend the St john Community Transport service. Very professional and friendly staff made it a great experience for me.
Joan, 85
Glen Iris