ABOUT THIS COURSE
This unit describes the skills and knowledge required to perform cardiopulmonary resuscitation (CPR) in line with the Australian Resuscitation Council (ARC) guidelines.  This unit applies to all persons who may be required to provide CPR, in a range of situations, including community and workplace settings.
You will gain the knowledge and confidence to perform CPR on an adult, child and infant, to describe alternative methods for delivering rescue breaths and how to manage a victim of drowning.
The course topics include the DRSABCD action plan and responding to emergency situations, managing unconscious casualties, cardiopulmonary resuscitation (CPR) and using a defibrillator (AED).
This course is taught by St John trainers with over 100 years of combined experience and backgrounds in Nursing, Education and Leadership. They are ready to share their experience and passion with you that creates confidence to perform first aid should you ever need to.
ABOUT VIRTUAL CLASSROOM TRAINING
The Provide CPR Virtual Classroom option happens in a live online video conference, which provides the benefit of the live classroom environment, but in the comfort of your own home. 
Your qualification is equivalent to the same achieved via face to face training.
Course equipment such as manikin and defib pads sent to your home for you to keep
No need to worry about the commute, traffic or finding parking
You can log in from wherever you are: at home, in the office or anywhere else

What's in the Resource Box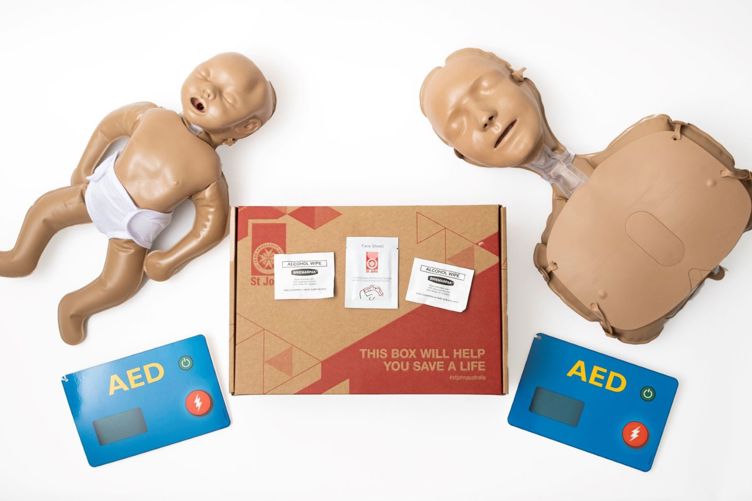 Updated 27 April 2022
For the continued safety of staff and students in line with current COVID settings, the following measures are in place:
PPE including masks and gloves are available at our public classes for students
All students are required to wear masks during any assessments that prevent them from maintaining 1.5m distance from another student
Students will not be required to practice first aid techniques on other students or staff, only on themselves or a manikin. For example, bandaging, CPR, recovery position and use of EpiPens will not be conducted on others. Students will not be directed to breathe into a manikin at this time.
Thorough cleaning of all equipment after every class
Alcohol based hand sanitiser is available throughout the venue for use upon arrival, during class and on departure
We discard all bandages, dressings or other class consumables at the end of the class and they are not re-used
If a student has tested positive for COVID-19 in the 7 days prior they must not attend any face-to-face St John training course.
For a limited time only, all First Aid training will come with access to our Infection Control eLearning course that participants can complete online in just 45 minutes.
Students will receive a link to the course on their student readiness page.
This course provides practical advice for you and your workplace teams to follow to help reduce the spread of infection such as Coronavirus.
SJx: The St John Experience

Designed for busy people and workplaces, SJx uses technology to deliver a high quality First Aid training experience in a reduced amount of time.
Resulting in:
An engaging, interactive experience
Faster more concise training
Improved ability to recall training in a real-life emergency situation
Efficient training delivery without compromising on learning quality
Receive your certificate on the same day
"
Great new approach to training. Shorter, concise and accurate.
" -
Ciaran Roche, OHS, RMIT University
"
Conducted in a way that is conducive for fun-filled training day. The trainer was awesome, flexible and understanding.
" -
Training Participant, JB-HiFi
SJx Delivery:
1 hour 15 mins 100% Virtual -  Pre-learning required - NEW
2 hour Face to Face -

No pre-learning required
Course outline
This course covers the following:
The DRSABCD action plan and responding to emergency situations
Managing unconscious casualties
Cardiopulmonary resuscitation (CPR)
Using a defibrillator (AED)
Legal issues in first aid
Infection control
Statement of attainment
On successful completion of this course you will be issued with the following statement of attainment:
HLTAID009 Provide cardiopulmonary resuscitation
St John recommends, as per the First Aid in the Workplace Code of Practice and the Australian Resuscitation Council guidelines, that resuscitation skills are renewed every 12 months.
A successful outcome for this statement of attainment will be determined by a range of different assessment methods including a questionnaire, observation of simulated and practical activities etc.
You will be required to demonstrate CPR on a manikin on the floor.
Training Cancellations / Refund Policy: Refunds will not be issued for cancellations made less than 5 business days prior to the start of your course. If you wish to cancel, you must contact St John 1300 360 455 or emailing customer.service@stjohnvic.com.au at least 5 working days prior to the commencement of the course to be eligible for a refund of the course fees. Full terms and conditions can be found here.
Why train with St John?
WE'VE GOT YOU COVERED - St John are the largest provider of First Aid Training in Victoria. We have First Aid Training available in more locations than any other provider.
FLEXIBILITY - With the flexibility to train onsite at our facilities or at your workplace, we can train you and your business wherever and whenever it suits you – 24 hours a day, 365 days a year!
QUALITY - A training experience you can trust to be delivered to the same high standards by our passionate trainers, wherever and whenever training is completed.
WE GIVE BACK TO THE COMMUNITY - St John is a self-funded not for profit. Our earnings go towards community programs which equip and prepare people to save lives.
Student Feedback
Related courses
The course provides the skills and knowledge required to use specialised equipment in the provision of resuscitation. Training is conducted using the Oxy-Viva 3 Resuscitator or similar.
Suitable for both people in workplaces and members of the public who would like a comprehensive first aid course.
Equips individuals whose interests, activities or employment takes them to remote locations and situations. It is ideal for remote areas where access to medical aid is difficult or delayed, including alpine, desert, marine, rural and tropical environments.