6 Top tips to create a safe and healthy workplace
05 Oct 2021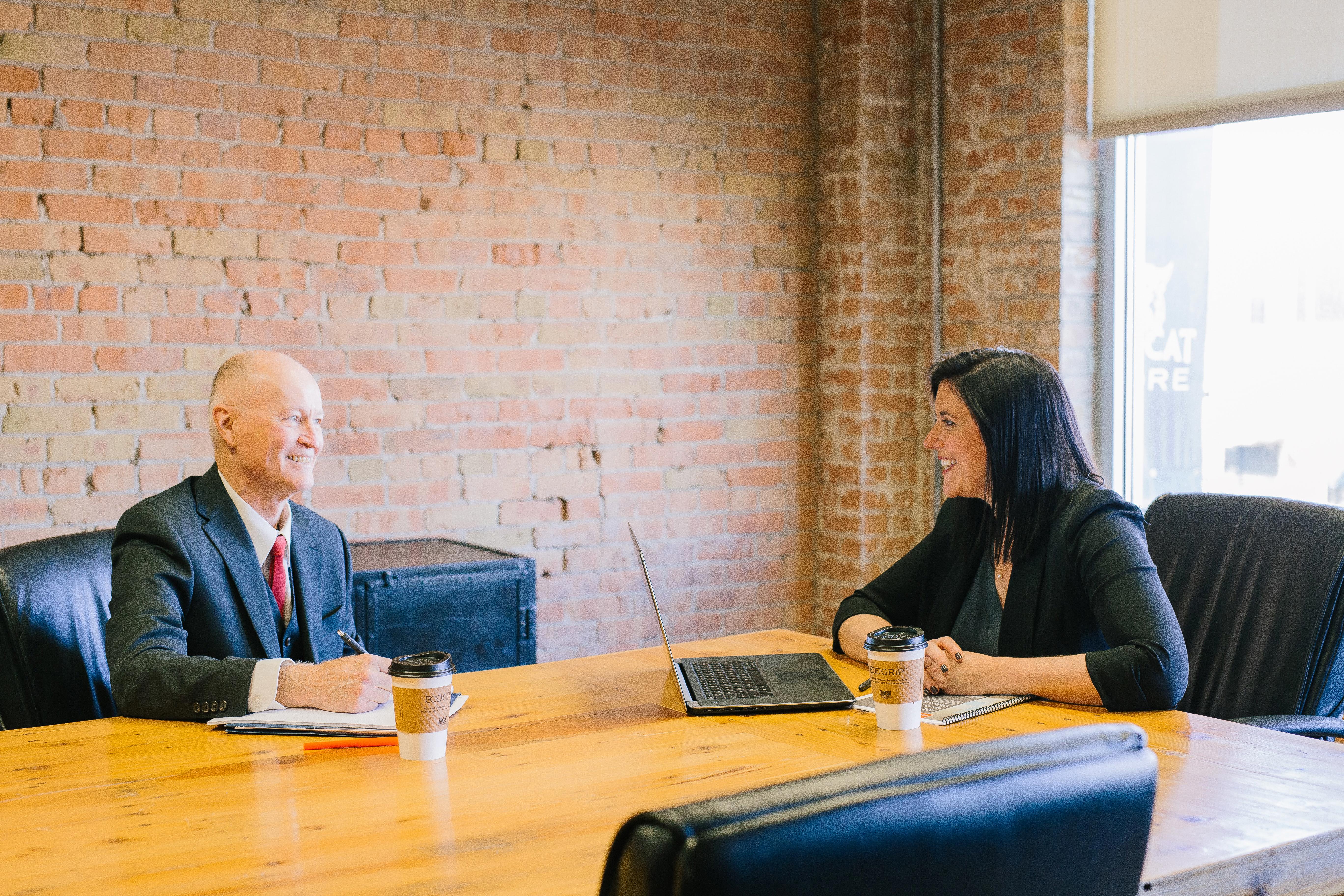 Everyone agrees employees should go to work knowing they are in a safe and healthy environment, free from physical and psychological harm. No employee should ever go to work thinking they are unsafe, at serious risk of death or injury or unsupported. However new St John research reveals there is more to be done to improve safety and perceptions of safety at work.
Workers should feel comfortable and protected by their workplace, and not only experience a safe environment, but feel that they can speak up when they have concerns.
So how do we build a safe and healthy workplace? Let's discuss the measures that can be implemented to ensure physical and mental safety for employees. 
Creating a physically safe workplace
Accidents or medical emergencies can happen to anyone and at any time, including at work. There are some industries such as, construction, manufacturing, agriculture and mining, at even higher risk of injuries or even death on site. It's crucial for employees, regardless of what industry they work in, to know there is someone who can act immediately during an emergency.
Unfortunately, we are facing a decline in people's confidence to respond in a first aid situation. A new St John survey has revealed a staggering 64% of Australians did not know exactly what to do when they witnessed their last first aid incident.
Similarly, nearly half (47%) of Australian workers are scared that if something happened to them at work nobody around them would know what to do.
This lack of confidence from both bystanders and potential patients is closely related to the shortfall in first aid knowledge and skills, exacerbated by the fact 38% Australians have delayed their first aid training during the pandemic. Thankfully, there are measures that workplaces can implement to ensure employees are appropriately prepared to act in the event of an accident or medical emergency.
Top three simple ways workplaces can increase physical safety
There are multiple measures that can be implemented to make a workplace safer and to ensure its first aid ready. Here are the top three.
1. Invest in training
The only way to increase employee's confidence to act in a medical emergency, is to provide them with the adequate skills and knowledge to do so. The workplace is one of the most common places a first aid situation will occur, so it is imperative that every business is first aid ready! Getting employees to complete manual handling, infection control and first aid training will not only provide the confidence to act but also give them the skills to both prevent and manage common first aid situations.
First aid requirements vary from one workplace to the next, but the First Aid in the Workplace Code of Practice recommends workplace first aid is renewed every three years and CPR every 12 months.  St John research reinforces that those with recent CPR training completed in the last 12 months are 65% more comfortable performing CPR than those who last completed CPR training more than 5 years ago.
2. Purchase, restock and maintain equipment
Most workplaces will have a first aid kit, with the basic equipment needed to assist with a first aid situation. Workplaces must abide by the minimum contents listed in the WorkSafe Victoria First Aid in the Workplace Compliance Code. It's important for employees to know where the first aid kit is located, so they can quickly grab what's needed in an emergency. Additionally, workplace first aid kits should always be replenished and maintained.
3. Consider an Automated External Defibrillator (AED)
In the event of a sudden cardiac arrest in the workplace, having an AED can be the difference between life or death. Defibrillators are lifesaving devices that can increase sudden cardiac arrest chance of survival from an average of 10% to as high as 70%. Only 38% of Australian workers are aware of a defibrillator in their workplace, so many workers are facing a gap in safety equipment in workplaces across the country.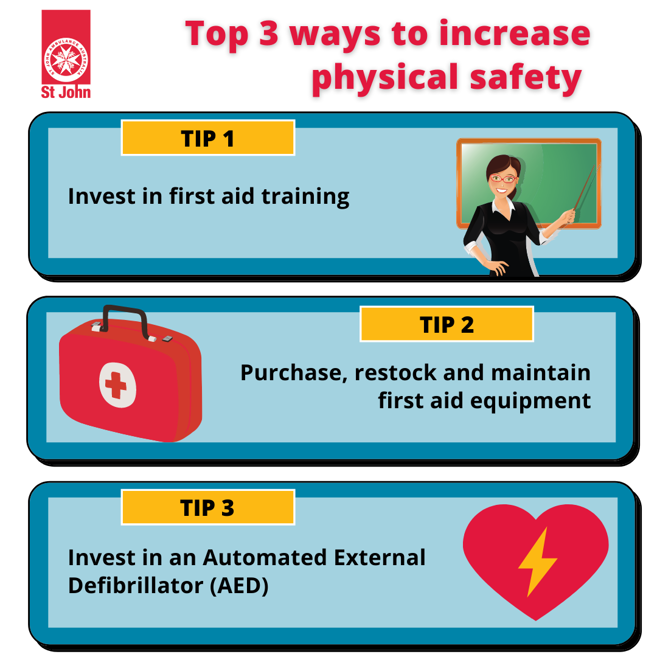 Creating a mentally safe workplace
As well as ensuring that workers are protected from physical risks, an employer's duty of care also extends to ensuring workers are protected from psychological risks as detailed in the Work Health and Safety Act 2011. Over the years, work-related mental health conditions have become a major concern in Australian workplaces. In fact, new St John research has uncovered 69% of workers have witnessed a colleague displaying at least one symptom of mental health issues in the workplace in the last 18 months.
Where possible, workplaces should take action to reduce risks on the job to mental health and seek to create a mentally healthy workplace to support those at risk.
Top three simple ways to create a mentally safe workplace

There are many ways workplaces can build and maintain a mentally safe workplace to look after their employee's wellbeing. Here are the top three.
1. Make a commitment to mental health and wellbeing in the workplace
The first step is for leaders of the organisation to make a commitment to their employee's mental health. This would involve having regular discussions about employee wellbeing and implementing a strategy to help maintain positive mental health across the organisation.
2. Check-in regularly
This may sound cliché, but regularly checking in with your colleagues or if you're a manager, checking in with your team, is one very simple yet effective way to build a positive workplace. Showing your fellow worker, you really care about how they are doing and taking the time to listen if they are experiencing a difficult time can go a long way.
3. Provide mental health and wellbeing training
Mental health and wellbeing training will provide the practical skills, knowledge and information to look after your own mental health and wellbeing and those of others. 87% of Australians would be more willing to offer help to someone suffering a mental health issue if they just knew how. Knowing how to create healthy thinking patterns for yourself or how to respond in a mental health crisis, are practical steps that can be used in both your professional and personal life. 
Alex Fraser – Australia's leading producer of sustainable materials for civil construction – is just one of the many organisations that have invested in mental health and wellbeing training.
"At Alex Fraser, we are always searching for better ways to support one another and keep our people safe. This year we have offered St John Mental Health and Crisis Support Training to everyone in the business and we are pleased to say a great number of employees have self-nominated to upskill, so that they can help keep their friends and colleagues safe and well. More than 25 per cent of our workforce have since been trained to become accredited in Mental Health and Crisis Support.
It's wonderful to know we now have an army of people with the essential skills and confidence to support anyone experiencing a mental health crisis. We've loved working with St John to make this happen." – Lorenzo Marcon, Alex Fraser Safety Group Manager.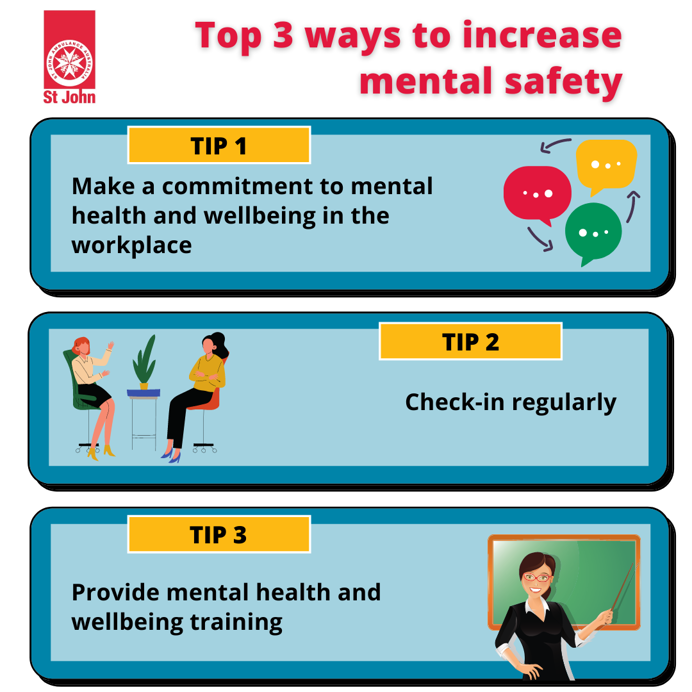 Most of us spend a large part of our life at work, so knowing we are going to a physically and mentally safe workplace can help us to feel protected and valued. With the benefit to employers that all these actions will reduce risk of either injury or illness, whether physical or mental.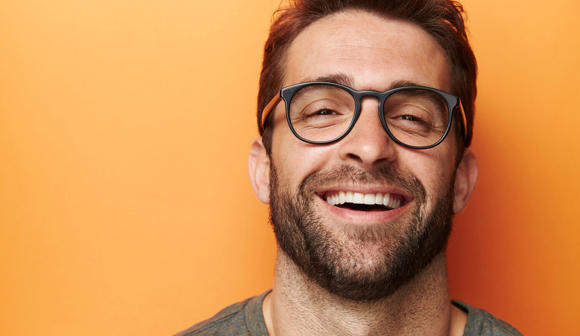 Mental Health and Wellbeing Essentials Workshop
Delivered in a face-to-face workshop setting. Suitable for members of the general public interested in prevention skills and strategies. Students may or may not be employed or part of a workplace.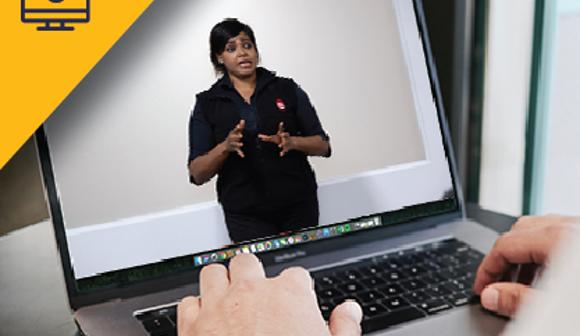 Mental health and crisis support (Virtual)
Gain the essential skills and confidence to recognise and support people with a range of mental health issues such as depression, anxiety, suicide and addiction.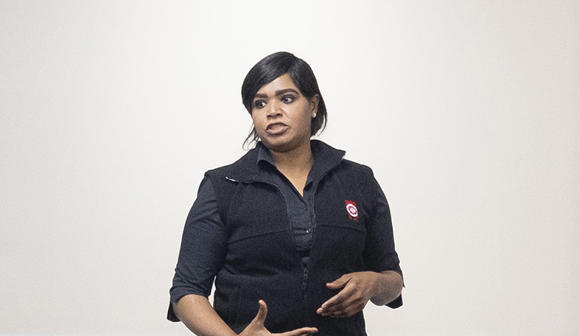 Mental health and crisis support (Face-to-face)
Gain the essential skills and confidence to recognise and support people with a range of mental health issues such as depression, anxiety, suicide and addiction.