Mental Health First Aid or St John Ambulance – Which Course is for you?
06 Nov 2020
Mental health illness continues to be a significant issue across the globe, and this has severely increased throughout the COVID-19 pandemic. In 2020, in addition to the existing surge in people seeking help from crisis lines and emergency departments, the Commonwealth Health Department reports a 20 per cent increase in Victorians help-seeking via Medicare funded GPs, psychologists and psychiatrists. 
Pre-COVID, one in five Australians were reported to be affected by mental illness annually, and due to the pandemic, this unfortunately has risen to 4 in every 5 Australians suffering from poorer mental health1. So, what can we do to help this crisis? How can we assist those who are experiencing poor mental health?
You may have already heard of the concept mental health first aid, or the initial support and assistance provided to those with mental health issue until further help arrives; what you may not know is there are different types of Mental Health First Aid Training you can undertake. To help you select the right course, we'll explain the differences between Mental Health First Aid Australia courses and St John's Mental Health and Crisis Support.
St John Mental Health and Crisis Support
St John Ambulance is Australia's leading provider of First Aid services and has been for more than 137 years. As a trusted and reliable Registered Training Organisation (RTO), all of St John's Trainers are experienced professionals who are passionate about the cause. This also rings true for St John's Mental Health and Crisis Support Trainers, all of whom have a strong passion for purpose to help those experiencing a difficult time and a personal connection to mental health.
Moreover, St John Ambulance Victoria has 16 training venues across Metropolitan and Regional Victoria, meaning there is an abundance of training locations available.
I found the training compelling, emotionally draining and extremely helpful. I had not done training like this before and found it a huge learning experience.
Gemma Richardson
Victorian Legal Services Board + Commissioner
Why train with St John?
It was one of the most informative, interesting and real courses I have ever attended.
Narelle Beckworth
WorkSafe Victoria
Throughout the course, the Mental Health Trainer covers practical steps to take to recognise and support people with mental health issues. Students will engage in a range of practical scenarios, following the Action Plan outlined in the course. Prior to the virtual classroom, participants will also complete a short pre-learning to get familiar with the concepts prior to the course.
The topics covered include the principles of crisis intervention, recognising and responding to signs that a person may be at risk and how to provide support to that person. The content is relevant to a wide range of people and learnings can be applied in both a work and home environment and from scenarios like anxiety to suicidal thoughts.
St John's Mental Health and Crisis support course is a nationally recognised unit of competency, which means it meets quality assurance requirements. Students who successfully complete the unit are issued with a Statement of Attainment for CHCCCS019 - Recognise and respond to crisis situations.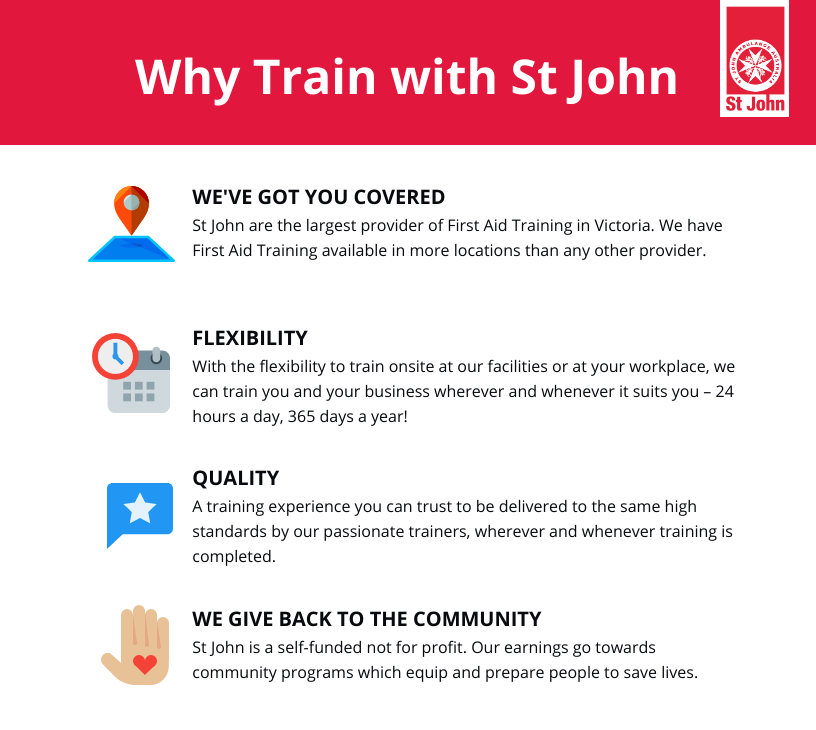 Mental Health First Aid Australia
Mental Health First Aid classes also teach participants how to assist people who are developing a mental health problem, experiencing a worsening of an existing mental health problem or in a mental health crisis.
The Standard Mental Health First Aid Course is designed for adults, and participants will learn how to assist an adult who may be experiencing a mental health problem or mental health crisis until professional help arrives. Like St John's Mental Health and Crisis Support Course, participants will learn a practical, evidence-based action plan to assist those in need.
The Difference in Delivery
One of the main differences between Mental Health Courses is the way in which it's delivered and administered.
St John Ambulance Victoria's Mental Health and Crisis Support is taught by TAE accredited and experienced St John Trainers. St John has a team of 50+ Trainers all with experience and passion, to share with you the confidence to assist someone in crisis. Each St John Trainer must maintain a very high standard of quality, which is why each trainer is frequently assessed internally to ensure they're adhering to St John's high-quality assurance.
Comparatively, Mental Health First Aid delivers its courses with contracted individuals. With a network of more than 2,000 accredited Trainers, instead of being employed by the institution, these Trainers work independently as sole traders or small business owners to deliver public Mental Health First Aid courses to private client groups within workplaces or community organisations. Because the Mental Health First Aid course is not accredited by ASQA, the national regulator for vocational education and training, these trainers aren't required to have current qualifications in training and assessing adults.
Because these Trainers work independently to deliver courses in community and workplace settings, they have the autonomy and flexibility to set their own fees.
So, Is There a Difference in Pricing? 
As mentioned, Mental Health First Aid use contracted Trainers to deliver its courses, therefore, prices vary depending on which Trainer you have, their level of skill, experience and quality. Prices land anywhere from $220 -$345 for either face-to-face or online delivery.
St John Victoria's Mental Health and Crisis Support course is delivered by in-house Trainers, which means there is standard fixed pricing for courses. The price for virtual delivery is $245 and face-to-face is $255 – pricing won't vary regardless of who and where this is delivered.
How Long Do Courses Take to Complete?
When it comes to Mental Health First Aid Australia courses, the duration of the course depends on which one you're completing. In this instance, we'll just refer to the Standard Mental Health First Aid Course as this is most comparative. This course is delivered face-to-face over 12-hours (2 days).
Some trainers will offer the option to complete the Blended Online Mental Health First Aid Community or Workplace Course. Both courses have been adapted from the standard Mental Health First Aid Course and offers flexible delivery (a combination of eLearning and a half-day face-to-face workshop. Course participants must first complete the interactive self-paced eLearning component and then the follow-on face-to-face session to become Accredited. 
Whereas, the Mental Health and Crisis Support Course by St John can be completed either face-to-face or 100 per cent online. The face-to-face version is one full day in the classroom with an additional 1-hour pre eLearning. If you decide to complete this course virtually, it will be one full day via the virtual classroom with an additional 1-hour pre eLearning.
St John also provides workplaces or community groups the option for onsite training – a convenient and flexible training solution where St John brings the training to their location wherever required.
Regardless which mental health first aid course you decide to enrol in, there is a huge benefit in completing Mental Health Training, now more than ever. Lifeline is currently receiving around 3000 calls per day nationally, compared to 2000 a day at the same time last year. With more people equipped with the skills to act, this may even save lives. 
Mental Health Training not only provides people with essential skills and confidence to recognise and support people with a range of mental health issues, it will increase their mental health literacy and make it okay to talk about mental health in the same way they would talk about physical health.
After all, our mental and physical health are closely linked, and we believe this extends to first aid. Increasingly, we recommend that those who are looking to complete physical first aid training also consider adding an element of mental health training, as it will help them become a more well-rounded and confident first aider.
---
References
Mackay, J . (2020). Australian study reveals rise in mental health problems during COVID-19 pandemic.Available: https://www.wsws.org/en/articles/2020/09/10/ment-s10.html. Last accessed 21th October 2020.
Mental Health and Wellbeing Essentials Workshop
Delivered in a face to face workshop setting. Suitable for members of the general public interested in prevention skills and strategies. Students may or may not be employed or part of a workplace.
MENTAL HEALTH AND CRISIS SUPPORT
Learn how to recognise and support people dealing with a range of common mental health issues.
AUSTRALIAN MADE HYGIENE RANGE
Get organised, stock up and save big on our Australian made hygiene range, including bundles for the home or workplace – now all available to purchase online.
A DEFIBRILLATOR CAN MAKE THE DIFFERENCE BETWEEN LIFE AND DEATH
Defibrillation within the first few minutes of having a Sudden Cardiac Arrest, increases the chance of survival, to over 70%.