First Aid Tip – A Guide To Being The Workplace First Aider
07 Aug 2017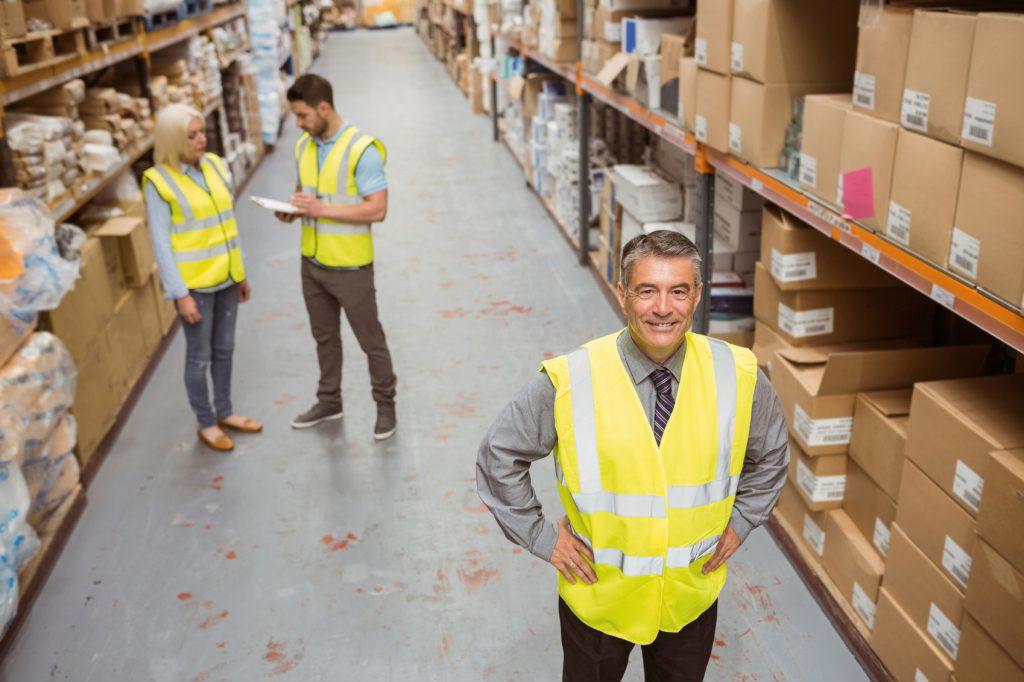 So you've completed your First Aid training and put up your hand to be the Workplace First Aider? Or your boss saw your potential and requested you take on the position? Either or, you're probably wondering what exactly is involved in the role.
First Aid incidents and emergencies vary in every workplace. They range from superficial cuts and wounds, on to severe chemical burns and all the way through to life and death emergencies such as Sudden Cardiac Arrest.
In the initial moments of an injury, onset of illness or in the case of a health emergency, the provision of First Aid has the power to minimise the severity whilst maximising the likelihood and speediness of recovery.
The role of a First Aider can mean the difference between life and death. So it's important if you take on this position you do everything within your power to ensure you're prepared, equipped and ready to respond to any First Aid situation at all times. By following our guide you can be confident that you will be the best Workplace First Aider you can possibly be.
Who Should Be The Workplace First Aider?
The workplace First Aider must fill the following requirements:
Must have completed or willing to complete a Provide First Aid course with a Registered Training Organisation
Must be based on site for the majority of their working hours
Must be able to perform all duties a First Aider may be required to perform
Must agree to perform all possible First Aid requirements
It is favourable if the person has experience in First Aid but it is not a requirement
Workplace First Aider Training
Any person who has successfully completed a nationally recognised Provide First Aid course is eligible to become a workplace First Aider. However, you must be able to provide an official Statement of Attainment for your First Aid course to be eligible for this role.
It's important that First Aiders undergo training regularly to ensure their knowledge is up-to-date and fresh in their memory. Regular First Aid training strengthens knowledge and skills learnt whilst boosting confidence to respond in a First Aid event.
First Aiders in the workplace must renew their Provide First Aid course every 3 years. However, studies have shown that if you are not practising the CPR knowledge learnt in your Provide First Aid course your CPR skill set is likely to dramatically decline with time. The provision of quality CPR can mean the difference between life and death so it is recommended that every Workplace First Aider completes a CPR refresher course every 12 months.
By renewing and defining your CPR skillset you are ensuring that as the Workplace First Aider you will have the best chance possible to save the life of the colleague whose desk is beside yours, or the lady you share the lift with each morning or the friendly man who always has a joke to brighten the day. The role of a Workplace First Aider is not a light responsibility, self-insure and complete regular training to guarantee that you are ready to provide First Aid to your fellow colleagues for every situation.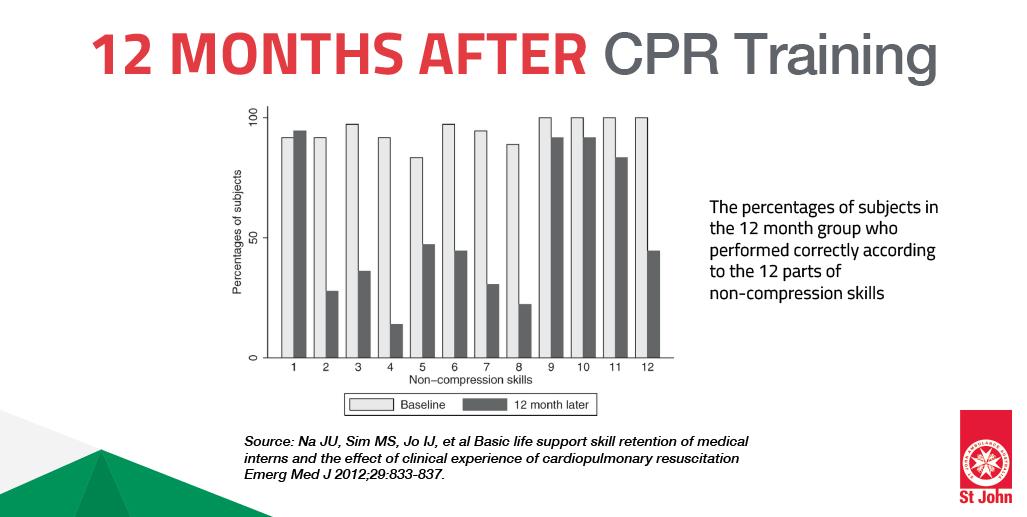 Depending on your workplace you may be required to pursue further First Aid training. Factors that may mean you need further training include:
Location of your workplace

 

– If your workplace is in a rural or isolated area you may need to pursue Remote First Aid Training to ensure you are ready to provide First Aid for an extended amount of time whilst waiting for emergency services to arrive. If your workplace is based in an isolated area you will also need to learn how to prepare for an aero-medical evacuation.
High-risk workplaces

 

– If you work in an environment where the risk of First Aid incidents are high or there are more than 100+ employees it is recommended you undertake a Provide Advanced First Aid course. High-risk workplaces include the Police Force, farming and labour intensive jobs.
Industry

 

– If your workplace deals with children you will be required to undertake a Provide First Aid In An Education & Care Setting to ensure you are trained in age-appropriate First Aid. This course will be undertaken instead of Provide First Aid, not in addition to.
First Aid Procedures
As the Workplace First Aider it is your responsibility to create and implement an action plan to ensure your workplace is First Aid ready. Important things to consider are:
Is your First Aid kit suitable for the workplace?
Is your First Aid kit located in an easily accessible and clearly identifiable area?
Who will take on the responsibility of monitoring and restocking the First Aid kits?
If you have multiple First Aiders in different locations of your workplace, how will they communicate in the case of a First Aid event?
Is the area each First Aider is in charge of known and clearly identified?
Have you created a system to regulate First Aider training and ensure it is up-to-date?
Is there a process available for each employee to disclose any potential First Aid needs they may have? Create a record system for this information that First Aiders have access to in the case of a First Aid event.
Does your workplace have an effective reporting process of First Aid incidents?
If an employee is unfit to stay at work and needs assistance to travel home or to medical help is there a system in place on how to get them to where they need to be?
If a First Aid incident occurs that requires debriefing or counselling is there a safe environment available for First Aiders to address this?
Does your workplace require a First Aid room? Low-risk workplaces with more than 200         employees or higher-risk workplaces with more than 100 employees need a First Aid room. If your workplace fits in either of these categories select a location which is easily accessible for First Aiders and casualties.
Are there enough First Aiders for your workplace?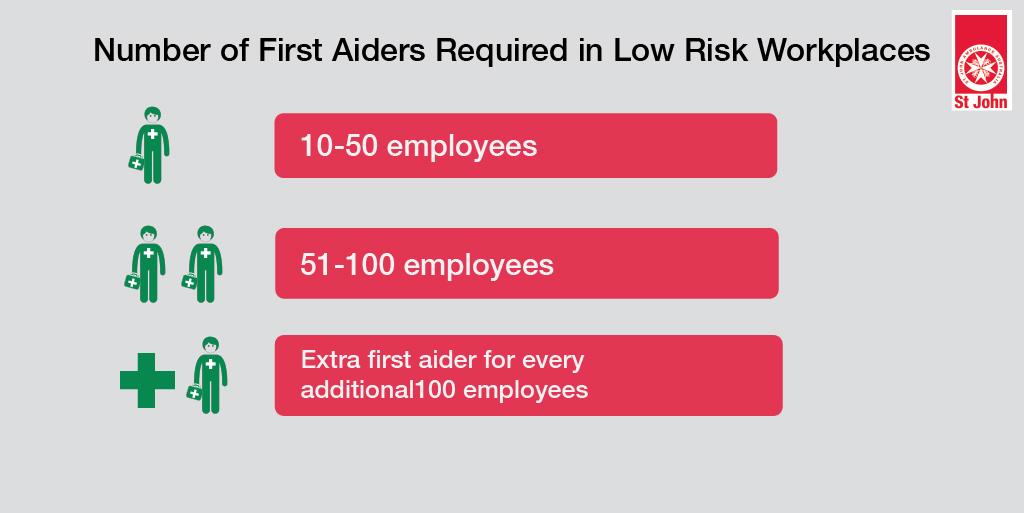 Workplace Risk Management
It is recommended that workplaces conduct regular workplace risk assessments to ensure they are compliant with the First Aid in The Workplace Code of Practice. It's important to remember that if a business is changing or growing the First Aid needs of the workplace will change also. By conducting regular risk assessments the employer can validate that they have taken the appropriate precautionary steps to avoid First Aid events within their power.
The Workplace First Aider is responsible for regulating a Workplace Risk Management system. The main factors to consider when assessing your Workplace First Aid Risks are:
Have all the hazards in the workplace been identified and have cautionary procedures been put in place?
How regularly is a hazard likely to cause a First Aid incident?
Do you have enough First Aiders available for your workplace risk and size?
Are the First Aid Kits up-to-date, fully stocked and filled with the equipment required to match the possible incidents caused by the hazards of the workplace?
Does the location of the workplace affect how you will provide First Aid?
Have you recently reviewed your workplaces incident data?
Is there a platform available for employees to share any risk concerns?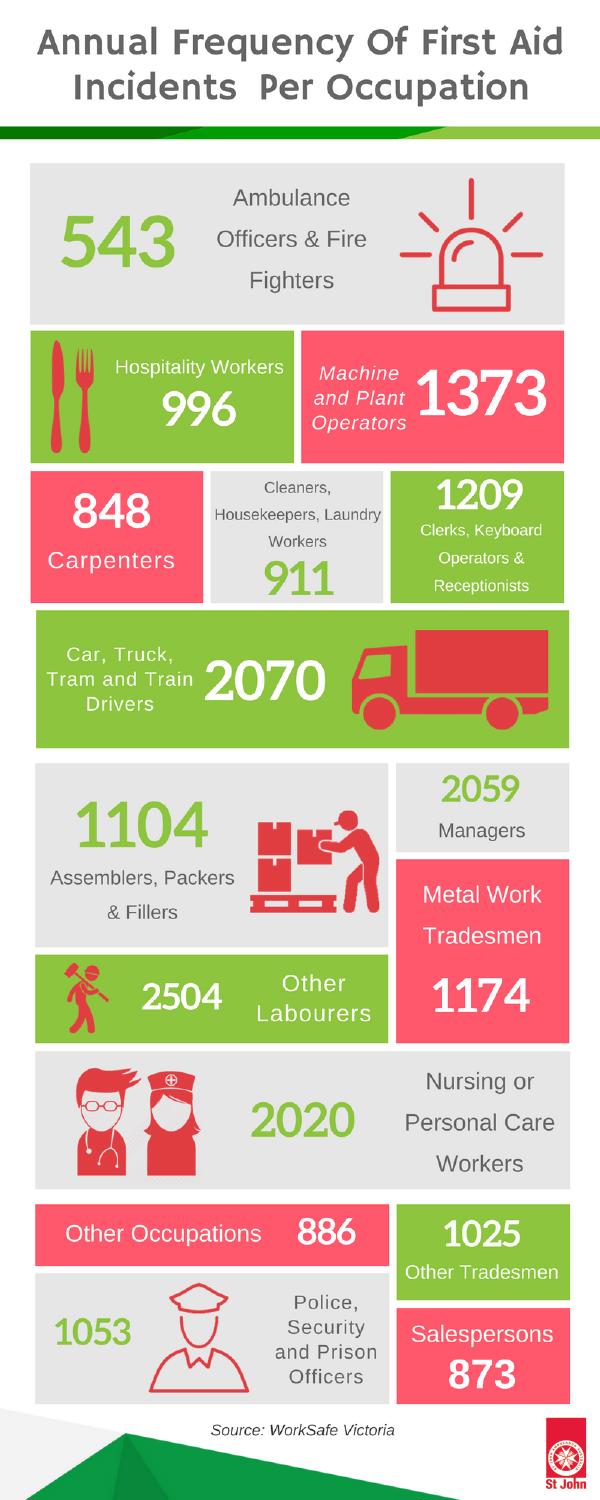 Providing First Aid Information To All Employees
Ensure your colleagues know who is a First Aider in your workplace and where they can be found within work hours
Advise your colleagues where the First Aid kit is located and also position clear signage
Implement a First Aid procedure which is practised and followed in a First Aid incident
Restocking And Maintaining Kits
In most workplaces the Workplace First Aider will be designated to ensure the First Aid kit is up to date. This includes:
Monitoring the use of First Aid equipment and replacing any items used as soon as possible
Completing regular checks after the First Aid kit is used to guarantee the kit is stocked with all necessary First Aid supplies. Even if the kit is not used, it should be checked on a monthly basis to guarantee all products are within the expiry date
Check that First Aid items are in the correct and original condition (no seals are broken)
The role of a First Aider in the workplace is not to be taken lightly. First Aid events occur unexpectedly and can bring stress to the workplace. By ensuring your workplace has an appropriate amount of people trained and ready to provide First Aid it reassures everyone on site not to panic and creates an element of comfort.
As your Workplace First Aider it's important you acknowledge the significance of this role and by following our guide to being a Workplace First Aider it really could mean the difference between life and death.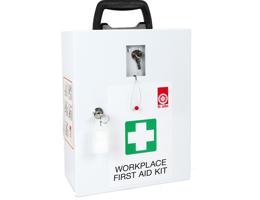 Workplace First Aid Kits
St John Ambulance has a wide range of First Aid Kits suitable for the workplace.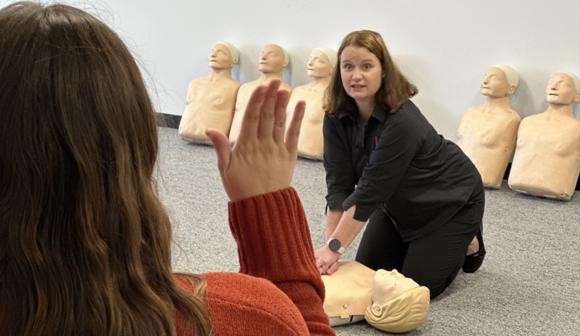 HLTAID011 PROVIDE FIRST AID
Suitable for both people in workplaces and members of the public who would like a comprehensive first aid course.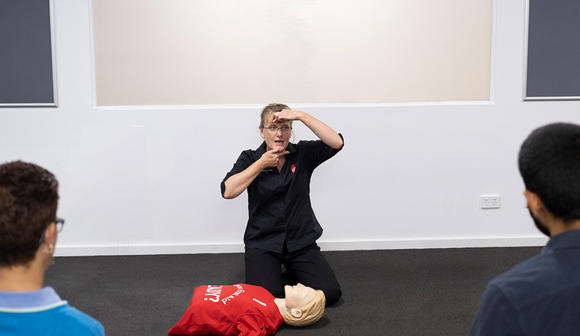 HLTAID009 PROVIDE CARDIOPULMONARY RESUSCITATION
Learn the skills to perform life-saving (CPR) on an adult, child or infant who is unconscious and not breathing normally. 
How to choose the right First Aid Kit for you
First aid kits can be a little daunting if you're unfamiliar with what's available. Will it have the right equipment, or enough of the right contents for me?
Read this article to find out how to pick a first aid kit based on your needs.