How to Choose the Best First Aid Kit
23 May 2017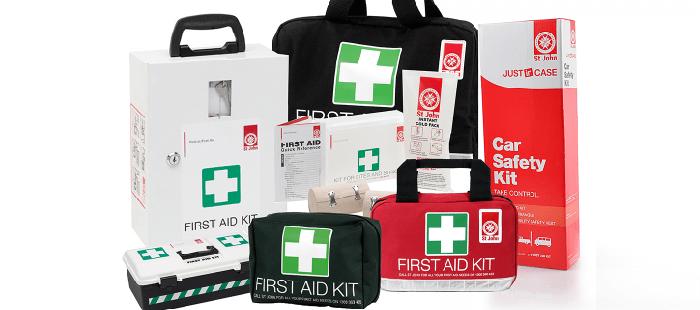 We know the world of First Aid Kits can be a little daunting if you're unfamiliar with what's available. Will it have the right equipment, or enough of the right contents for me? How will I know what needs to be in there? How you choose the best First Aid Kit from dozens of potential options is tricky, after all you want enough contents to cover the types of emergencies you might encounter but without making the kit too large for you to use. It's an important purchase that will save you time and time again, so you want to get the right kit.
Particularly if you're purchasing for the workplace, keeping a well-stocked kit on hand is more than just a responsibility, it's a regulatory requirement. Keeping up with your obligations as an employer as set out in the Worksafe First Aid in the Workplace Compliance Code will ensure you're doing the best possible to keep the working environment safe and healthy.
You could spend hours comparing and cross-checking features of First Aid Kits, but your time is more valuable than that! Which is why we've prepared this handy guide that takes into account your needs and recommends the best First Aid Kit for you.
The Basics of Choosing the Best First Aid Kit
Regardless of the purpose and use of your kit, there are a few things you should look for:
Easily recognisable: anyone should be able to identify the First Aid Kit from its appearance, commonly a white cross on a green background
Quality casing: this should be durable enough to protect the contents from dust and damage
Regulatory approval: a listing on the Australian Register of Therapeutic Goods will guarantee you are buying something that is of the highest therapeutic standards
If a kit you are looking at fails any one of these points, it's time to look elsewhere. All Kits from St John Ambulance meet these minimum requirements, so you can rest assured by starting with St John.
First Aid Kits for the Home
At home, your main concerns are usually minor cuts, burns and sprains. Unfortunately, most of us at some point will cut or scald ourselves, usually when preparing food, and will want to know we're prepared if this happens.
A few things to consider when choosing a First Aid Kit for the home:
The size of your household: this will dictate the size of your kit
If you have kids: injuries will be more common, so go up a size if in doubt
Storage: the space you have available to keep it may shape the size of your kit
A comparison of our top kits to choose from for the home: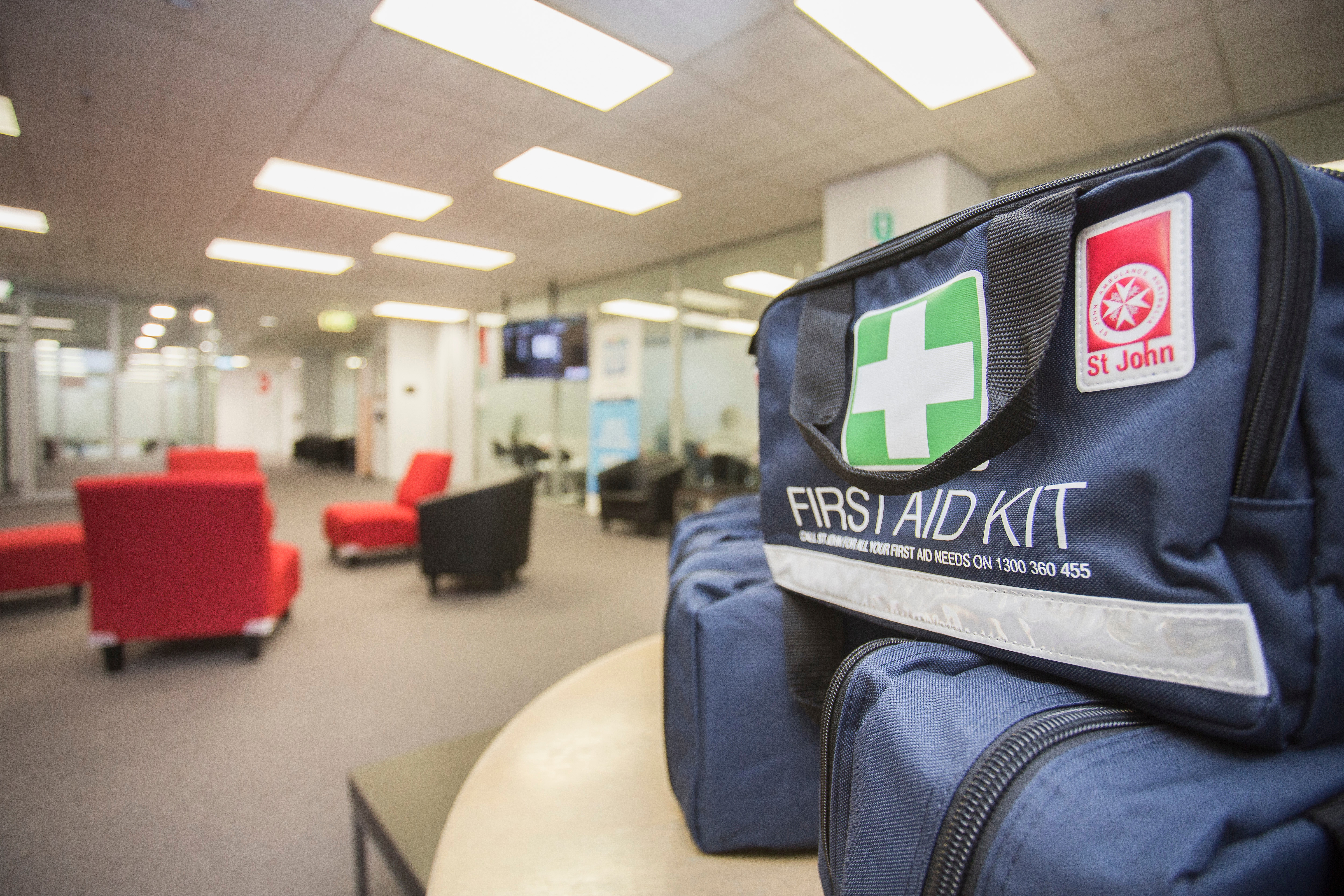 Our bestselling kit Australia wide is the Medium First Aid Kit (pictured above), so this is a great go-to kit you know you will be able to rely on.
First Aid Kits for the Car
Interestingly, Victorian motorists travel the furthest kilometres on average per year (14,498), greater even than motorists in the largest states like Western Australia or Queensland. When you consider that Victorian workers spend an average of 500 hours commuting each year, let alone time in the car going to personal activities and errands, that is a lot of time for potential injuries to occur. Many of us wouldn't want to be without the safety and security of having a kit in the car, so its common sense to get ensure your car is First Aid ready too.
A comparison of our top kits to choose from for the car:
We thought we'd point out the difference between the Car Safety Kit and the other two above, as there are a few things it contains that are a little different from a regular kit:
Safety triangles
Emergency blanket
High vis vest
First Aid Kits for the Workplace
As part of the WorkSafe Victoria First Aid Compliance Code, which requires employers to provide a safe working environment and adequate facilities, every workplace must have an appropriate First Aid Kit. This even applies to small workplaces under 10 staff and even 'micro-businesses' if they considered high risk workplaces.
A comparison of our top kits to choose from for the workplace:
Not sure how many kits your workplace needs? We have this handy guide:

Consider whether you will need additional modules for your workplace, such as eye or burn modules, if employees are exposed to corrosive chemicals, flying particles or flammable liquids.
First Aid Kits for the Outdoors/Travel
If you love to travel, you also want to do it safely. Keeping the best First Aid Kit on hand will give you the peace of mind that you're doing what you can to stay safe on your trip.
A few things to consider:
How remote your trip will be: the further away from medical facilities, the more equipped your kit should be
Local creepy crawlies: if you will be travelling to areas where snakes, spiders, jellyfish and various insects will be active
Your activities: will you be undertaking risky activities like hiking, boating, etc.
A comparison of our top kits to choose from for the outdoors and travel:
First Aid Kits for Specialised Uses
If you have pets, young children, or do a lot of sports, there are specialised kits that will suit your needs. Components like thermometers and nail trimmers packaged into a First Aid Kit can make life simpler, rather than keeping everything separate.
A comparison of our top kits to choose from for specialised use:
Accidents can happen anywhere at any time, which is why a variety of kits should be kept in a range of locations, whether that is home, work, in a vehicle or when you're out and about. Choosing the best First Aid Kit is your peace of mind insurance policy against life's mishaps.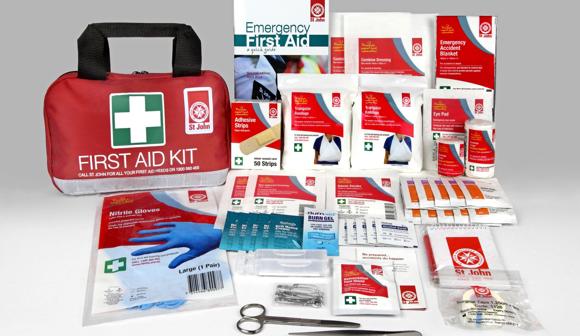 Guide to First Aid Kit Contents
Many of us know the importance of having a first aid kit, but in an emergency, do you know what items are in your kit and what they are for?
Read this handy guide to familiarise yourself with what's in your kit so you're ready in an emergency.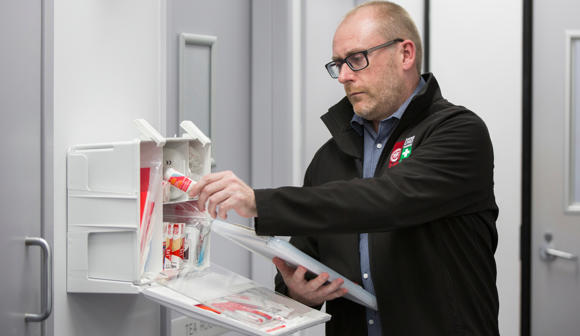 How to service a first aid kit
It is important that a first aid kit is fully equipped and items are not expired, so it can be used effectively in an emergency. But how do you know what to replace and when to replace items?
Learn how to perform a first aid kit service so that your first aid kit is always stocked and ready.
How to choose the right First Aid Kit for you
First aid kits can be a little daunting if you're unfamiliar with what's available. Will it have the right equipment, or enough of the right contents for me?
Read this article to find out how to pick a first aid kit based on your needs.