UPDATE 1st June 2020: All face to face First Aid Training will now be No Contact First Aid Training.
Students undertaking face to face First Aid training in classrooms will practice and demonstrate their learning on themselves, or on a manikin. Students will no longer practice on other students or staff.
We have also implemented additional infection control practices such as: 
Reducing class sizes by 50% allowing for social distancing (maximum 12 students per public class)
Temperature screening of all visitors to our venue upon arrival
Alcohol based hand sanitiser available throughout the venue, for use upon arrival, during class and departure
Click here for more information on our infection control protocols implemented for all first aid training courses.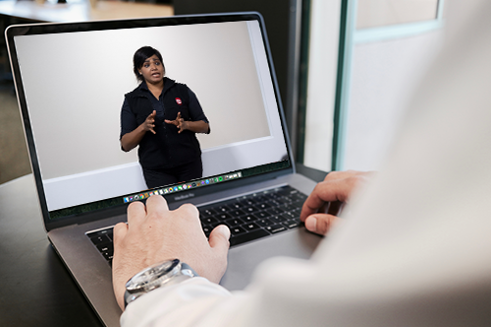 Course information
This course is relevant to a wide range of people, with mental health issues becoming more commonplace and First Aiders being called upon to help with colleagues, friends, family and members of the public. The Trainer will cover practical steps to take to recognise and support people with mental health issues. Students will engage in a range of practical scenarios, following the Action Plan outlined in the course.
Topics include:
Principles of crisis intervention
Recognising and responding to signs of a person who may be at risk
Providing support to people at risk
Duration
Online Virtual Classroom: 2 x 3.5 hour sessions spread over 2 days, plus online pre-learning (2 hours)
A Virtual Classroom provides a real time interaction with the Trainer and other students, but with the flexibility of logging on from the comfort of home. Students need access to the internet, and a laptop with camera and microphone.
Face to Face Delivery: 1 full day in addition to online pre-learning (2 hours)
Course Outline
This course covers the following:
What is mental health?
What is a mental health crisis
Duty of care
Principles of crisis intervention
Recognising and responding to signs of a person who may be at risk
Providing support to people at risk
Where to go for assistance
Principles of self care
Statement(s) of attainment
On successful completion of this course you will be issued a statement of attainment in:
CHCCCS019 Recognise and respond to crisis situations
For a limited time only, all First Aid training will come with access to our Infection Control eLearning course that participants can complete online in just 45 minutes.
Students will receive a link to the course on their student readiness page.
This course provides practical advice for you and your workplace teams to follow to help reduce the spread of infection such as Coronavirus.
Assessment Information
A successful outcome for this statement of attainment will be determined by a range of different assessment methods including written assessment (questionnaire), observation of simulated and practical activities etc.
Pre-requisites
Complete First Aid for Mental Health E-Learning module
It was one of the most informative, interesting and real courses I have ever attended.
Narelle Beckworth
WorkSafe Victoria
It was very interactive. Previous mental health courses I have done have not had any role plays. The role plays were great to practice in a safe environment.
Nicole Gomizel
State Sports Centres Trust
The trainer was exceptional and to complete a day long course where the trainer is mostly talking through information is outstanding. Rick kept it simple, interesting and well paced
Michelle Turner
Village Cinemas Australia
It was real, it was raw and it was definitely a course I have and will continue to recommend to colleagues
Emma Godfrey
Newcrest Mining Limited
I found the training compelling, emotionally draining and extremely helpful. I had not done training like this before and found it a huge learning experience.
Gemma Richardson
Victorian Legal Services Board + Commissioner