Guide to First Aid Training – What First Aid Providers to Book and Why
03 Jun 2017
Incidences that require First Aid can present themselves anywhere, at any time. The workplace is one of the most common places a First Aid situation will occur so it is imperative that every business is First Aid ready.
With a range of options available for First Aid training, it is essential that you are confident the First Aid providers your business chooses is the most suitable to your working environment and staff.
The First Aid in the Workplace Code of Practice recommends workplace First Aid has to be renewed every three years to ensure it is up to date with Worksafe and First Aid standards. In addition to that, the CPR component is advised to be renewed every 12 months to guarantee First Aiders in the workplace are confident and respond accurately under the stress of a First Aid situation.
Currently, fewer than one in six businesses are meeting the guidelines of First Aid in the Workplace set out by the code.  If a workplace is non-compliant with the code they are left vulnerable and unprepared. This increases the risk of preventable workplace accidents, tragedies and fatalities occurring onsite.
Every workplace has a duty of care to all people onsite and, by being non-compliant, a business is ignoring its duty to ensure workers and others aren't exposed to health and safety risks arising from the business. Workplace First Aid requirements vary depending on the size, type and level of risk, so follow our guide to choosing the best First Aid course for your workplace.
Is Your Workplace First Aid Ready?
We surveyed workplaces and found that 87% of workplaces are NOT First Aid ready.
With the average person spending 32% of their week at work the likelihood of a first aid emergency occurring here is high. In addition, as the number of individuals in a working environment rises the probability of a First Aid emergency occurring also increases.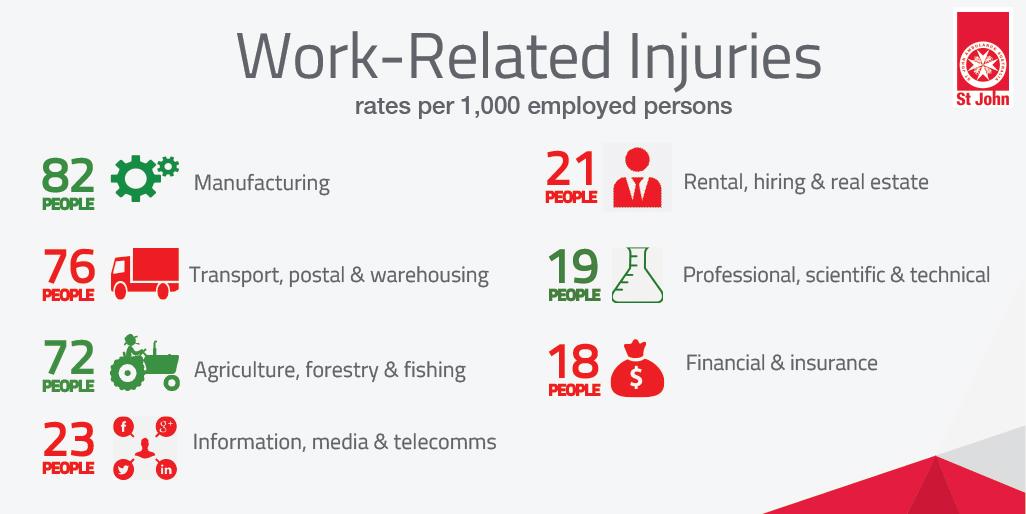 Employees are susceptible to many accidents, incidents and health emergencies and it is up to you to ensure your workplace is ready to respond to any possible First Aid situation. Less than one in three Australian employees currently feel confident to perform first aid in a workplace emergency. The leading reason for this is due to a lack of training in First Aid. Research has found that training employees in First Aid is the most influential factor that provides employees with the confidence to respond in an emergency.
The law requires employers to provide a safe working environment and adequate facilities for the welfare of their employees. For certain workplaces, this must include having appropriate First Aid measures in place in the case of a First Aid emergency. The First Aid training requirements vary per workplace and it is up to you as an employer to keep up with your obligations as set out in the Worksafe First Aid in the Workplace Compliance Code.
For low-risk workplaces with 10 or more employees: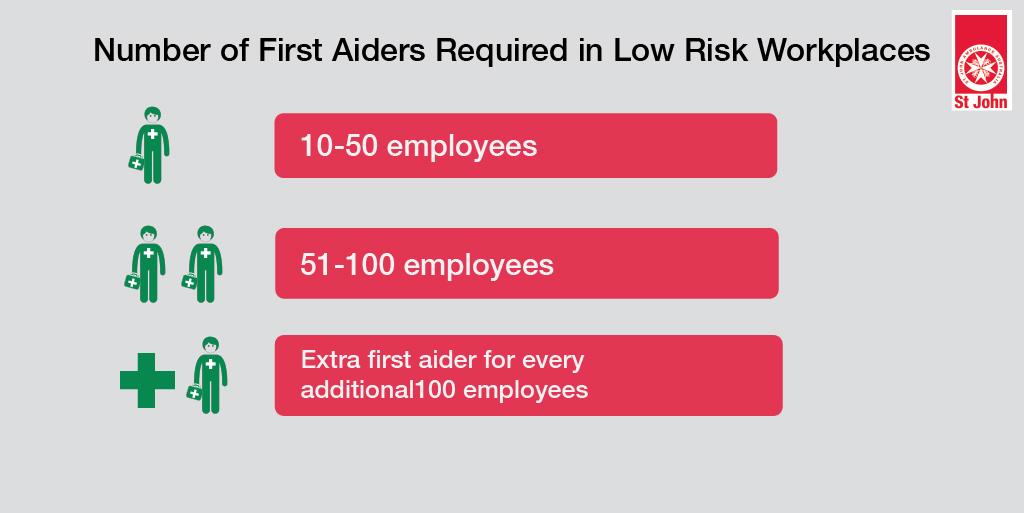 High-risk workplaces will need a higher ratio of First Aiders: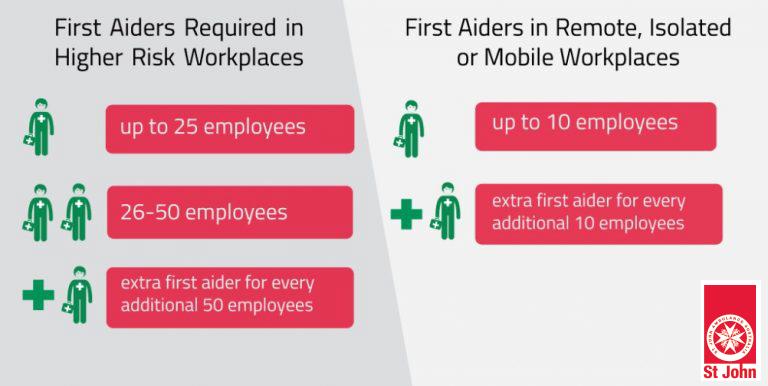 The question is: Are your staff ready to take action if an employee falls susceptible to a workplace injury or health emergency? Workplace First Aid requirements vary in every business. Use our guide to find out what it is you should be looking for in First Aid providers.
What to Look For When Choosing A First Aid Course
Congratulations – you have decided to become First Aid ready! There are a few things you should look for:
Accessibility:

 

how close is your First Aid providers training centre from the workplace, do they have multiple locations available if needed and can they train staff in your preferred time slot?
Accreditation:

 

in particular, if you are completing First Aid as a requirement for your workplace you must ensure the course you choose is compliant with the Australian Skills Quality Authority.
Consistency:

 

it's important that your First Aid provider delivers and presents the content in the same way, no matter who the audience are. This guarantees that every person has the same understanding of how to respond correctly in a First Aid situation.
Experience:

 

do the trainers of the First Aid course have real life experience? If so, they will provide valuable insight that other trainers are not able to.
Quality:

 

it is essential that your course has professionally qualified First Aid trainers to ensure you are receiving quality and applicable information.
Reputation:

 

a provider with a strong brand has developed their trusted reputation for a reason.
Suitability:

 

many people undergo First Aid training for varying reasons and courses are designed to suit both specific and broad First Aid needs. Research courses thoroughly to guarantee it is the right course for your businesses First Aid requirements.
Specialists:

 

a provider that specialises in First Aid only, instead of offering courses in dozens of subjects, is going to be an expert in the field with a wealth of knowledge.
Technology:

 

with technology revolutionising rapidly, providers are now offering courses which include CPR manikins that can measure accuracy using the latest software. If you really want to be First Aid ready, choose a supplier who is up to date with the resources available for optimum training.
Importantly, is your business better suited to training at the providers training centre or onsite? Onsite training offers the following:
Flexibility:

 

the ability to train your staff at any time, any day of the week
Convenience:

 

your employees simply show up to work, just like every other day
Numbers:

 

large numbers of your staff can be trained at the same time
Key Questions to Ask When Choosing your First Aid Provider:
What are my workplaces common First Aid risks? Asthma? Anaphylaxis? Drowning? Burns? Unpredictable health malfunctions?
Who may need First Aid assistance at my workplace? Children? Adults? The elderly?
When was the last time employees completed First Aid training?
The need for First Aid can appear anywhere, at any time and at any place. There is no greater risk than being underprepared in a health emergency. By completing First Aid training you are ensuring if a health emergency occurs in your workplace you have done everything within your control to be able to assist and respond accordingly.
Once completing First Aid training people are more confident and ready to respond if a First Aid situation presents itself. As a business, if it means increasing your workplace safety and lowers the risk of tragedy, why wouldn't you make the choice to train your employees in First Aid today?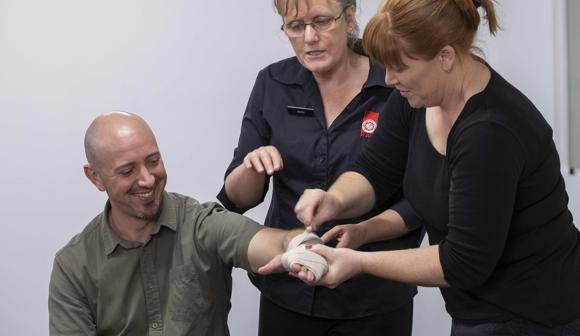 HLTAID011 PROVIDE FIRST AID
This course teaches the skills and knowledge required to recognise and respond to life-threatening emergencies and provide a first aid response to a casualty in a range of situations.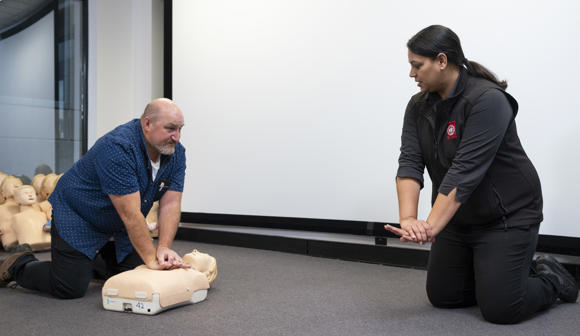 HLTAID009 PROVIDE CARDIOPULMONARY RESUSCITATION
Learn the skills to perform life-saving (CPR) on an adult, child or infant who is unconscious and not breathing normally.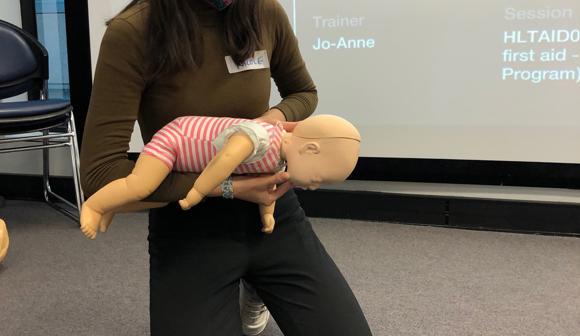 CARING FOR BABIES AND KIDS