5 Ways to Know if You're Getting Your Training from a Real RTO
17 Apr 2018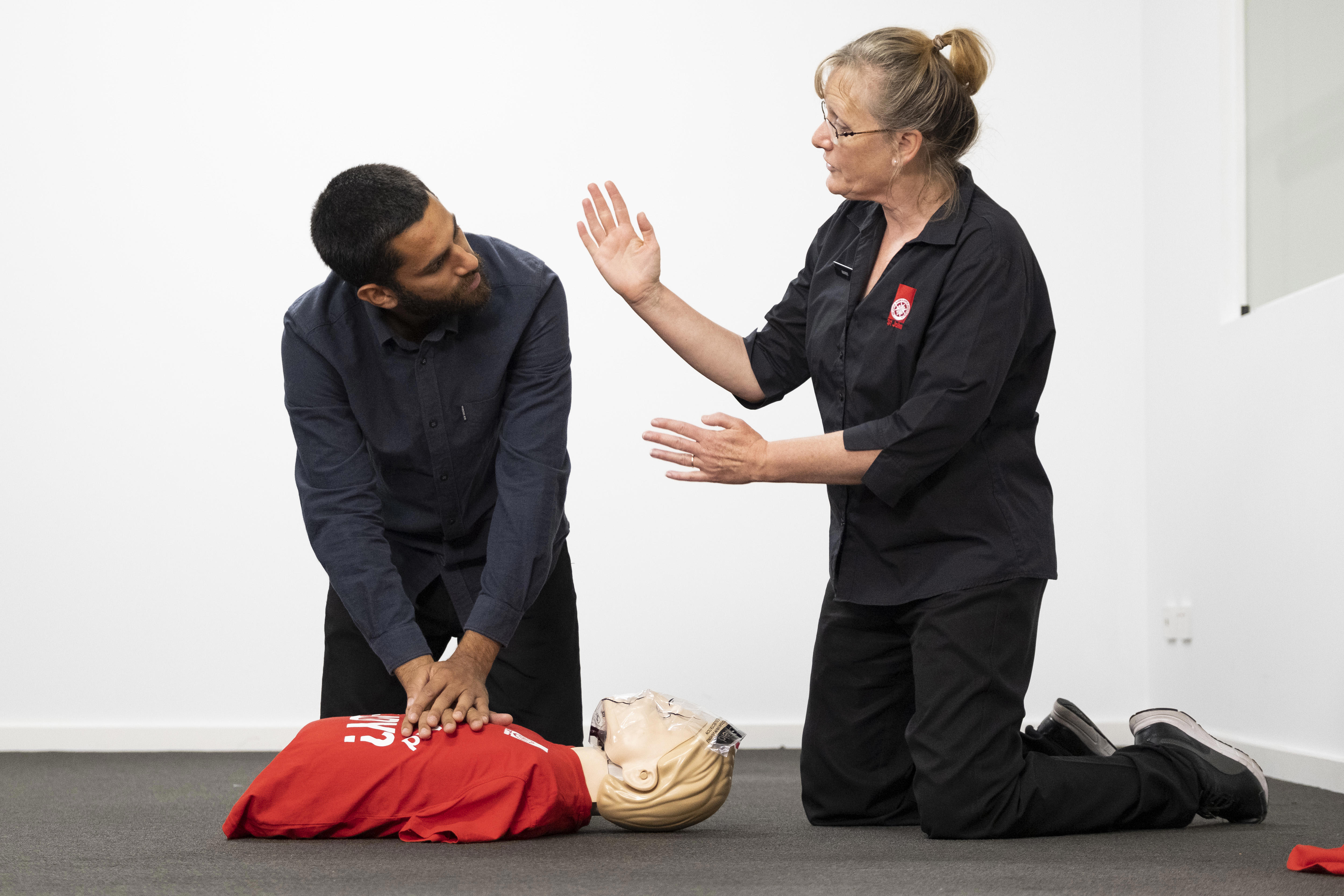 When you're completing any type of training, whether it be First Aid training or another sort of workplace course, you depend on knowing you're dealing with a reputable RTO training organisation that will deliver more than just a piece of paper. After all, your time, money and effort are all extremely valuable and you have committed a great deal, expecting something equally as valuable in return. When it comes to lifesaving training like First Aid Training, this is even more critical than ever.
Sadly, recent events have revealed some First Aid 'training' organisations are issuing certificates without being appropriately registered to do so, leaving teachers and schools high and dry with questionable First Aid qualifications.
Who Can Be A Training Provider?
A training provider must be registered by the Australian Skills Quality Authority (ASQA) in order to provide nationally accredited training. ASQA is a national regulator for Australia's vocational education and training (VET) sector and is the only body who can declare who is and isn't eligible to issue nationally recognised training certificates. A provider cannot simply declare their certificates are nationally recognised if they haven't been given this accreditation by ASQA.
What Happens If A Provider is Not Accredited?
So when it turns out that your certificate was issued by an organisation that does not have a right to issue any type of qualification, let alone those relied upon workplace compliance, it opens up some questions. In reality, these training certificates aren't worth the paper they are printed on and the qualification won't be valid.
When it comes to First Aid training, if the workplace First Aiders' certificates aren't  valid, this means the organisation does not have qualified First Aiders as required and the organisation is not compliant with the WorkSafe First Aid Compliance Code, which requires a set number of qualified First Aiders on site depending on business size and risk profile. This can result in possible fines or worse; in the event of an incident, the First Aiders may not have the skills and knowledge to be able to respond appropriately.
5 Ways to Spot a Dubious First Aid Training Provider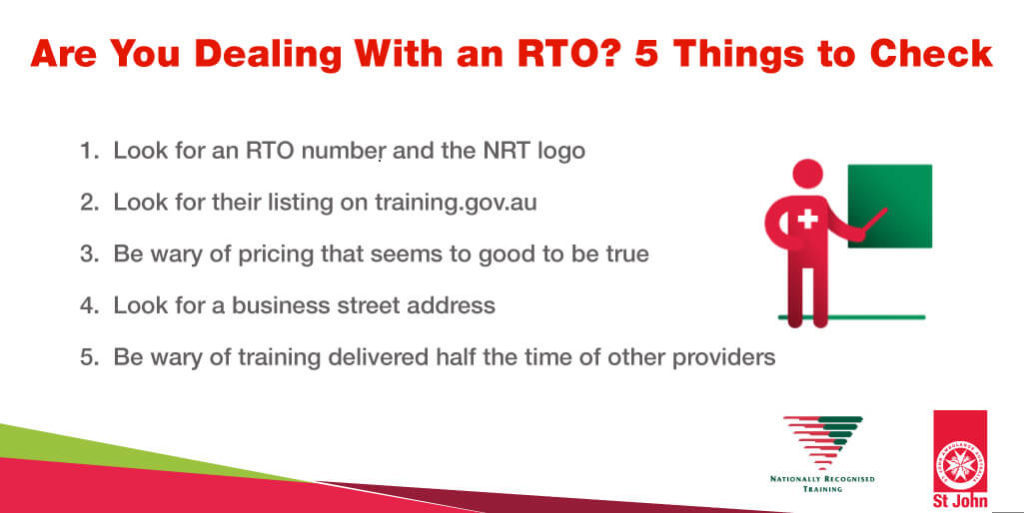 So how do you know if a training organisation is not compliant or even registered to provide certificates? We have put together some potential signs to watch out for.
1. There is no RTO Number or logo to be found: by law, to be a Registered Training Organisation (RTO), the organisation must display their government-issued RTO number, as well as the Nationally Recognised Training logo in various places, such as their website and on all training material (e.g. certificates, brochures, etc.). Look out for it in key places such as the footer of a website, on letterhead and in the fine print of brochures about training courses.
2. The organisation is not on the register: Training.gov.au is the official national register of information on training packages, qualifications, courses, units of competency and RTOs. If the organisation is not listed in the search on training providers, they are not an RTO training provider.
3. Their pricing seems too good to be true: often that is because it is. If their prices are less than half of the others, there may be a reason. Maintaining compliance and being up to date with the latest knowledge and practices takes ongoing investment. As does ensuring staff delivering the training have the necessary certifications and continual development. Cut-price operators often leave critical elements out of their organisation to allow the prices to be so low.
4. No business address listed: if you can't find a street address and only a PO Box, this is not a good sign.
5. Training is marketed as being completed in a very short amount of time: when other providers list a course as a full day and the provider lists it as 4-5 hours, this is another important warning sign. Accredited RTO training providers are required to ensure the amount of training provided is sufficient, instead of merely glossing over a key learning area to tick a box. Going away from the course feeling like you haven't gained enough skills or knowledge in the area is something an RTO must avoid.
First Aid training is something you shouldn't take chances on. Look for the signs of an accredited RTO training organisation, ask the provider further questions and check with ASQA if you're unsure. After all, it's more than just a piece of paper when it comes to First Aid. If you've done a First Aid course, receiving quality accredited training will mean that you can readily recall and act on the training you received to save a life. And that is worth your due diligence many times over!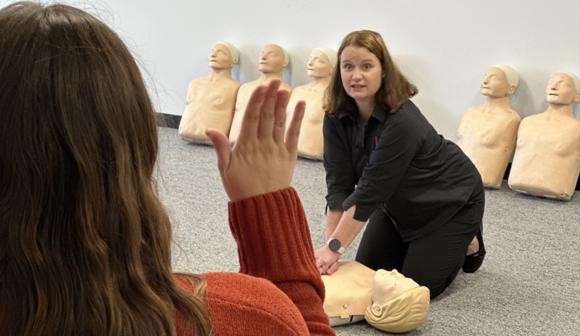 HLTAID011 PROVIDE FIRST AID
Suitable for both people in workplaces and members of the public who would like a comprehensive first aid course.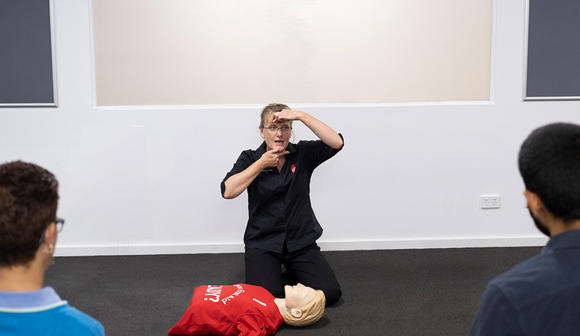 HLTAID009 PROVIDE CARDIOPULMONARY RESUSCITATION
Learn the skills to perform life-saving (CPR) on an adult, child or infant who is unconscious and not breathing normally.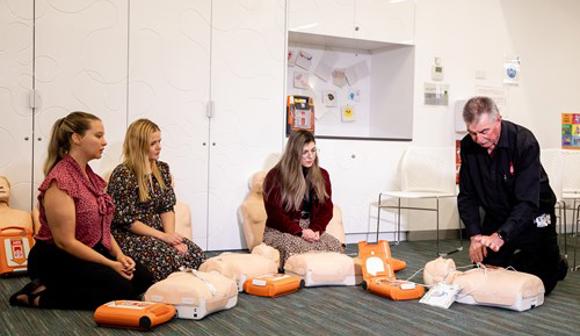 VENUES & LOCATIONS
St John has a range of​ training locations across Victoria.