New technology in CPR Training (QCPR)
08 Nov 2017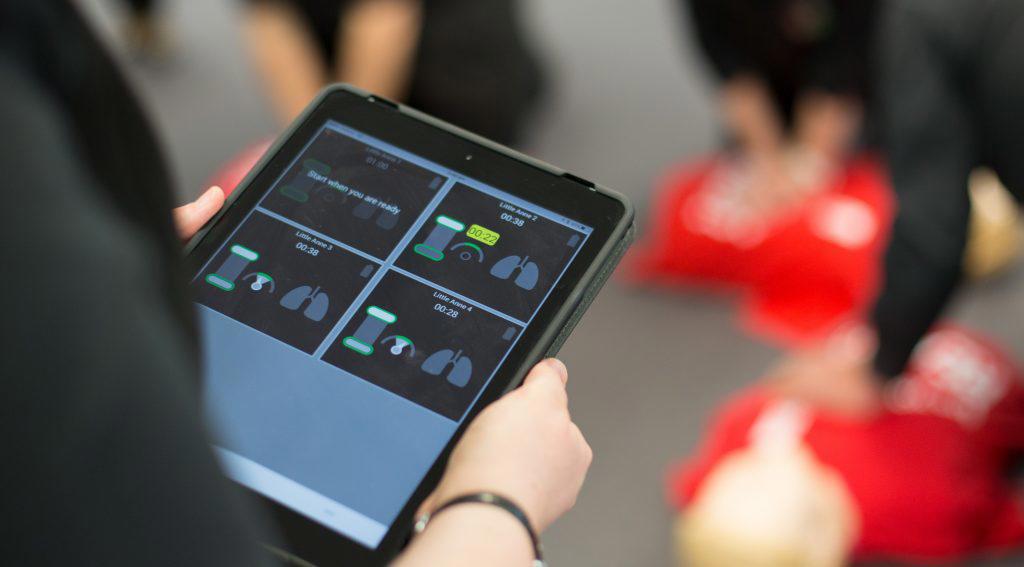 As Australia's leading First Aid provider, St John Ambulance is consistently evolving to ensure we are always providing the public with the most up-to-date and effective First Aid training possible.
In this day and age, technology is continually progressing to enhance all kinds of experiences and ultimately allow us to live a better life. We live in a tech-savvy era where we are surrounded by innovative technology every day and St John is thrilled to be leading the way in Australian First Aid with the latest industry training technology, QCPR.
CPR is a core focus of First Aid training so it's important we are always providing the most advanced and definitive CPR training possible. The introduction of QCPR allows St John to continue to pave the way for First Aid in Australia.
What is QCPR?
QCPR is an app our trainers connect to the CPR manikins to provide real-time feedback throughout practical CPR training. Special features of QCPR include:
Live, real-time feedback to the user on their accuracy of CPR on a manikin
Provides a score on their overall performance on compressions (correct speed, depth and release) and ventilations and breaths
Why The Need for CPR Feedback?
CPR is one of the most critical elements of First Aid training. The need can present itself anywhere and at any time, which is why the public not only need to learn the theoretical and practical elements of CPR but also need to walk out of their CPR training with the utmost confidence in their ability to save a life.
A study commissioned by St John Ambulance Victoria revealed that although many are willing to provide CPR, only 20.7% of people were confident to do so in an emergency.
We know that sometimes, even though you have the theoretical and practical knowledge, it is not always enough to overcome the fearsome experience and gain the confidence needed to respond in a stressful situation. The gap in this situation needs to be filled. Cue, QCPR.
Research suggests that when it comes to CPR training those who received instructor-led training in conjunction with automated feedback retained their CPR knowledge and skills best which enhanced their confidence in providing CPR.
QCPR gives participants a more in-depth learning experience, providing them with individual feedback specific to their practical CPR demonstration. The app provides visual feedback which displays the accuracy of their compressions (speed and depth) as well as ventilations and breaths.
Visual learning is a long-time proven learning technique which enhances the likelihood of effective recall in future. QCPR enables the trainer to better monitor and correct participant technique and ultimately perfect their CPR performance.
What Are The Benefits?
"Practice makes perfect" – consistent feedback allows participants to quickly correct and refine their skills so that they experience and learn exactly what high calibre CPR involves
Interactive and engaging training – QCPR is an improved training experience, the advancement of technology provides students with unmatched feedback throughout their CPR demonstrations
Trust in the training process – see with your own eyes the difference more or less pressure makes to your score
Knowledge and confidence in the value of First Aid training – the advancement in technology is the closest comparison to real-life CPR available which instils confidence to respond in the event of an emergency
Where Can You Find QCPR?
This innovative approach to CPR training is exclusive to St John Ambulance Victoria First Aid courses at our Melbourne City Training Centre.
---
When investing in First Aid training for your colleagues, employees or family it's important you research your provider to ensure you are getting the value you expect out of your course. The latest technology in CPR training is just one component to look out for.  If you're due to renew your First Aid training read our tips on What First Aid Providers to Book and Why.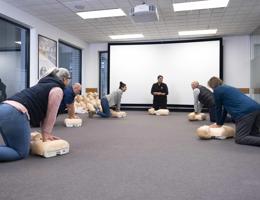 1 Day HLTAID011 Provide First Aid (Includes CPR)
Previously known as HLTAID003/Level 2