12 Ways to Keep Your Mental Health and Wellbeing in Check When Social Distancing or Isolating
06 Apr 2020
The outbreak of Novel Coronavirus (COVID-19) has profoundly disrupted society worldwide in the way in which we live and work. The pure enormity of the virus' spread has left people feeling a mix of emotions, including, anxiety, distress and concern.
How COVID-19 Fuels Anxiety
There are many contributing factors to spiked anxiety levels throughout these unprecedented times. Some of these include widespread media reporting of the coronavirus pandemic, changing daily circumstances and uncertainty about the future, all of which can give rise to heightened individual and community anxiety.
As social restrictions become tighter across Australia to help reduce the spread of COVID-19, this can have severe impacts on our mental health. A lack of social connectedness –caused by isolation – can leave people feeling lonely and in turn create a persistent state of panic, resulting in being unable to perform normal tasks such as working, taking care of themselves or others.
Feelings of worry and unease can be expected during such a stressful event, but it's important to manage our stress before it turns into more severe anxiety or panic.
Social Distancing – How Can we Still Stay Connected?
It's important to note that although we're practicing social distancing, there are still ways we can stay connected through technology.

Video calling – there's an app that has emerged called Houseparty. It's a face to face social network that allows you to spend time with people you care about and have a virtual 'House Party'
Online group chat – Starting an online group where people can chat or leave messages can help you stay connected at any time of day, whether others are online or not
Digital Games – While sitting around a table with friends to play board games is a no-no right now, you can have a similar experience playing games through apps, consoles or streaming services
Online classes – While they are closed, lots of organisations that offer exercise and creative classes are operating online. You could take an exercise class, stretch out with some yoga, feel the beat in a dance class or learn how to paint through an online art studio
Social media – Whilst too much social media can have a negative impact on your mental wellbeing – a little bit can go a long way. Checking in with others, sharing an uplifting photo or finding a funny video are all made easier through social media platforms
Top Tips to Maintain Positive Mental Health During COVID-19
Taking steps to maintain good mental health during these uncertain times is imperative to our overall wellbeing and will help us get back on track faster once restrictions ease. There are several ways to support your mental health during periods of self-isolation or quarantine.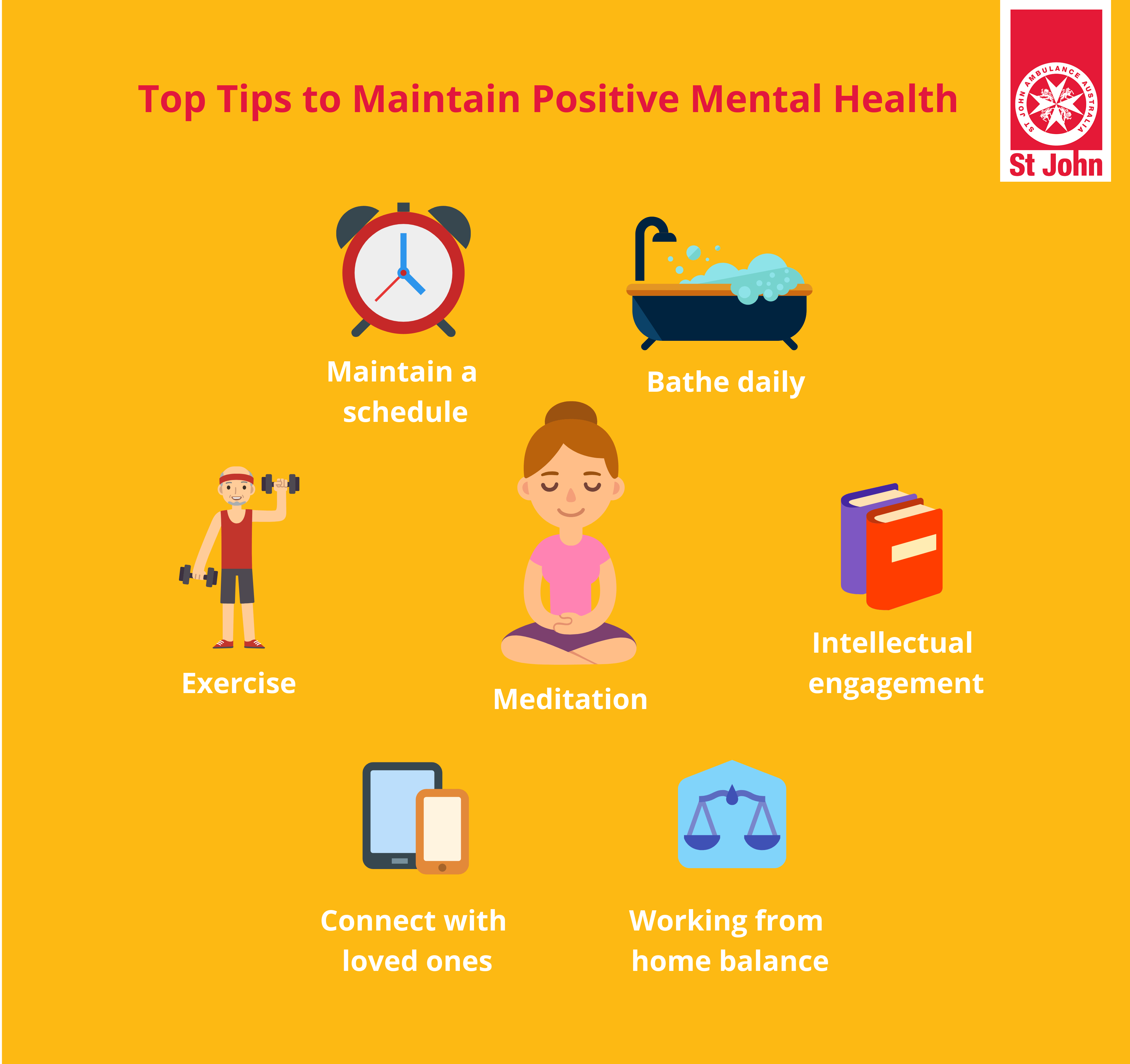 Try maintaining a schedule or routine – get up at a reasonable time, make your bed and get changed (as if you were going to go to work)
Exercise and maintain physical activity, daily if possible – try going for a walk or complete a home workout in your living room;
Learning and intellectual engagement – this can be books, reading or puzzles
Practice meditation and relaxation;
Use technology to connect with loved ones – have a virtual cuppa
Bathe daily, if possible, to reinforce the feeling of cleanliness
When working from home, establish a healthy balance between work life and home life by dedicating set work hours, and taking regular breaks as you would if you were physically at work
While stress and sadness are normal and natural responses to COVID-19, we must remind ourselves that this situation is temporary. In times of distress, we must be kind to others, but most importantly to ourselves.  If you're feeling a decline in your mental health or feeling overwhelmed it's extremely important that you seek help.
Visit Beyond Blue's dedicated information page about mental health and the Coronavirus at https://www.beyondblue.org.au/the-facts/looking-after-your-mental-health-during-the-coronavirus-outbreak
For immediate support call Lifeline on 13 11 14 and in an emergency, always call triple zero (000).
Mental Health and Wellbeing Essentials Workshop
Delivered in a face to face workshop setting. Suitable for members of the general public interested in prevention skills and strategies. Students may or may not be employed or part of a workplace.
Mental Health and Crisis Support
Learn how to recognise and support people dealing with a range of common mental health issues.
Infection Control Elearning
Workplace infection control course completed online within 45 minutes.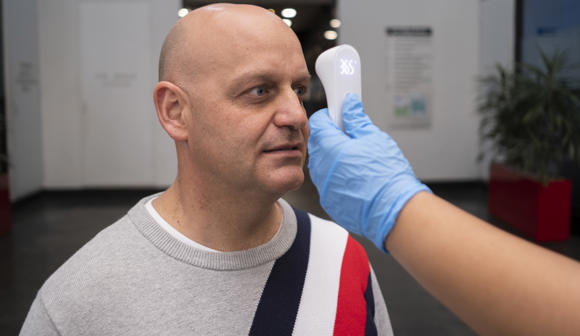 TEMPERATURE SCREENING SERVICE
Help restrict unwell people from entering the premises.