First Aid Tips Every Workplace Should Know For Manual Handling Injuries
17 Oct 2017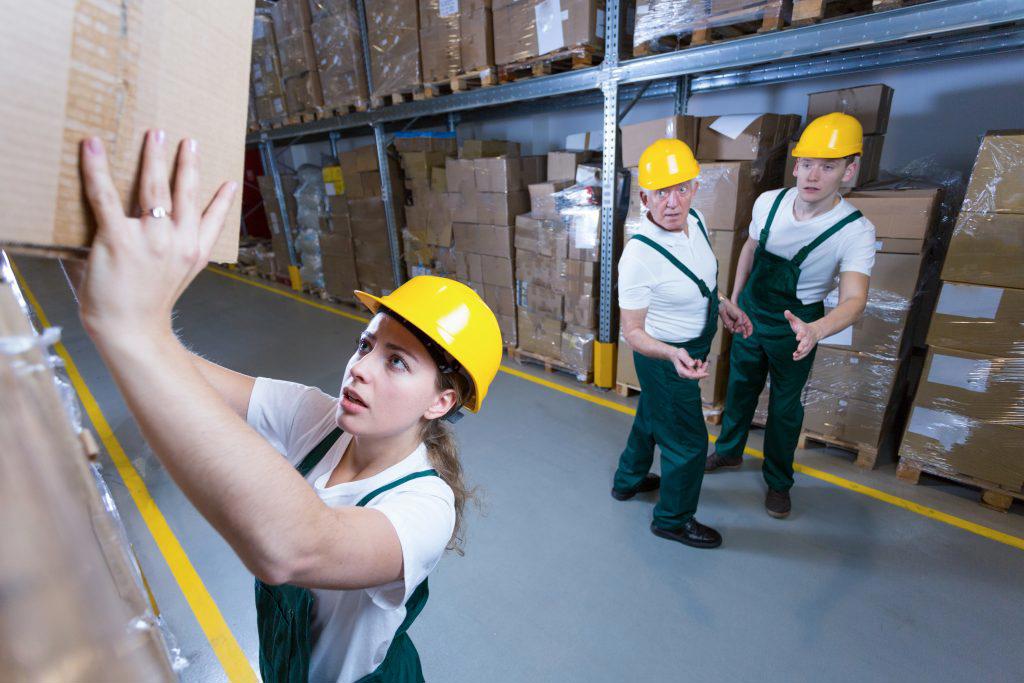 October is National Work Safety Month which reminds both employers and employees the importance of a safe workplace. The consequences of a hazardous workplace can be drastic, with many Australians left unable to work and some tragically losing their lives from poor workplace health and safety (WHS) each year.
As an employer, you are obligated to provide a safe place to work for all employees, according to the Workplace Code of Practice. However, this does not mean that employees should entirely rely on their employer to set the standard for WHS. If you identify a WHS hazard in your workplace, you have a moral obligation to raise your concerns with the appropriate authority.
If a business as a whole (management, stakeholders and team members) identifies the value of a safe workplace, implements and follows correct performance procedures, the number of lives affected by poor WHS will decrease significantly. Don't let any concern go unnoticed and run the risk of regret.
A majority of workplace injuries are preventable, including the most common workplace injury in Victoria; manual handling. Follow our guide on how to prevent and provide First Aid for manual handling injuries.
Manual Handling Injuries In The Workplace
Manual handling is defined by the exertion of force to lift, lower, push, pull, carry, move, hold or restrain objects or people. It is commonplace in many workplaces and it is the biggest cause of workplace injury in Victoria.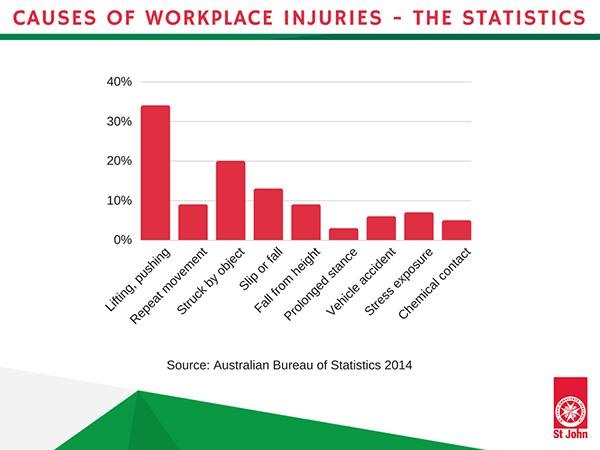 Although it is mandatory for every business to provide a safe space for employees to work, the number of workplace injuries occurring annually is substantially high. Unfortunately, when an injury results from poor WHS the worker bears the majority of the cost.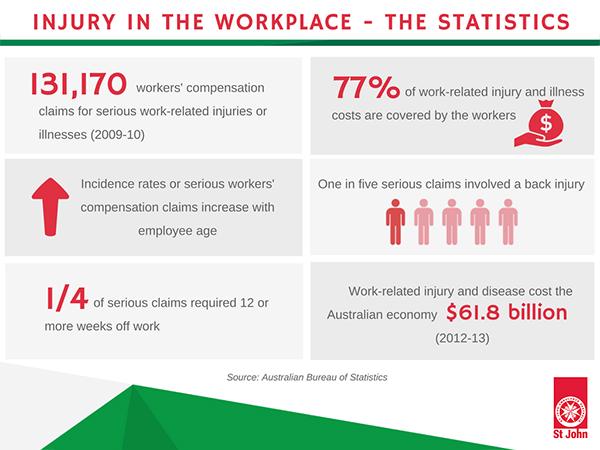 How Can You Prevent Manual Handling Injuries
Ensure every employee is informed of the correct lifting and moving procedures in the workplace. If you identify poor lifting and moving practices in your workplace, raise your concerns with the person. Or, if the task cannot be manually performed safely, bring it to management's attention immediately.
Workplace safety checks should be completed regularly. These should include:
Asking employees to raise any concerns
A walk through the workplace to check for any possible safety risks
Analysis of injury reports to identify repeat incidents/hazards
Continually monitor and update risk identification reports
Injuries caused by manual handling are commonly a result of:
Lifting heavy or awkward objects
Completing repetitive tasks such as stacking or unstacking objects
Pressure to perform tasks quickly
Carrying objects that are difficult to grip
Performing in a challenging environment (i.e. carrying objects down steep stairs)
Environmental factors (heat, cold, lighting)
A Guide To Safely Lifting And Moving Objects
There are many tools and procedures you can implement in your workplace to ensure your health and safety is not at risk when performing manual handling tasks. Examples of this include:
Mechanical aids (trolleys, conveyors, hoists, forklifts)
Use of adjustable platforms or scissor lifts
Adjustment of work surfaces to accommodate for height and adequate space to complete tasks
Ensure employees alternate tasks
Train employees in how to use all equipment correctly
Provide ample storage space to avoid stacking objects unsafely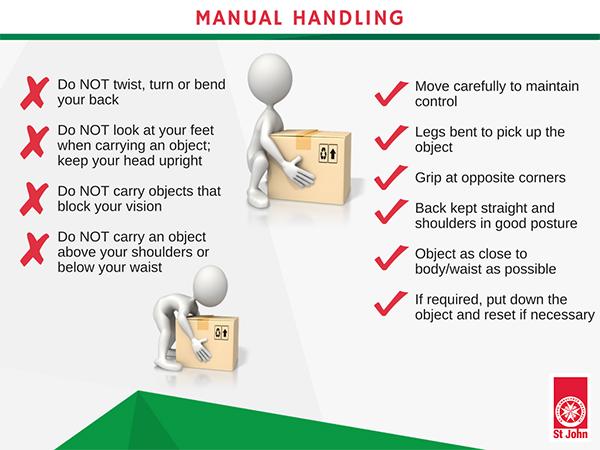 Common Manual Handling Injuries
If performed incorrectly, manual handling can cause a range of different injuries depending on the task, environment and performance. These include:
Chronic joint or muscle condition
Crushing injury
Superficial injury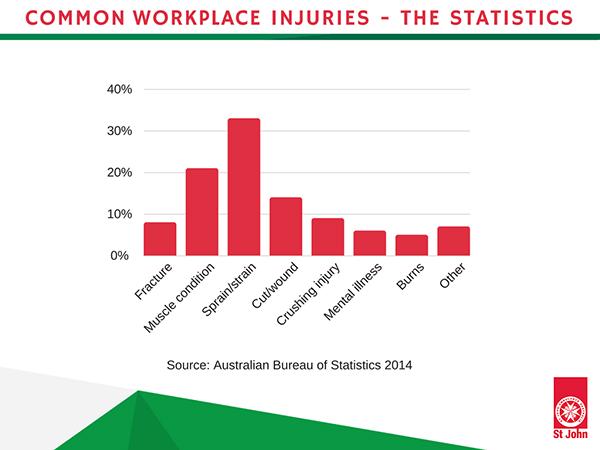 First Aid Management For Manual Handling Injuries
Common manual handling injuries include fractures, sprain/strain, chronic muscle conditions, cut/open wound or crushing injury. 
A crushing injury is a common consequence of poor manual handling. Follow our tips on how to manage a crushing injury:
Follow

 

DRSABCD
Call triple zero (000) for an ambulance
Remove the crushing object as soon as possible if safe, unless the object has been in place for more than 15 minutes, in which case rely on advice from 000
Control bleeding with a makeshift bandage
Apply pressure to any bleeding
Check for other injuries and manage
Comfort and reassure the casualty
If poor manual handling leads to an open wound such as a bleeding scalp, follow these tips:
Follow

 

DRSABCD
If you believe the casualty may have suffered from a fracture, control bleeding with mild pressure around the wound
If the casualty doesn't seem to have contracted a fracture, control bleeding with firm pressure on the wound (wear gloves if possible, apply a pad and bandage)
Allow the casualty to sit up to reduce bleeding if they have not contracted any other injuries that prevent them to do so
Monitor and record the casualties condition
Sometimes, workplace injuries develop over time, such as chronic joint or muscle conditions. The signs of chronic joint or muscle conditions include:
| | |
| --- | --- |
| Joint conditions | Muscle conditions |
| ·        Joint pain | ·        Pain on and around the area |
| ·        Swelling around the area | ·        Pain worsens with movement |
| ·        Joint stiffness | ·        Feelings of pulled/overworked muscles |
| ·        Joint redness | ·        Fatigue |
| ·        Tenderness | ·        Sleep disturbances |
| ·        Warmth on the area | ·        Muscle twitching |
| ·        Tingling | ·        Burning sensation in the muscle |
| ·        Numbness |   |
If you suspect you may be suffering a chronic joint or muscle condition schedule an appointment with your GP to discuss and explore further.
---
When an employee suffers a workplace injury the costs are high. Not just for the employee, but for the family of the injured and for the business that loses a team member for what could be a long time.
Manual handling injuries can be prevented with the simplest of steps. Jeopardising your health and safety to complete a task half-heartedly or more quickly is not worth the risk.
The consequences of manual handling injuries can range from mild to severe, sometimes they can be tolerated and sometimes they're completely debilitating to a person's livelihood. Don't compromise the health and safety of your employees or yourself.
Check that manual handling procedures are being performed correctly, ensure that team members are equipped with the tools they need to do so and don't ever take the risk 'just one time'.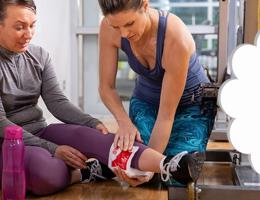 Bitesize Fractures, Sprains, Strains, Dislocations
Learn how to identify and manage first aid to a casualty suffering a sprain, strain or dislocation in this interactive online course.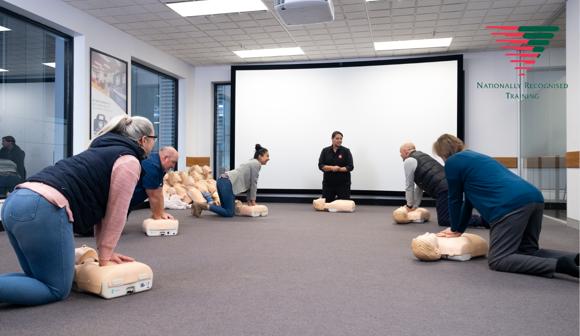 PROVIDE FIRST AID
Learn how to manage a range of common first aid scenarios.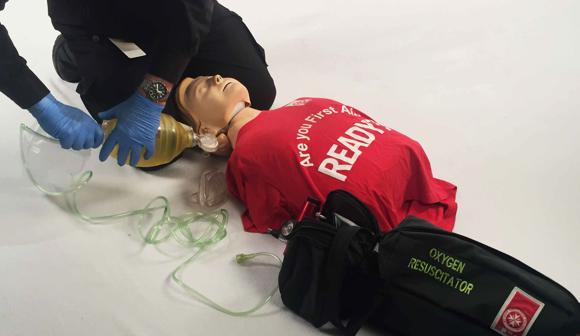 OCCUPATIONAL FIRST AID SKILL SET
This course equips students for emergencies in a high risk work environment and provides the skills necessary to be responsible for a first aid room.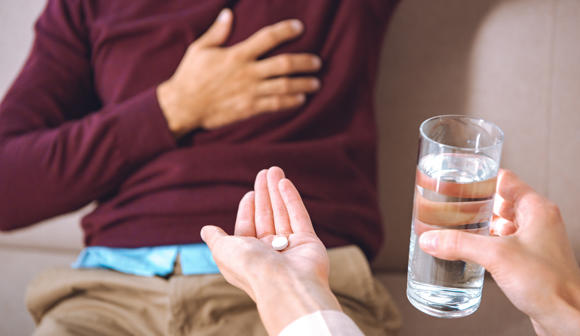 PUAEME005 PROVIDE PAIN MANAGEMENT
This course covers the proper administration of paracetamol and methoxyflurane to relieve pain.