Your First Aid Checklist for Back to Work
30 Jan 2017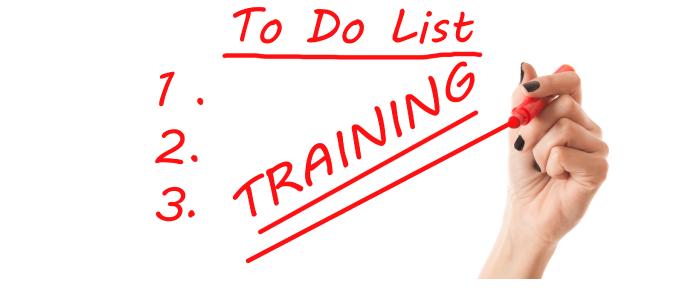 As the saying goes, if you fail to plan you plan to fail. Without a doubt, this also applies to First Aid in the workplace.
At a minimum, your business needs to be compliant with the Worksafe Compliance Code for First Aid in the Workplace if you are in Victoria. Regulations require employers to provide a safe working environment and adequate facilities for the welfare of their employees, First Aid measures including kits and trained officers.
Beyond what you must do, consider what you could do to ensure that, in the event of an emergency situation, your organisation is best equipped with the skills and resources to save a life.
We know you don't have time to read all the rules and regulations related to First Aid, so we've prepared a handy guide for businesses to follow in the new year:
Your First Aiders
Having enough First Aiders for the number of employees and contractors is the first place you should start. How many First Aiders you will need depends on your level of risk…
For low risk workplaces with 10 or more employees: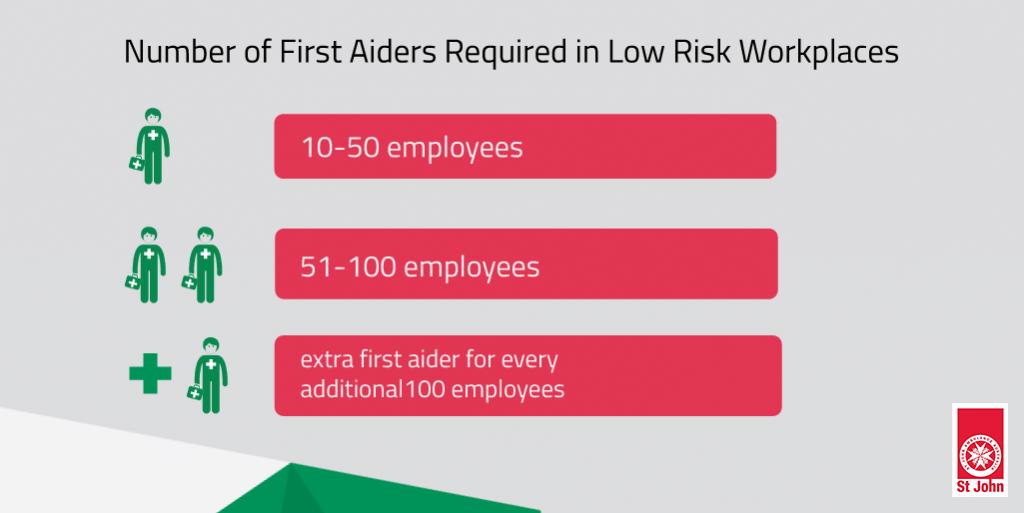 High risk workplaces will need a higher ratio of First Aiders: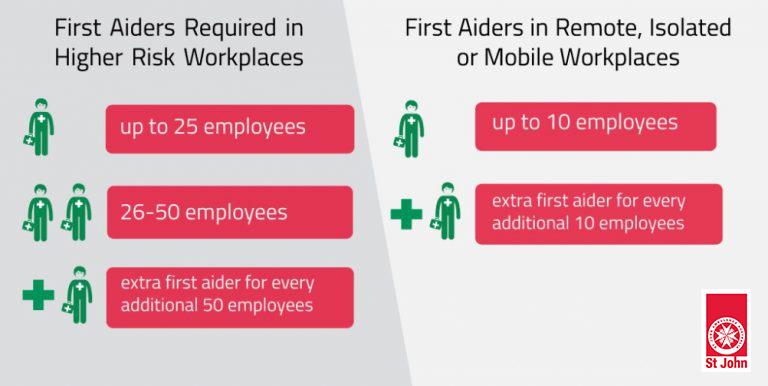 Do you know if your workplace is low or high risk? Low-risk workplaces include offices, libraries and most retail operations. Higher-risk workplaces are those that expose employees to hazards that could result in serious injury or illness that would require immediate medical treatment (e.g.: amputation, head or eye injury, electric shock, spinal injury, etc.). Higher-risk workplaces can include manufacturing plants, kitchens, motor vehicle workshops, medical research facilities and forestry operations.
If in doubt, it is always better to have more first aiders than less. For example, if your workplace is a low risk office with 49 employees you are only 'required' to have one first Aider according to the code. However, you may want to consider the situation from a risk management perspective and consider the possibility of what could happen if that First Aider is off-site for a meeting or lunch, or even if that person requires First Aid treatment themselves. Common sense would reason that this is quite likely, in which case an extra First Aider would be a good business decision to minimise risk.
In addition, since you last completed your checklist have any of your First Aiders left the business, taken extended leave or reduced their hours? If so you need to replace these with additional First Aiders.
Along the same lines, if the hours of operation of the business have increased (for example adding a night shift) or extra days have been added, you will need additional First Aiders to cover the increase.
Your First Aider Training
It's not enough just to have First Aiders who have completed a course 5 years ago – all training certifications need to be current. The Provide First Aid Courses (previously called Level 2) are valid for 3 years and we recommend the CPR component is also completed every 12 months.
It may help to keep a spreadsheet of your First Aiders' certifications and the expiry dates so you can keep track of when they are due. If you have at least 10 staff ready to participate in a course you may qualify for us to do onsite training at your workplace, which is more convenient and can even be considered an ideal team bonding experience.
Another thing to consider is whether staff need training in addition to the Provide First Aid courses to suit your industry needs. There are a range of specialised courses available that cater to the needs of certain workplaces and tasks:
Education and care settings
Electrical Advanced techniques for higher risk workplaces
Sports injuries
Asthma and anaphylaxis
Remote situations
Preston, Dandenong, Melbourne CBD, Clayton, Keilor East, Attwood (Tullamarine), Ballarat, Echuca, Shepparton, Geelong, Werribee, Traralgon, Wangaratta, Cheltenham, Pakenham, Bendigo, Bacchus Marsh, Botanic Ridge (Cranbourne), Ringwood, Mill Park, Altona, Laverton, Warrnambool, Portland, Mooroolbark, Sunbury, Box Hill North, Frankston, Bairnsdale, Sale, Yarrawonga, Swan Hill, Mildura, Warragul, Wodonga, Altona Meadows, Colac, Box Hill, ONLINE DELIVERY
Suitable for both people in workplaces and members of the public who would like a comprehensive first aid course.
Dandenong, Echuca, Geelong, Melbourne CBD, Werribee, Traralgon, Wangaratta, Box Hill North, Box Hill, Pakenham, Bendigo, Botanic Ridge (Cranbourne), Ringwood, Altona, Laverton, Portland, Warrnambool, Mooroolbark, Shepparton, Sunbury, Caroline Springs, Cheltenham, Frankston, Mill Park, Ballarat, Bairnsdale, Sale, Keilor East, Clayton, Yarrawonga, Attwood (Tullamarine), Swan Hill, Warragul, Mildura, Preston, Wodonga, Altona Meadows, Colac, ONLINE DELIVERY
Learn the skills to perform life-saving (CPR) on an adult, child or infant who is unconscious and not breathing normally. 
The Occupational First Aid course equips students for emergencies in a high risk work environment and provides the skills necessary to be responsible for a first aid room. 
Should you also consider offering training to employees who aren't First Aiders? For example, many high risk workplaces like construction companies are now requiring First Aid courses for all employees and contractors so that, in the event of an incident, it can be attended to with a minimal delay, resulting in improved outcomes and reduced risk for the employer. A simple and cost-effective way to do this is via our eLearning courses that can be completed anytime, anywhere.
Your First Aid Kits
You're probably aware that workplaces must have a First Aid kit, however, you may not be sure how many or what type would be best.

An easy way to remember this is to allow one First Aid Kit for every First Aider.
A few circumstances where you will need additional First Aid Kits are as follows:
In vehicles used for work – one each
Where work areas are separated in distance,

 

portable

 

kits for each area are advisable in addition to a centralised facility with a

 

wallmounted First Aid Kit
You may not be aware of the standard inclusions for a First Aid Kit, we recommend: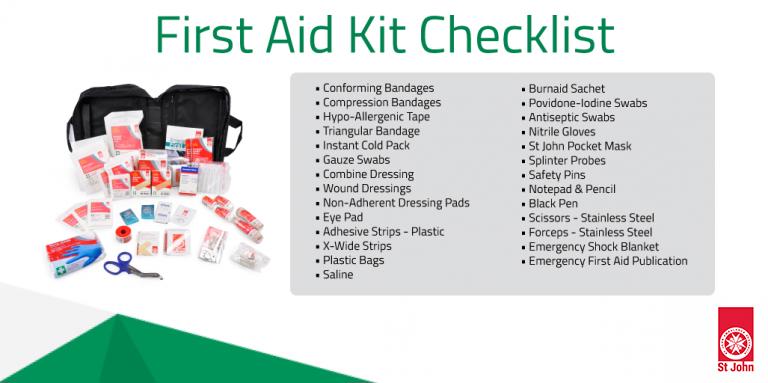 Purchasing a kit that is suited for your workplace is a convenient way to ensure it will be correctly stocked. We have a range of industry specific First Aid Kits available:
As well as offering First Aid Kits, staff will need to know where they are at all times. Signage, wherever each First Aid Kit is located, is a simple way to identify the location of kits to staff, contractors, visitors and customers.
Beyond knowing kits are available and where they are, staff should be familiar with the items in the kit and how to use them. It is worth having the First Aider demonstrate during a short session with staff to take them through the items in the kit and what they should be used for.
Restocking Your Kits
Did you know most items in a First Aid Kit like bandages, saline and tape do expire? If you haven't checked the dates on the items in your kits for a while, make that one of your first tasks on the checklist. Don't forget the kits in vehicles; it seems many of us have some very old kits floating around in our glove boxes!
If they haven't expired, you will probably find there are items missing that must now be replenished. Make a list and keep on hand extras of items like Band-Aids that are used regularly, as they will run out again. We understand checking expiry dates and restocking kits can be tedious and time-consuming, which is why we offer a kit restocking service to make your life easier.
Your Defibrillators/AEDs
You may not have previously considered this purchase, but the new year is a great time to think about investing in an AED (Automated External Defibrillator). You would be surprised at how often they do save lives, and with every passing minute that a victim of sudden Cardiac Arrest goes without Defibrillation, the chance of survival drops by 9%. Anyone can use an AED (not just First Aiders) as they provide audio instructions to follow along with. Many smart businesses are installing AEDs as a low-cost risk reduction strategy that can save lives.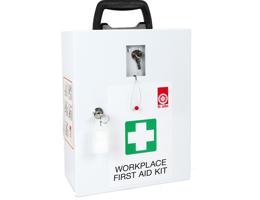 Workplace First Aid Kits
St John Ambulance has a wide range of First Aid Kits suitable for the workplace.
When You Already Have An AED
While anyone can use an AED without training, if staff haven't been given a short demonstration on how to use the AED, many will be uncomfortable operating the device in an emergency. Perhaps there was a demonstration when the AED was first installed but now a few years have passed and you have many new employees who have not been shown how to use an AED. Our staff can provide a half an hour session at your workplace at a convenient time to you. At the same time, they can also service the AED, as the pads will need to be replaced every 2 years and the battery every 4 years.
Your First Aid Procedures
While your First Aiders will know what to do for an incident, what about other staff? They will need to be made aware of basic First Aid procedures, such as who the First Aiders are and the steps to follow. A refresher for all employees at least annually and when First Aiders change will ensure everyone is current. Take a look at your procedure at the start of the year to ensure it is up to date.
Your Drills
Just like fire drills, regular First Aid drills will give you the peace of mind that staff are practised in common scenarios likely to occur at your workplace and can demonstrate applied understanding of the procedure and processes. You can improve everyone's preparedness for an emergency with practice, which is why we offer First Aid Drills at your workplace tailored to your unique situation.
---
When it comes to the wellbeing of staff, contractors, visitors and customers, following our checklist for the will ensure you get off to a secure start for the year and everyone keeps safety top of mind. If you're not sure what applies to you at work we can help work out the details. Complete our free online risk assessment checklist here and we will be in touch to let you know how you can improve.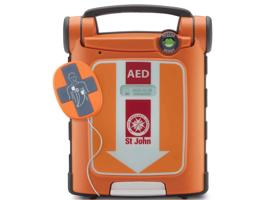 St John G5 with Intellisense CPR
The G5 is the only AED to combine real-time CPR feedback with user-paced rescue prompting.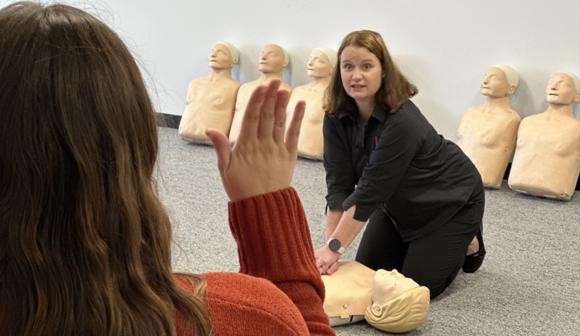 HLTAID011 PROVIDE FIRST AID
Suitable for both people in workplaces and members of the public who would like a comprehensive first aid course.
How to choose the right First Aid Kit for you
First aid kits can be a little daunting if you're unfamiliar with what's available. Will it have the right equipment, or enough of the right contents for me?
Read this article to find out how to pick a first aid kit based on your needs.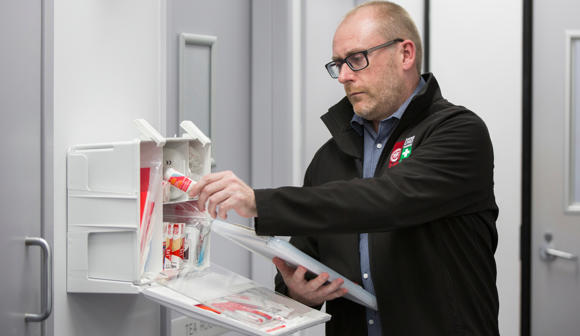 How to service a first aid kit
It is important that a first aid kit is fully equipped and items are not expired, so it can be used effectively in an emergency. But how do you know what to replace and when to replace items?
Learn how to perform a first aid kit service so that your first aid kit is always stocked and ready.