Updated 16 August 2021
Affected students who wish to reschedule their training can do so here or phone 1300 360 455 for assistance.
For the continued safety of staff and students in line with recent changes to Coronavirus restrictions, the following measures are in place:
All students are required to wear masks indoors
PPE including masks and gloves are available at our classes for students
Temperature screening will take place for all people entering our training venues
No contact first aid training: this means students will not be required to practice first aid techniques on other students or staff, only on themselves or a manikin. For example bandaging, CPR, recovery position and use of EpiPens will not be conducted on others. Students will be directed not to breathe into a manikin at this time.
Increased cleaning of our equipment after every class
Alcohol based hand sanitiser is available throughout the venue for use upon arrival, during class and departure
We discard all bandages, dressings or other class consumables at the end of the class and they are not re-used

Importantly, those who meet the following criteria should not attend any St John Ambulance Training course:
Those who are unwell or experiencing any flu-like symptoms
Those who have been diagnosed positive for COVID-19 in the last 14 days
People who have been overseas in the 14 days prior to their course date
Those who have been in close contact with someone who has tested positive for COVID-19 in the last 14 days
Those who are diagnosed with a confirmed case of COVID-19 within 14 days after attending their St John training course must advise St John Ambulance Victoria immediately on 1300 360 455
For a limited time only, all First Aid training will come with access to our Infection Control eLearning course that participants can complete online in just 45 minutes.
Students will receive a link to the course on their student readiness page.
This course provides practical advice for you and your workplace teams to follow to help reduce the spread of infection such as Coronavirus.
This course involves the skills and knowledge required to administer restricted analgesics to provide pain management as part of a medically supervised first responder organisation. The unit is applicable for personnel from emergency services, volunteer organisations or organisations that provide a medically supervised first aid service.
During this course you will get information about the use, storage and documentation of administration as well as ongoing monitoring of the casualty.
The course topics include revision of provide first aid, storage and documentation, pain management and analgesia.
This course is taught by St John trainers with over 100 years of combined experience and backgrounds in Nursing, Education and Leadership. They are ready to share their experience and passion with you that creates confidence to perform first aid should you ever need to.
Course Outline
This course covers the following:
Revision of provide first aid
Storage and documentation
Pain management
Analgesia
Statement of attainment
On successful completion of this course you will be issued a Certificate which is a statement of attainment in:
PUAEME005 Provide pain management
St John recommends, as per the First Aid in the Workplace Code of Practice and the Australian Resuscitation Council guidelines, that first aid skills are renewed every 3 years and resuscitation skills (HLTAID001/HLTAID007) are renewed every 12 months.
A successful outcome for this statement of attainment will be determined by a range of different assessment methods including written assessment (questionnaire), observation of simulated and practical activities etc.
Students must hold a statement of attainment completed within the previous 12 months in  HLTAID003 Provide first aid.
Why train with St John?
WE'VE GOT YOU COVERED - St John are the largest provider of First Aid Training in Victoria. We have First Aid Training available in more locations than any other provider.
FLEXIBILITY - With the flexibility to train onsite at our facilities or at your workplace, we can train you and your business wherever and whenever it suits you – 24 hours a day, 365 days a year!
QUALITY - A training experience you can trust to be delivered to the same high standards by our passionate trainers, wherever and whenever training is completed.
WE GIVE BACK TO THE COMMUNITY - St John is a self-funded not for profit. Our earnings go towards community programs which equip and prepare people to save lives.
Great trainer who provided the group with additional, practical information that we had not heard before. The sessions were very hands-on and the trainer moved around offering support when required.
Joanne Foley
Related courses
Available via online delivery. Gain the essential skills and confidence to recognise and support people with a range of mental health issues such as depression, anxiety, suicide and addiction.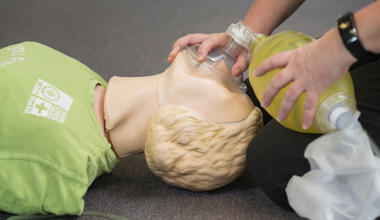 The Occupational First Aid course equips students for emergencies in a high risk work environment and provides the skills necessary to be responsible for a first aid room.