Diabetes, Seizures & Hyperventilation Course
This course features videos, quizzes and interactive learning. Either complete this course in one session or complete one topic at a time, your eLearning progress will be saved as you go.
Fully online
Closed captioned
Non accredited bitesize learning
Mobile friendly
Easily completed within 1 hour.
Participants will receive a St John Certificate of Completion.
Who should do this course?
This course is recommended for anyone interacting or working with people due to the common nature of these emergencies. This includes office workers, teachers and retail staff and parents.
---
What do other people think?
A good refresher and overview for diabetes and epilepsy. Very simple, yet informative.
bwhale
Very informative short course covering diabetes, seizures, hyperventilation, whilst also covering CPR and DRSABC at a high level. I found documents available to download very useful and will keep them somewhere that my ERT can access.
panwaus
The course was short but informative. It included some great scenarios that are very real in how you might encounter someone who needs first aid assistance.
eprice
Loved different learning styles, fact sheets, videos and quizzes. Loved I could learn by phone. Great idea.
lotusvincent3
Great refresher and gave more specific information on the topics than when completing a general first aid course.
Renee
This was very informative and I feel confident to help someone who needs it.
deann1601
A great course to teach and refresh the basics for managing diabetic and epileptic situations. Clear, concise and valuable information.
kclarke
Other People Who Do This Course Also Like: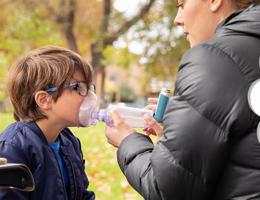 Bitesize Asthma
Learn how to effectively manage and treat an asthmatic emergency in this interactive online course.