Allergy & Anaphylaxis Course
This course features videos, quizzes and interactive learning. Either complete this course in one session or complete one topic at a time, your eLearning progress will be saved as you go.
Fully online
Closed captioned
Non accredited bitesize learning
Mobile friendly
Easily completed within 1 hour.
Participants will receive a St John Certificate of Completion.
Who should do this course?
With allergies and anaphylaxis being a common health risk, everyone should know how to manage and treat anaphylaxis. This course is recommended for parents and carers of children with allergies, or employees who have a high risk of interacting with those who might suffer from allergies such as teachers, or workplaces with many visitors such as supermarkets, community or sporting groups.
---
What do other people think?
Now I know how to administer an epipen. Big thanks
Nancy
Other People Who Do This Course Also Like: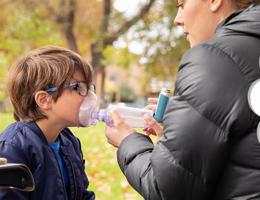 Bitesize Asthma
Learn how to effectively manage and treat an asthmatic emergency in this interactive online course.