St John Victoria Launches Accredited 100% Online First Aid Training Course
22 Sep 2020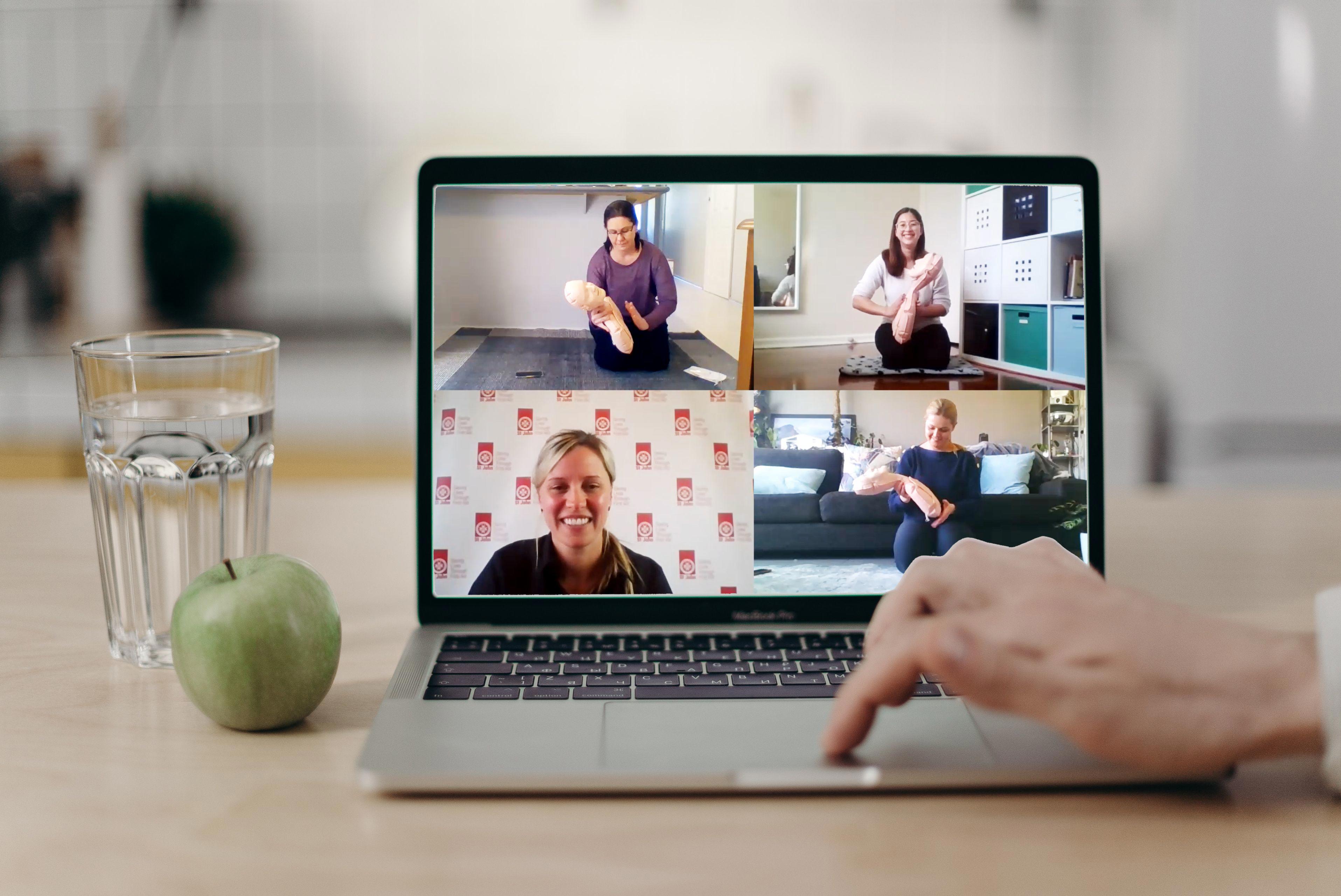 St John Ambulance Victoria is now making it easier than ever before to learn potentially lifesaving skills, with our new 100% online First Aid Training Course – enabling you to learn essential First Aid skills from the comfort of your own home.
Accidents, illness or any other medical emergency can happen to anyone at any time, whether at home, work or school. Learning the basics of First Aid may mean one day you save the life of a loved one, colleague or stranger – it equips you with the vital steps to take, to help an injured or unwell person in the first minutes after an event.
With Victorians spending more time at home than ever before and 75% of out-of-hospital sudden cardiac arrests occurring at private residences, it has never been more important to sign up and learn or refresh these lifesaving skills.


Why Online First Aid Training?
We all know that life can get very busy, between juggling work, family and other life demands, it can be difficult to find that spare time to get yourself into a training centre. Because of this, we wanted to make First Aid training convenient for our customers and for it to be easily accessible for even the busiest of people. There's no need to worry about the commute or traffic and, even better, you can log in from wherever you are - at home, in the office or anywhere else.
With our accredited 100% online First Aid training courses, instead of you coming to us, our trainers now come to you – making it easier than ever before to become First Aid ready.
How Will Online First Aid Training Work?
Once the course is booked, you will receive a short online pre-learning to complete prior to the Virtual Classroom date. The pre-learning features immersive video to really engage you in the first aid scenarios which are brought to life before your eyes. You will also receive a brand new training kit posted out to you, which depending on your course type could including a trainer EpiPen, bandages, placebo inhaler and manikin, which you can keep for ongoing practice or your future refresher training.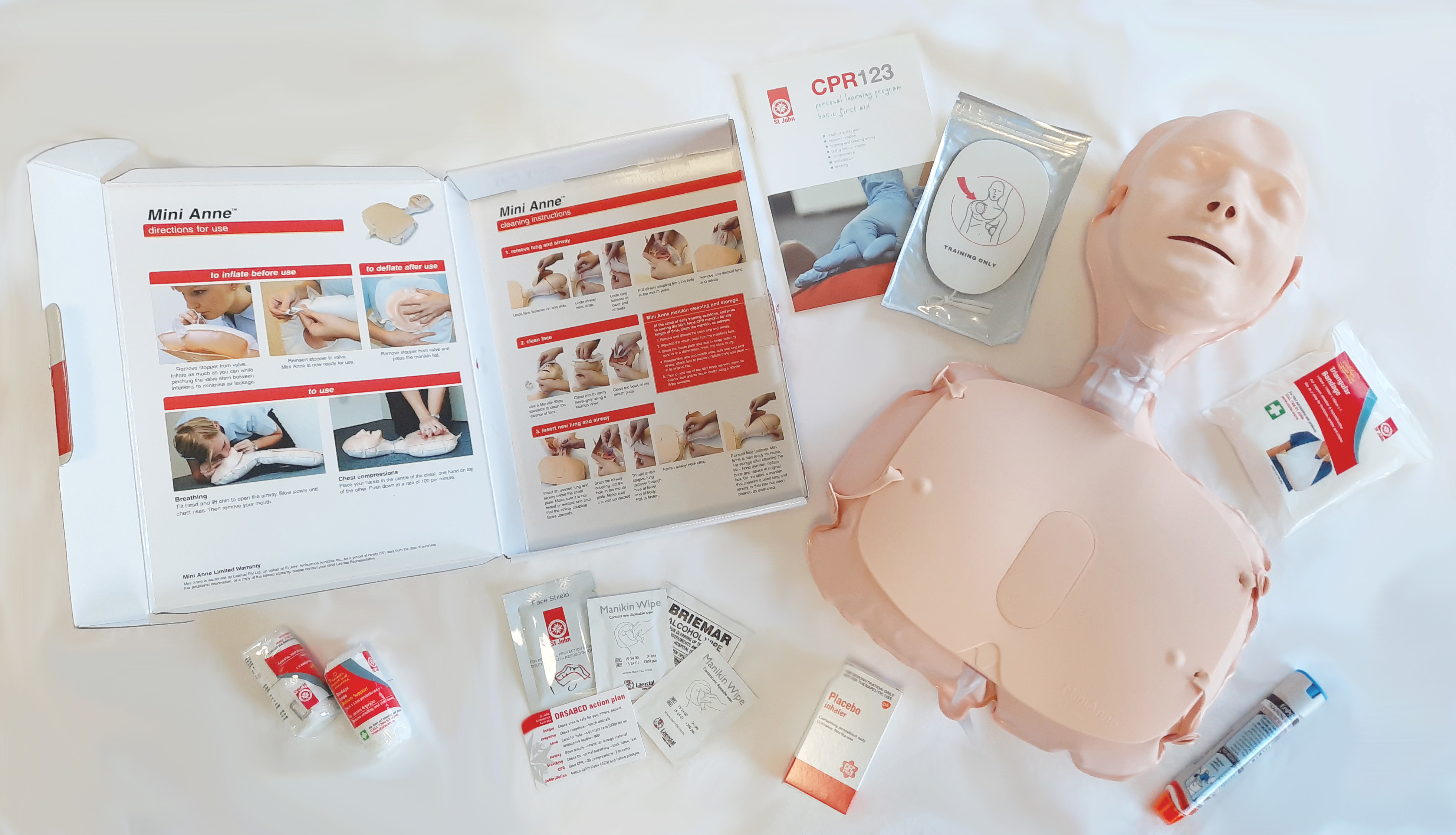 On the day of the Virtual Classroom, the course is delivered by qualified St John First Aid Trainers – who all have years of experience up their sleeve – via ZOOM. To participate, you'll need reliable internet access and a laptop or tablet with a camera, speaker and microphone. You'll also need a secondary device, like a smart phone, for part of the assessment.
Throughout the virtual course, you will be taken through a series of topics and scenarios including but not limited to; cardiac arrest, choking, asthma, anaphylaxis, stroke, seizures, fainting, diabetes, burns and bites and stings. Following on from the theory component, students will then be asked to answer questions relating to each topic as well as some practical assessments – this is where the training kit comes into play. 
How long will the course take to complete?
The full Online Provide First Aid course, which includes CPR, takes just 4 hours to complete from start to finish and you will be supported by experienced First Aid trainers in every live video-conference class. Additionally, you can also take part in a shorter 1.25-hour class specifically focused on CPR. Upon completion, you will receive the First Aid Certificate within 24 hours.
Online First Aid Training Courses Available:
ONLINE DELIVERY, Preston, Dandenong, Melbourne CBD, Clayton, Keilor East, Attwood (Tullamarine), Ballarat, Echuca, Wodonga, Shepparton, Geelong, Werribee, Traralgon, Wangaratta, Pakenham, Bendigo, Bacchus Marsh, Botanic Ridge (Cranbourne), Ringwood, Mill Park, Altona, Laverton, Warrnambool, Portland, Mooroolbark, Sunbury, Box Hill North, Frankston, Bairnsdale, Sale, Yarrawonga, Swan Hill, Mildura, Warragul, Altona Meadows, Colac, Box Hill, Cheltenham
Suitable for both people in workplaces and members of the public who would like a comprehensive first aid course.
ONLINE DELIVERY, Dandenong, Echuca, Wodonga, Geelong, Melbourne CBD, Werribee, Traralgon, Wangaratta, Box Hill North, Box Hill, Pakenham, Bendigo, Botanic Ridge (Cranbourne), Ringwood, Altona, Laverton, Portland, Warrnambool, Mooroolbark, Shepparton, Sunbury, Caroline Springs, Cheltenham, Frankston, Mill Park, Ballarat, Bairnsdale, Sale, Keilor East, Clayton, Yarrawonga, Attwood (Tullamarine), Swan Hill, Warragul, Mildura, Preston, Altona Meadows, Colac
Learn the skills to perform life-saving (CPR) on an adult, child or infant who is unconscious and not breathing normally. 
For over 137 years, St John Ambulance Victoria has been providing First Aid services to the community – which is why we're one of Australia's leading First Aid providers. At the heart of all our training programs is our mission to educate and empower the community with First Aid knowledge and the skills to save a life. By adapting First Aid courses to be delivered completely online, St John can continue to equip the community with vital skills in First Aid and what to do in an event of an emergency.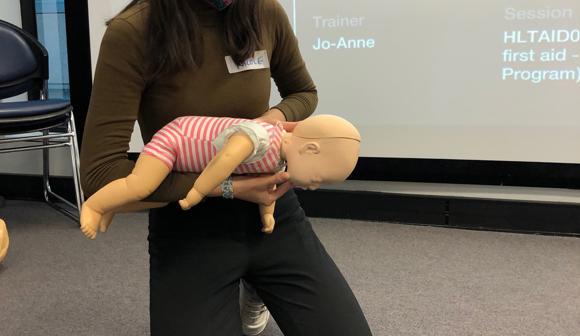 CARING FOR BABIES AND KIDS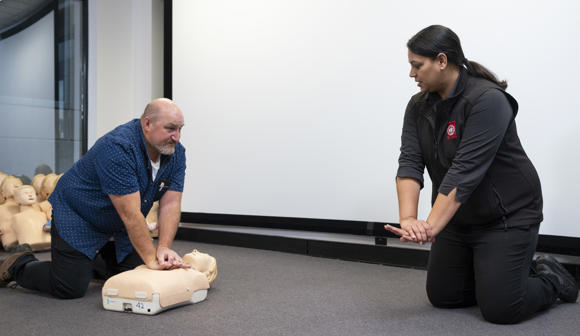 HLTAID009 PROVIDE CARDIOPULMONARY RESUSCITATION
Learn the skills to perform life-saving (CPR) on an adult, child or infant who is unconscious and not breathing normally.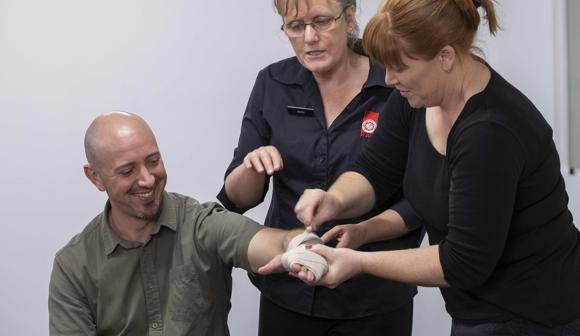 HLTAID011 PROVIDE FIRST AID
This course teaches the skills and knowledge required to recognise and respond to life-threatening emergencies and provide a first aid response to a casualty in a range of situations.