St John Ambulance Gifts Halls Gap Zoo A Defibrillator During Heart Week – Stawell Times
03 May 2018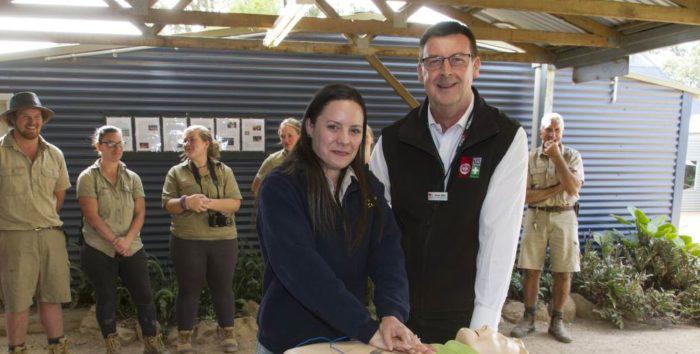 In celebration of heart week, St John Ambulance (VIC) gifted Halls Gap Zoo a Defibrillator in a bid to raise awareness of the life-saving devices.
Halls Gap Zoo experiences a significant amount of foot traffic throughout the zoo each year, as a key tourist attraction in the area.
Businesses across Victoria were invited to apply to win a Defibrillator for their business, with five Defibrillators up for grabs.
Read more in this article from the Stawell Times.
A DEFIBRILLATOR CAN MAKE THE DIFFERENCE BETWEEN LIFE AND DEATH
Defibrillation within the first few minutes of having a Sudden Cardiac Arrest, increases the chance of survival, to over 70%.
HLTAID001 PROVIDE CARDIOPULMONARY RESUSCITATION (CPR)
Gain the knowledge and confidence to perform CPR on adults, children and infants.
INFECTION CONTROL ELEARNING
Workplace infection control course completed online within 45 minutes.