St John Ambulance Awards Unsung Heroes of Victoria
06 Aug 2019
St John Ambulance Victoria recently announced this year's winners of our prestigious First Aid Champion Awards highlighting the significant need of First Aid training in the community.
The First Aid Champion Awards provides a unique opportunity for Victorians to honour unsung heroes – whether they be colleagues, classmates, friends or family – who have made a lasting impact to a person's life by using their First Aid skills and knowledge.
Recent research revealed nine out of 10 Australians have witnessed at least one incident requiring medical attention. However, 76% of Australians don't know exactly how to treat the patient when they witness a First Aid incident, and 43% of Australians admit to being too scared to do something in case they make the situation worse*.
The research has revealed some alarming statistics surrounding First Aid, including three quarters (76%) of Australians not knowing how to treat a patient when they witnessed a First Aid incident.
This demonstrates just how important First Aid training is, irrespective of age, gender, background or health status, as you never know when you're going to need it – general First Aid training can go a long way in allowing a person to confidently assist someone in a time of need.
With these statistics in mind, St John Ambulance Victoria decided to create the First Aid Champion Awards.
The situations highlighted in this year's awards programme are an incredible representation of what happens every day throughout the Victorian community; however, these are a selected few of the thousands of medical emergencies occurring each year.
Consisting of five categories, the first Aid Champion Awards recognise that First Aid is a vital skill to have, irrespective of age, gender, background or health status. 
The First Aid Champion Award winners for 2019 are:
Community First Aid Champion (Overall Winners) – Tim Marchinton and Andrew Williams
Tim and Andrew came to the vital aid of a gentleman who collapsed, started having a seizure and went into life threatening sudden cardiac arrest. Tim and Andrew ran to the man's side and immediately commenced CPR (with Tim doing compressions and Andrew doing breaths) whilst waiting for a defibrillator. Once the defibrillator arrived, one shock was delivered and CPR recommenced, not long after the gentleman regained consciousness. The patient was transported to hospital and underwent emergency triple bypass surgery and is doing well – he has now made a full recovery.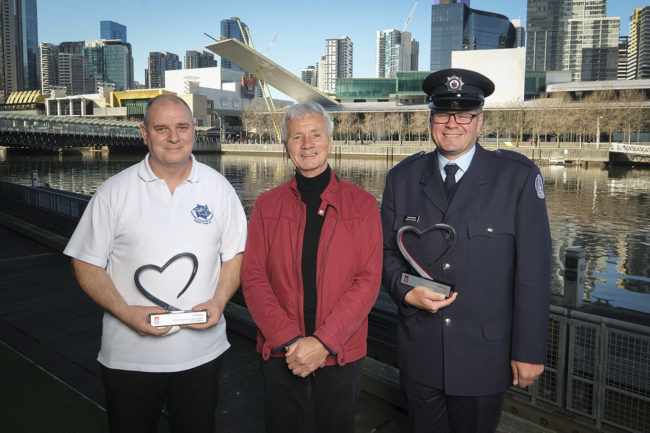 Junior First Aid Champion (Under 12) – Finn Stockton
Assisted his little sister after she took an incredibly deep laceration to both her right and left wrist after going through a pane of glass. Finn completes St John Ambulance Victoria's First Aid in Schools program each year with 'cuts and grazes' as a dedicated topic.
Youth First Aid Champion (Under 18) – Tai Sharpe
Performed lifesaving First Aid actions on his baby niece (Ruby – 9 months at the time) who was choking on a blueberry and presented with a fully obstructed airway.
School First Aid Champion – Sue Joyce
Sue treats many of the 1000+ students who walk into sick bay at Seabrook Primary School. With thanks to Sue's First Aid knowledge and training – known through volunteering with St John – she's able to treat students with the utmost care and expertise.
Workplace First Aid Champion – James Finlayson Smith and Samanta Saucedo Gutierrez
James and Samanta, Customer Service Officers at Scienceworks Museum, were first on scene when a patron collapsed in the carpark of Scienceworks Museum suffering a cardiac arrest. James and Samanta immediately started CPR, called triple 000, deployed an AED and provided three shocks to the patient. Following the three shocks the patient was revived, paramedics arrived and took the patient to further medical attention. The patient was without a pulse for some minutes and with thanks to James and Samanta's vital first aid efforts, in conjunction with the AED, the patient's life was saved.
It only takes one person to help save a life and it's important these unsung heroes are acknowledged for their extraordinary acts of service.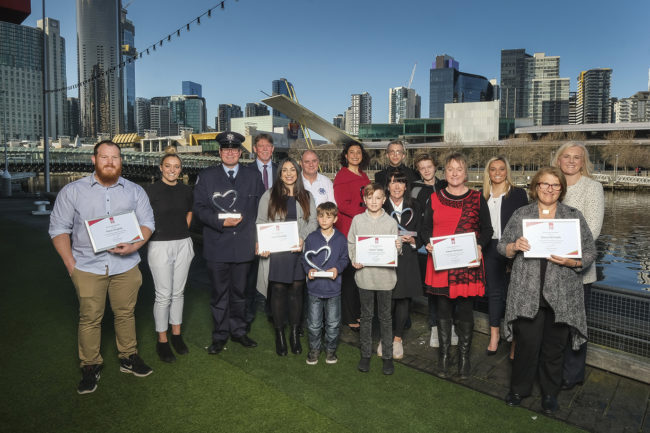 References
*Lonergan Research, April 2018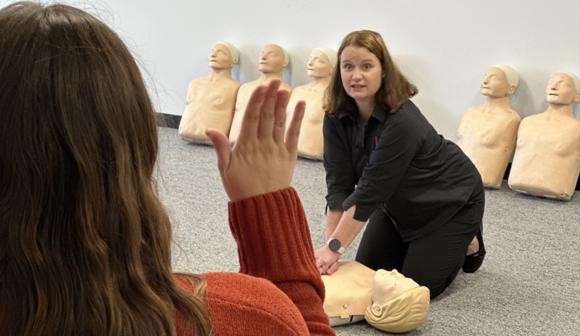 HLTAID011 PROVIDE FIRST AID
Suitable for both people in workplaces and members of the public who would like a comprehensive first aid course.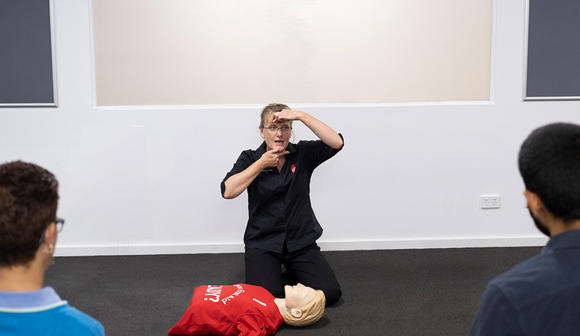 HLTAID009 PROVIDE CARDIOPULMONARY RESUSCITATION
Learn the skills to perform life-saving (CPR) on an adult, child or infant who is unconscious and not breathing normally.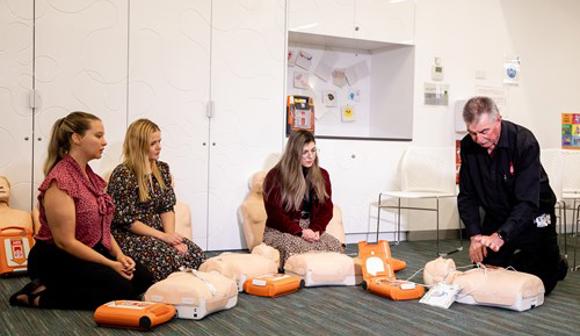 VENUES & LOCATIONS
St John has a range of​ training locations across Victoria.