First Aid For Dislocations
31 Jul 2017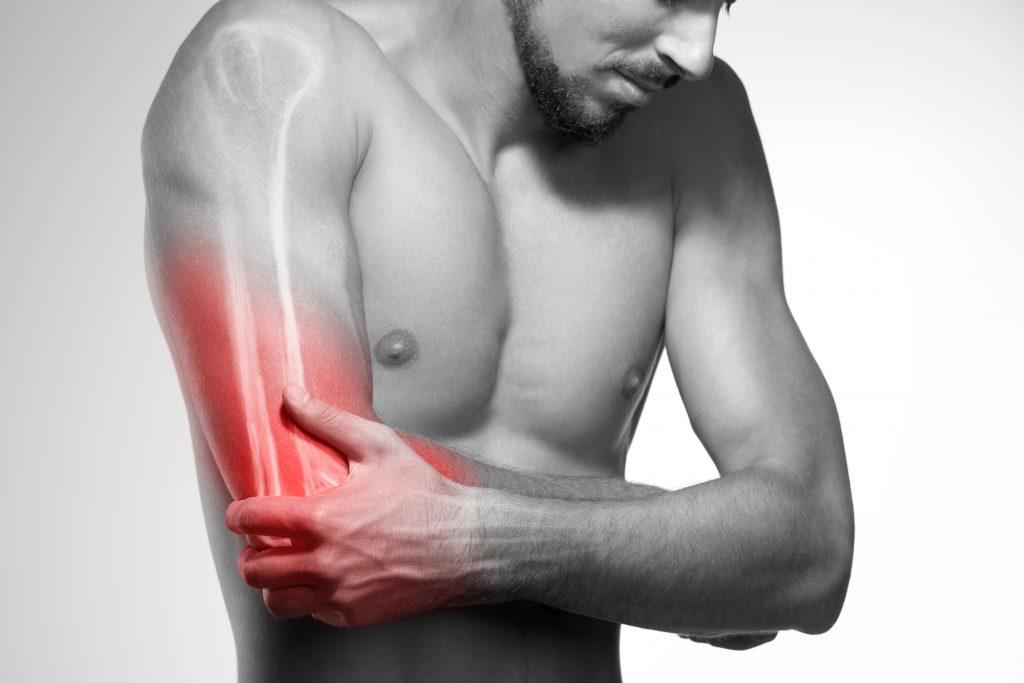 Many of us have witnessed a person trip or fall, or have been cheering by the sidelines when sportsmen collide on the football field. Then there are some of us who have witnessed a high impact car accident with a vehicle, tree, sign or fence. Incidents such as these that involve a significant amount of force occur in everyday situations and often result in dislocation.
Dislocations are serious injuries and can take a considerable amount of time to heal. They commonly occur at the shoulder, elbow, kneecap and fingers and are excruciatingly painful.
US tennis star Bethanie Mattek-Sands recently suffered a dislocated knee-cap on a Wimbledon court and her opponent criticized the organisers for a delay in First Aid. Mattek-Sands husband was by her side immediately but unfortunately didn't have the knowledge on how to provide First Aid for dislocations. To learn more of the sports pro's dislocation experience read here.
Due to the agony caused by dislocation, it's important they are treated promptly and correctly. Follow our First Aid Tips for Dislocations to ensure you are providing the best care possible to the person in need.
What Is A Dislocation
A dislocation is the result of a high impact forcing the bones to shift at the joint. This occurs when the impact directly or indirectly forces the bone to shift into an unnatural position.
Dislocations result in the ligaments which hold the joint in position tearing. Without the support of the ligaments, the joint and bones shift into an unnatural and uncomfortable position.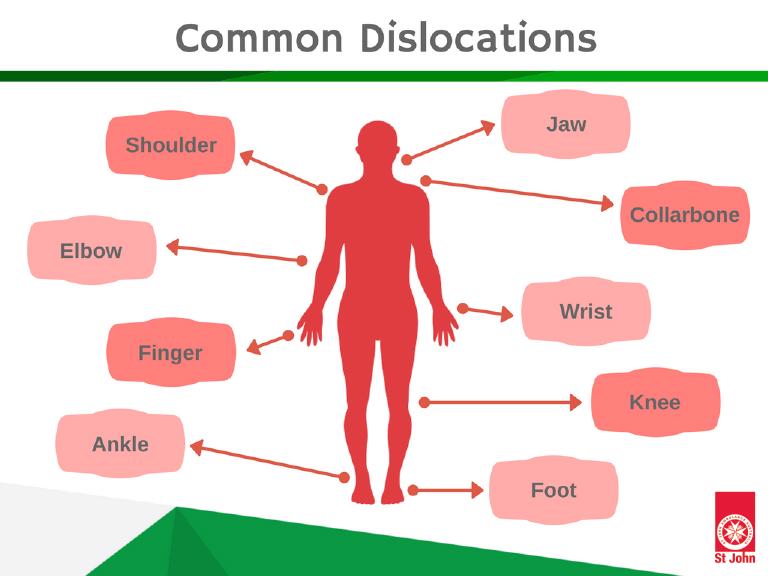 How To Identify A Dislocation
Sharp pain at or close to the area of injury
Difficulty or inability to move the joint
Weakness
Abnormal or deformed mobility
Tenderness
Inflammation
Discolouration and bruising
Management Of Dislocations
Follow

 

DRSABCD
Do not attempt to reset the dislocation
If dislocation is to the limb:

If circulation is absent carefully position limb to try and restore circulation – if doing this you must call triple zero (000)
Use soft padding and bandages to rest and support the limb
If available, apply icepacks
If the injury is to the shoulder, support the arm in the position which eases discomfort and apply ice
If the injury is to the wrist, apply a sling and ice
If you are not confident it is a dislocation, treat as a fracture.
Risk Factors For Dislocations
Weakness in the ligaments due to lack of fitness
The elderly are more fragile and susceptible to tripping or falling
Children are vulnerable as their bones and ligaments are still developing and strengthening
If the area has dislocated in the past
Type of physical exercises such as high impact and high-speed sports
Sports or intensive physical activity are high-risk factors for dislocations: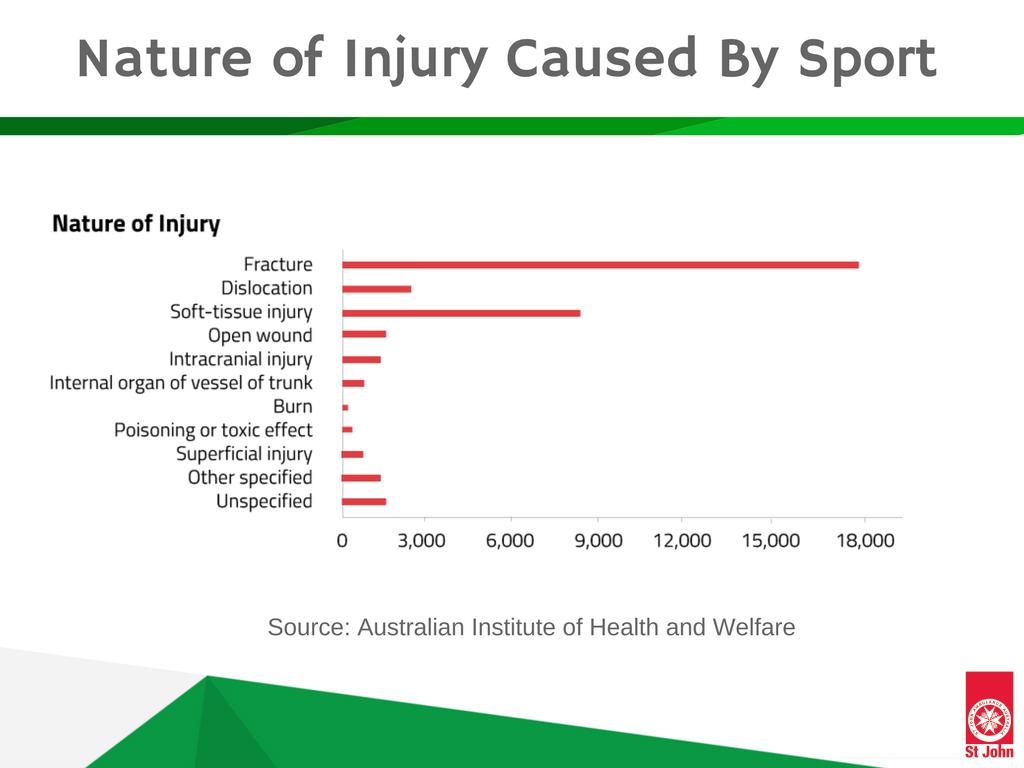 A dislocation can be agonizingly painful so it's important when the injury occurs the casualty is provided with reassurance, care and the correct First Aid for dislocations immediately. Like many injuries, a dislocation can cause the casualty to go into shock from the pain or sight of the injury. The provision of First Aid can instantly reduce discomfort and calm the casualty which is important for their well-being in the midst of a stressful situation.
If dislocations are not cared for correctly there is a possibility of further injury which will severely delay the recovery process. Depending on where the injury occurred the casualty may have difficulty performing everyday tasks such as getting dressed, bathing or even getting out of bed.
Unfortunately for many a dislocation will mean they're unable to work whilst waiting for the injury to heal. A dislocation can have a severe impact on someone's life and it's often not easy to adapt. By providing the correct First Aid for dislocations you are ensuring the casualty has the best chance of a swift recovery and returning to their ordinary way of life at the earliest possible time.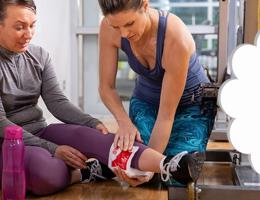 Bitesize Fractures, Sprains, Strains, Dislocations
Learn how to identify and manage first aid to a casualty suffering a sprain, strain or dislocation in this interactive online course.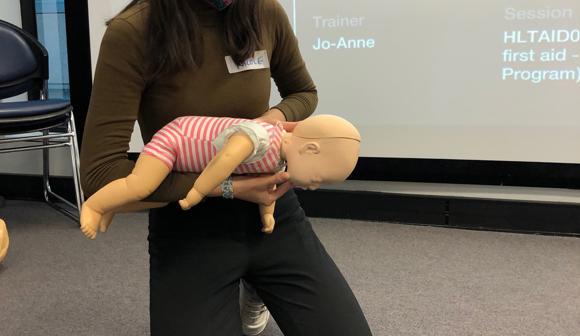 CARING FOR BABIES AND KIDS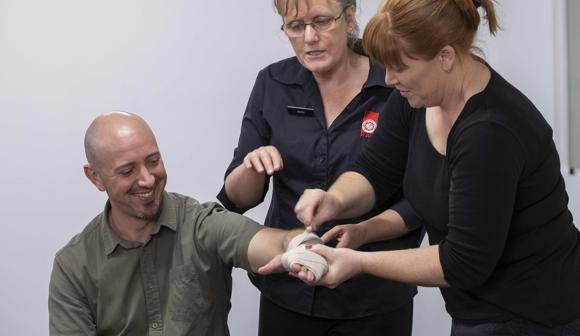 HLTAID011 PROVIDE FIRST AID
This course teaches the skills and knowledge required to recognise and respond to life-threatening emergencies and provide a first aid response to a casualty in a range of situations.
How to choose the right First Aid Kit for you
First aid kits can be a little daunting if you're unfamiliar with what's available. Will it have the right equipment, or enough of the right contents for me?
Read this article to find out how to pick a first aid kit based on your needs.