In a Sudden Cardiac Arrest  (SCA) emergency, do you know where your nearest defibrillator is located?
We understand the importance of having more publicly accessible defibrillators within the community. Which is why this Shocktober we're giving away 10 St John Ambulance G5 Defibrillators to organisations across Victoria.
It could be a local business, a sporting group you are part of, or an organisation you know would benefit having a lifesaving defibrillator that can be accessed by the community in an emergency.
HOW TO ENTER
Take a photo of your nearest community defibrillator
Upload the image as an Instagram post and

Tag @stjohnvic
Use the hashtag #mynearestdefib
Nominate a local organisation you would like to receive the defib
Competition closes Sunday 31st October 2021.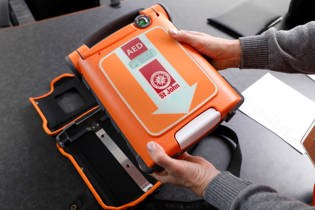 Prizes
There are 10 prizes on offer with a total value of $23,000.
10 nominated organisations entered will win 1 x St John Ambulance G5 Defibrillator valued at $2,300
Defibrillators save lives
SCA is a leading cause of death in Australia, with a death rate of over 90%.
Why you need a Defibrillator during a sudden cardiac arrest:
Defibrillation within the first few minutes of having a Sudden Cardiac Arrest increases the chance of survival to over 70%
Without early defibrillation with an AED, less then 5% of cardiac arrest victims survive
Without defibrillation, for every minute that passes, the chance of survival reduces by 10%
Average Victorian ambulance response times are approximately 8-10 minutes in metro areas and up to 30 minutes in regional areas – defibrillation in combination with CPR gives victims the best chance of survival when waiting for Ambulance to arrive
There are very few times when a defibrillator is needed in the community, but when that time comes and it's your dad, your mum or someone you care about, you'd give an arm and a leg just to have one nearby. Having St John's defibrillator at our business helps our staff and customers have confidence that should the worst happen, someone is prepared and ready to help save lives.
Daniel - Gym owner
Breakwater Athletics