Support St John at Grill'd
05 Jan 2017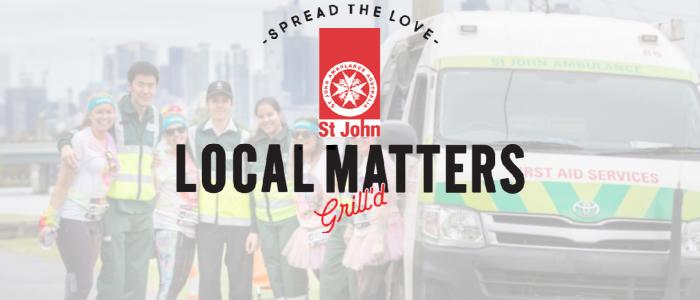 This January, St John Ambulance Australia are delighted to be participating in Grill'd Local Aussie Heroes. This program delivers donations from purchases made at restaurants back to not for profit organisations.
The Australian public has an opportunity to have their say on which local Australian charity gets their dollars when they visit Grill'd – they just need to purchase a burger and place a token in one of three charity jars. St John will be proudly on one of those jars in each of their 124 stores nationally, and we encourage everyone to visit Grill'd to support St John in January.
Funds raised through Grill'd will go directly towards the St John First Aid in Schools Program, which provides primary school children with the First Aid skills to save a life. Depending on their age group, children will learn anything from how to call Triple Zero 000 to CPR, bandaging, bleeding and all the DRSABCD steps. In Victoria alone we know of at least 12 lives that have been saved as a direct result of the program, with our little heroes often saving the lives of their own parents and siblings.
The program is self-funded by St John through proceeds from First Aid Training and Equipment sales; however contributions from foundations, trusts and organisations like Grill'd will enable us to train more children.
In fact, if St John receives the most tokens across all stores, we will receive enough funds to allow us to train an additional 3000 children. And when our goal is to have every primary school student in Australia trained by 2020, all contributions count. So get to Grill'd in January, enjoy a delicious burger and the kids will thank you for it!