St John Ambulance Volunteer Requirements – What it Really Takes
12 May 2017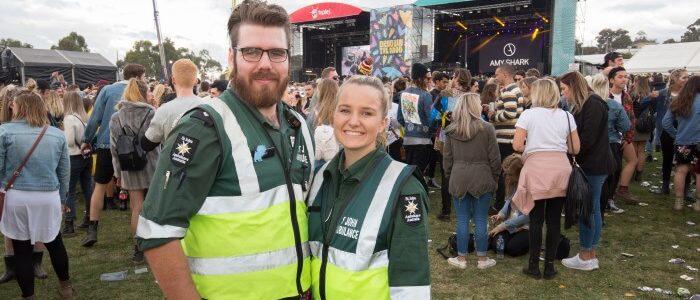 We get a huge amount of volunteer enquiries every month – up to 150 in Victoria alone. We're very fortunate and humbled that so many people want to join us in delivering First Aid services to the community at festivals and events. Our volunteers are so incredibly valued by the public when they're out and about and receive much praise everywhere they go. The waiting list we have is a great reflection of the professionalism and skills of our 2200+ volunteers who donated 288,437 hours of their time in 2016.
Our Event Health volunteers are all so dedicated, and we do ask so much of them. With our position as a market leader delivering the highest possible health services to the public through our many event organisers and major venue clients, we do demand a great deal so that we can uphold the exacting standards that our clients and the public expect.
As the process for becoming a St John volunteer is in many ways similar to the process for entering any type of paid employment, we've prepared an overview of 5 key behaviours we expect from our Adult Member volunteers to become and remain part of our team.
1.  Enthusiasm
A positive attitude is a must, this goes without saying. You will be the face of St John to thousands of the public and also our clients, so to them, you represent the whole of St John. You will need to work alongside a variety of people, including any of our 2200+ other volunteers, head office staff and our clients, and, as with any other type of role, people skills will get you far.
2. Commitment to Training
Being a health role and customer-facing, we do ask you to complete a lot of training to ensure you can deliver the expected level of service to a patient with care, confidence and competence. Training falls into a few categories:
A. Initial Training and Induction
All applicants are screened and interviewed, if you make it through this initial session, you will also need to complete a Provide First Aid Certificate (if you haven't got a valid qualification no older than 3 years). This is usually a 2 day commitment. You will also need to take part in a 1 day induction session. Once your training and induction are complete, you are eligible to become a First Aider.
B. Regular Training Updates
Medical information and best practice advice changes often, so we ask our Members to complete regular training with minimum standards required. An annual Reaccreditation Process must be completed by all Volunteers, which takes you through annual updates to previous material. Some are available as eLearning courses, while most need to be undertaken in person.
C. Becoming a First Responder
We encourage our First Aiders to progress towards becoming a First Responder, as they will then be able to provide a greater scope of care. As all First Aiders are deployed with at least one First Responder beside them at all times, we have a need for more of our volunteers to take on this greater responsibility. First Responders are able to provide advanced techniques like administer medications, care for more complex wounds, manage a diabetic emergency, manage simple head injuries, trauma, respiratory distress and provide an artificial airway.
To become a First Responder, First Aiders must have completed at least 3 months service, 60 hours at 10 events and have the endorsement of their manager. From there, you must complete additional Nationally Accredited training modules in Advanced First Aid, Advanced Resuscitation, Asthma, Anaphylaxis, Pain Management, Manual Handling & Patient Safety and additional internal professional development.
D. Other Responsibilities
There are many other areas we encourage our volunteers to get involved in, such as:
Health Emergency response Team (HERT)
Medical Assistance Team (MAT)
Bicycle Emergency Response Team (BERT)
Training other volunteers
Management – e.g. Divisional Manager
Event Command
Communications
Emergency Management – e.g. fires and floods
Youth Program
Event support roles including communications and logistics
3. Professionalism
Our volunteers sometimes see people on their worst days. You will be dealing with someone who is ill or injured, or their friends or family members, and as they can often be in a fragile state your actions can have a profound impact. The public expects that you will treat them with dignity and respect and have a strong level of professionalism in your approach. From their perspective, they deserve the same standards of care whether that is from a volunteer or a paid staff member.
4. Customer Focus
When it comes to the events we attend, our volunteers are a part of the overall customer service experience and contribute to the atmosphere overall for patrons.  Being friendly and approachable is extremely important in ensuring the public feel comfortable coming to you for assistance for any concerning or potentially embarrassing condition they might be experiencing.
5. Time Commitment
We ask all our members to contribute a minimum of 60 hours at 10 events per year. This can be a significant contribution for many people so we do ask applicants to seriously consider whether this will fit in with their lifestyle.
On top of this, we ask them to allow half a day for the introduction session/group interview that forms the recruitment process, to attend 2 days of First Aid training and a 1 day induction if they get accepted. Here is a snapshot of the application process: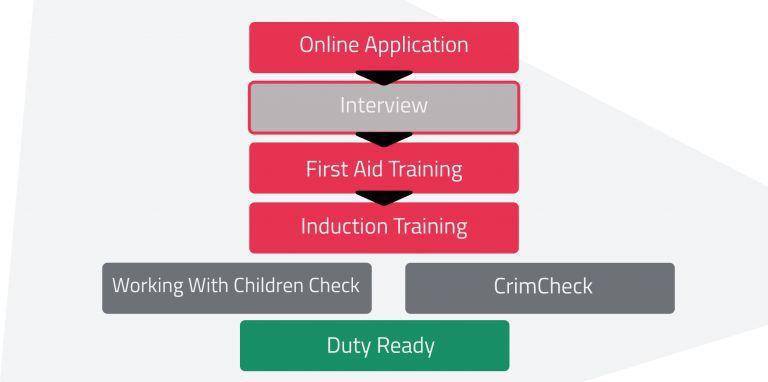 The recruitment process can take 1-3 months in total, so we do ask you to be patient with us as we conduct all the necessary checks.
In addition, as every member is allocated to a Division (we split Victoria into 53 different Divisions and 10 Regions) they are encouraged to actively participate in their Division by maintaining regular communication and attending Divisional training. Staying up to date and proactive with what is happening in St John, upcoming events and your training schedule is something you will need to be responsible for.
Here are a few things we don't expect of our volunteers:
1. Prior Experience or Qualifications
It helps if you have a First Aid Certificate, however this is not essential. You also don't need to be a qualified health professional; however we do accept health professionals like paramedics, nurses and doctors and depend on them to operate particular large scale, high-risk events.
2. Police and Working With Children Checks
We will perform these for volunteers at no cost to them, so that the public and our clients can be confident in the people we are putting forward.
3. Uniforms
Your uniform will be provided at no cost to you. To fully equip a volunteer with all the required items is several hundred dollars each, and our volunteers take great pride in wearing the greens.
Being a Successful Volunteer Applicant
In order to be successful, applicants are required to be proactive in their paperwork, make themselves available for training, and respond to email requests from your recruitment coordinator in a timely manner.
Preference is given to applicants who make themselves available for training, maintain their commitments and respond quickly; this is our best indicator of your level of engagement and future as a St John Ambulance Volunteer.
---
All of the above is a considerable investment by St John in our volunteers, which is why we, unfortunately, do turn more volunteers away than we accept. Being a self-funded not for profit organisation, we are limited in how many volunteers we can take on given the significant investment in each individual.
Being a St John Event Health Services Volunteer is a great way to have a huge impact on the community and even save lives. If you would like to apply, please visit this page to apply online. 
If you would like to contribute to St John and the community but are unable to commit yourself, you may instead prefer to make a donation so that other volunteers can receive the training and equipment they need to thrive. You can donate here online.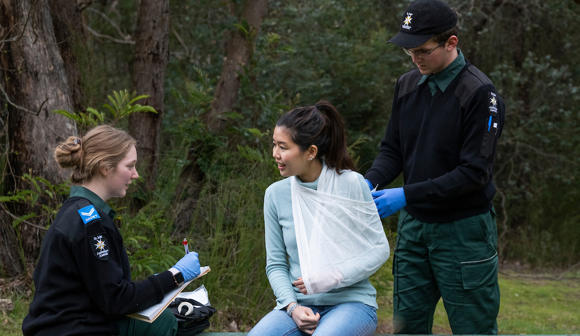 Volunteer with St John
Join our team of dedicated volunteers who provide first aid services at events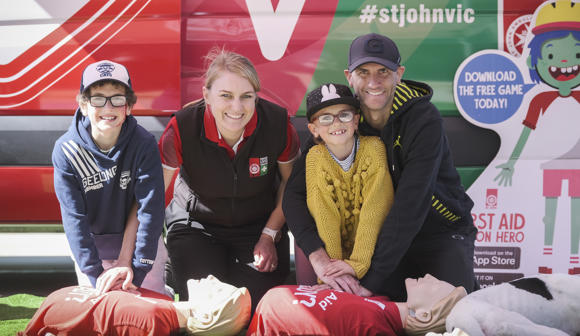 Community Programs
We deliver programs that make a difference and create resilient communities.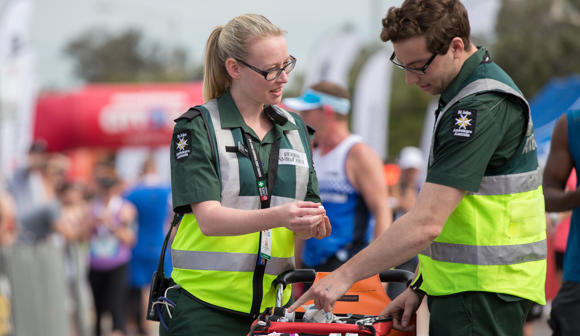 Event Health Services
St John Ambulance is the largest and most comprehensive provider of First Aid & Event Health Services in Victoria.