Marathon Effort in Event Health Services
13 Nov 2023
Recently, over 130 St John Ambulance Victoria volunteers devoted their invaluable time and expertise to one of the biggest Marathons. Their unwavering commitment helped ensure a safe and secure haven, offering crucial healthcare to athletes in moments of need. Beyond being a supreme test of physical endurance, the Marathon embodies the community spirit driven by a passion for running, St John is honoured to be Event Health Services (EHS) team at such an iconic event. The event featured a range of distances to accommodate different running abilities and attracted a sold-out crowd of over 40,000 runners months in advance. The public should be reassured that St John have been readying to conquer such large-scale challenges. We invest in top-tier training and acquire specialised equipment to pronounce our operation ready for an event of this calibre.
How we make it possible 
St John Ambulance is Australia's largest and most comprehensive provider of First Aid and EHS. We are among a select few organisations that are equipped with the necessary license and tools to support inherently risky sporting events.  
Part of our eligibility to be at these events is our strict compliance to the Non-Emergency Patient Transport and First Aid Services Act 2003 where commercial First Aid services in Victoria are legally mandated to obtain specific licensing. Since the enforcement of this act, many other providers have stepped away from these significant events, unable to meet the stringent training, clinical governance and equipment requirements. 
This event is one of the most monumental operations in Victoria, as marked in our all calendars as one to look forward to. Requiring meticulous preparation and a highly skilled team of volunteers, the range of health presentations means anything may happen. An average event sees around 10 volunteers, yet for the marathon we were well prepared with over 130. In prior years, St John has experienced a variety of patient issues of all severities, from sprains to cardiac arrests. But we have always ensured that, even being without any government funding to run or maintain these services, we have all the equipment and training necessary to take it on.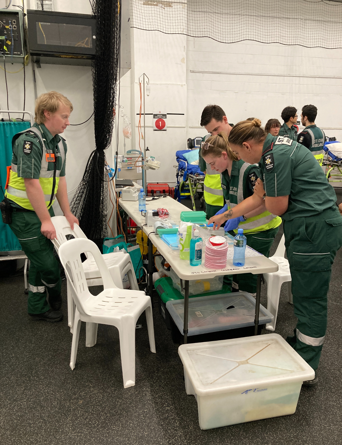 What's involved on the day
One of the event's key components was the deployment of a Medical Assistance Team (MAT), functioning as an ad-hoc field hospital on-site. Stationed in the change rooms, the MAT was staffed by a dynamic team of healthcare professionals all volunteering their time through St John - from nurses, paramedics, first responders, doctors, triage, and youth members observing. The MAT boasted 24 beds, including a specialised resuscitation bay ready to provide life-support and ventilator assistance for critically ill patients. Adapting a space to replicate a hospital demands substantial expertise and resources which we began packing into trucks and vehicles many days before.   
And that's just the MAT! Volunteers were also positioned along the course and at the finish line, some on bikes, buggies, ambulances, and others on foot. Our commitment also extends beyond the marathon venue to our headquarters in Notting Hill where we had a logistics and communication team to assist through radio. Among our volunteers present on the day, we were honoured to have 2023 Volunteer Champion Award winner Riley Madden who has already shown great bravery to save a life in their hometown of Warrnambool.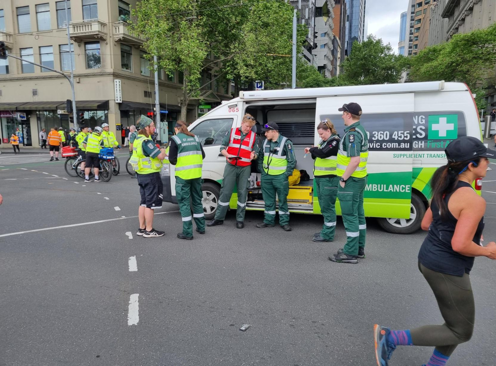 Thank you!
Congratulations to the runners who pushed themselves to take on the challenge and a big thank you to our volunteers who make the day possible and ensuring the protection our community.  
To those who have lent their support to St John in other ways, be it coming to us for your First Aid training, purchasing products, or donating, your backing is deeply appreciated. The funds from paid services and products are funnelled to enable our ongoing mission, 'For the Service of Humanity' and ensures volunteers are trained and equipped to be there at large scale events, festivals and even emergencies like fires, floods and pandemics. As we are not government funded, your involvement has a direct and substantial impact in ensuring we have access to the equipment and resources necessary to save lives. Thank you.