COVID Support from St John Ambulance – 6 Ways We Have Been Here for Good in 2021
16 Dec 2021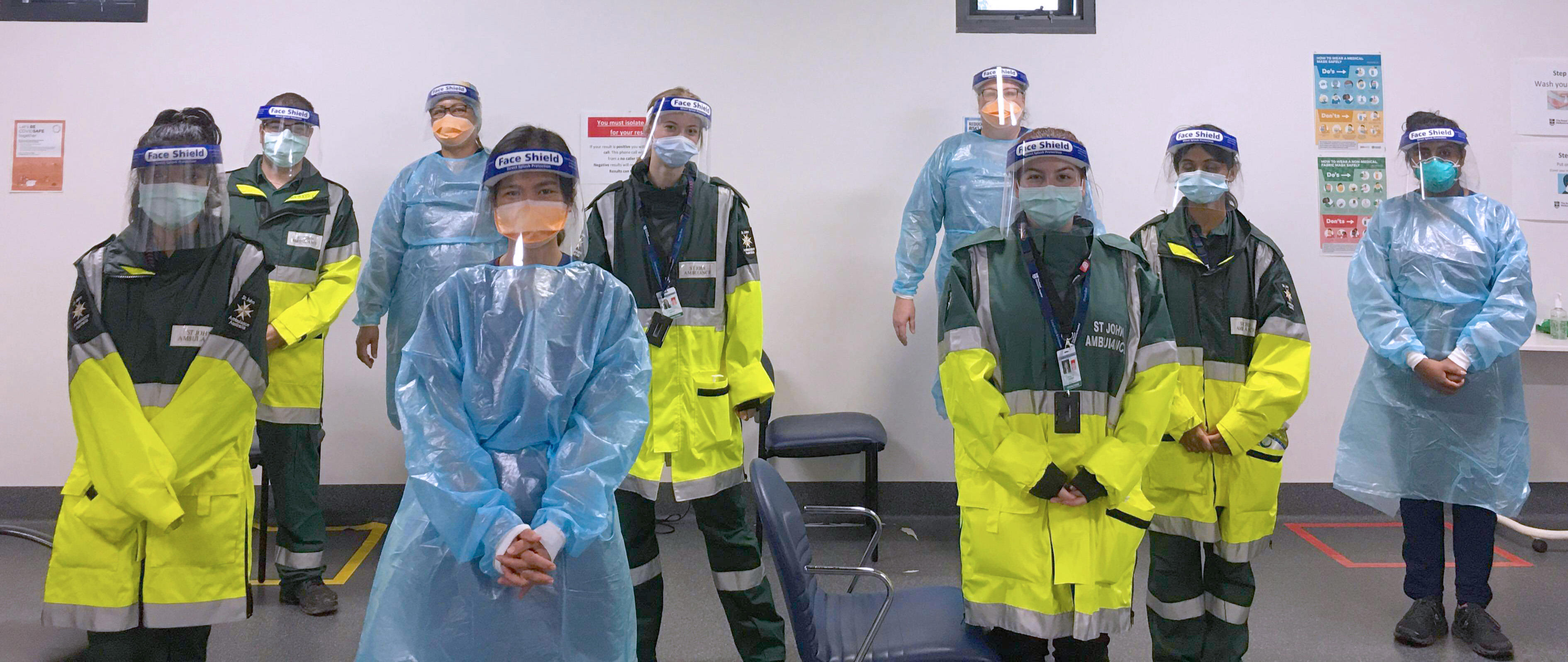 At St John Ambulance Victoria we are Here for Good. This includes supporting the Victorian community through its most challenging health crisis to date – the COVID-19 pandemic.
While 2020 saw it's own challenges and unique responses both from staff and volunteers,  2021 brought all this and more to the forefront and required our people to dig even deeper into their reserves. There is no doubting that the effort of our 650+ staff and 2000+ volunteers has meant the healthcare response, both COVID and otherwise, could continue. We are indebted to the sacrifice and risk our people operate within every day and hope you will join us in celebrating and thanking them.
Transporting COVID-19 Patients With Utmost Care
Barely a breather was had all year for our Non-Emergency Patient Transport crews in transporting COVID patients. These 315+ individuals all at some point in 2021 transported COVID positive patients, either via the NEPT system or through what is called COVID Community Patient Transport. This service operate for COVID positive individuals who don't require an ambulance but do need a form of secure and safe transport either home from hospital, to and from testing sites and within the community.
What many members of the public might not be aware of is the extent of this work. On a 12-hour shift, some crews would transport only COVID positive patients continuously. The personal strength of our people, who continue signing in each day for what is risky work with a high degree of accuracy needed to adhere to PPE and infection control protocols, is something many can only imagine.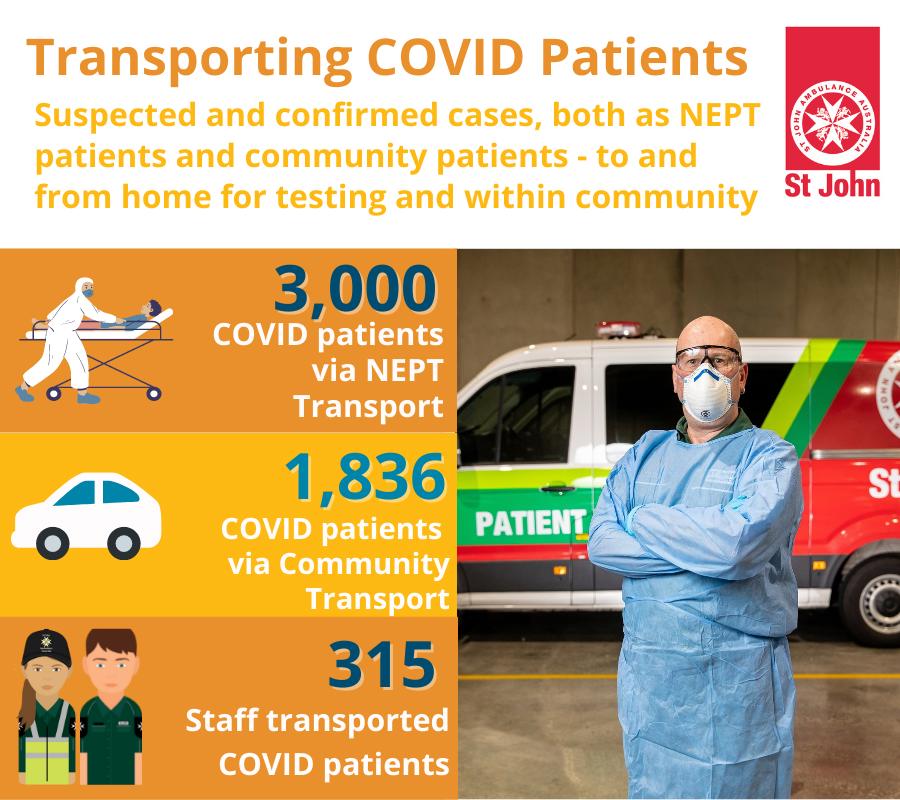 Ambulance Surge Support – Rising to Meet Escalating Healthcare Needs
Something St John has been preparing for since early 2020 was the possibility of a surge requirement – the need for our people to support the emergency ambulance response by responding to patients up to the highest of acuity. When the request did come, thankfully our most highly trained volunteers were incredibly willing to come forward for additional training from Ambulance Victoria to be able to work alongside paramedics driving vehicles and transporting patients. With many of our volunteers studying paramedicine, studying other healthcare fields or with many years of event health service experience under their belt, St John volunteers are ideally placed to offer this support.
In addition to on-road shifts, many volunteers have also provided their time to assist in the emergency ambulance communications response and in emergency management command. The wide range of skill-sets St John volunteers can offer is of great need at this time, yet they often have been training with us for many years to be able to do so.
This surge support continues currently, and our members are incredibly proud to help keep more ambulances on the road, reduce wait times and ease the pressure on our healthcare system. We can only begin to thank them for their dedication and service.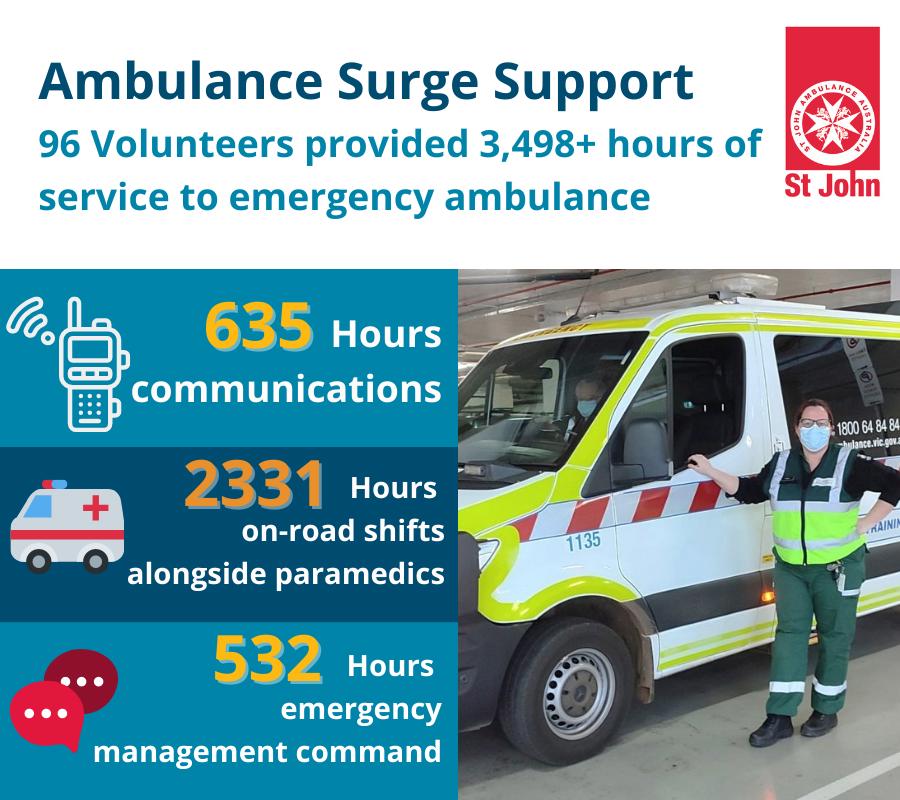 Destination Management – In Hospital Support Reducing Ramping
Throughout the August wave, media reports of long queues outside hospitals became increasingly common. All healthcare staff both in and outside of the hospital were working as best as they could, however COVID meant many delays were unavoidable. To assist unloading both COVID and non-COVID patients from ambulances into dedicated zones, St John volunteers offered their time in September at a 'destination management' site. Staff at the hospital were incredible grateful to know the extra support was there and lines outside were reduced, returning ambulances back to the road to attend to other emergencies.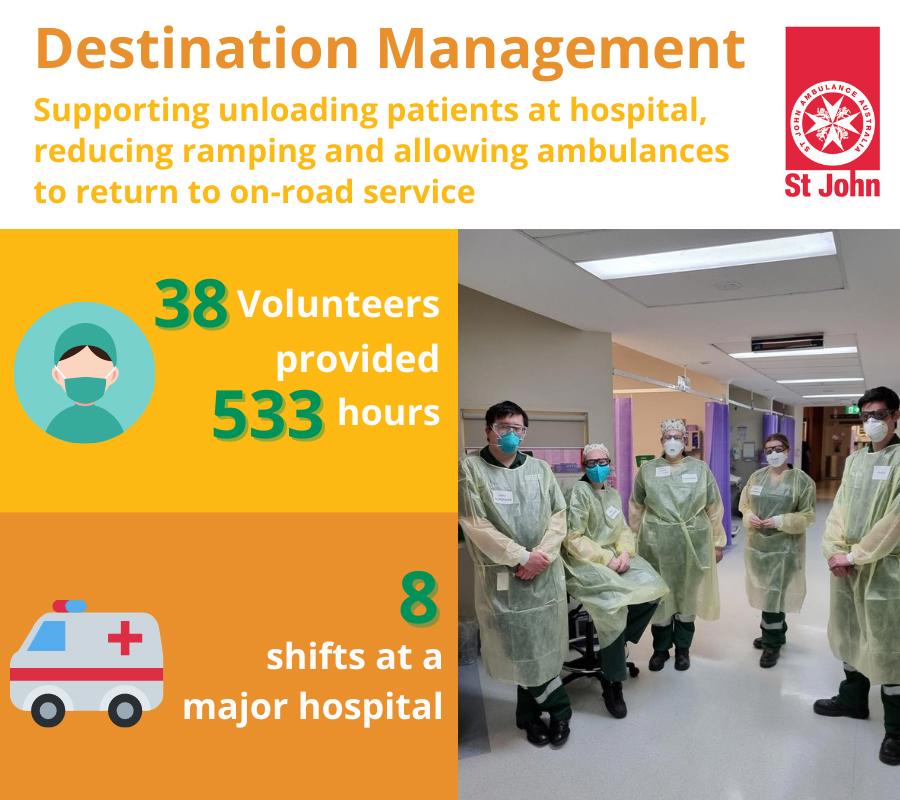 Pop Up Vaccination Sites – Getting More Jabs Into More Arms
With the growing need for Victoria to reach vaccination targets quickly, this required some unique solutions to reach those who may be too busy or unable to get to a larger vaccination site. We worked with the Department of Health to establish mobile vaccination vans from October onwards, staffed with a St John team member, equipped with St John supplies and supported by local GPs to complete jabs. Anywhere from cafes to shopping strips were serviced, with a new venue visited every 4 hours.
Early morning starts, excellent people skills and some problem solving were key to getting many first and second doses into arms, with the public extremely grateful to see us. Over 50 sites have been visited so far, with the program continuing into December and beyond.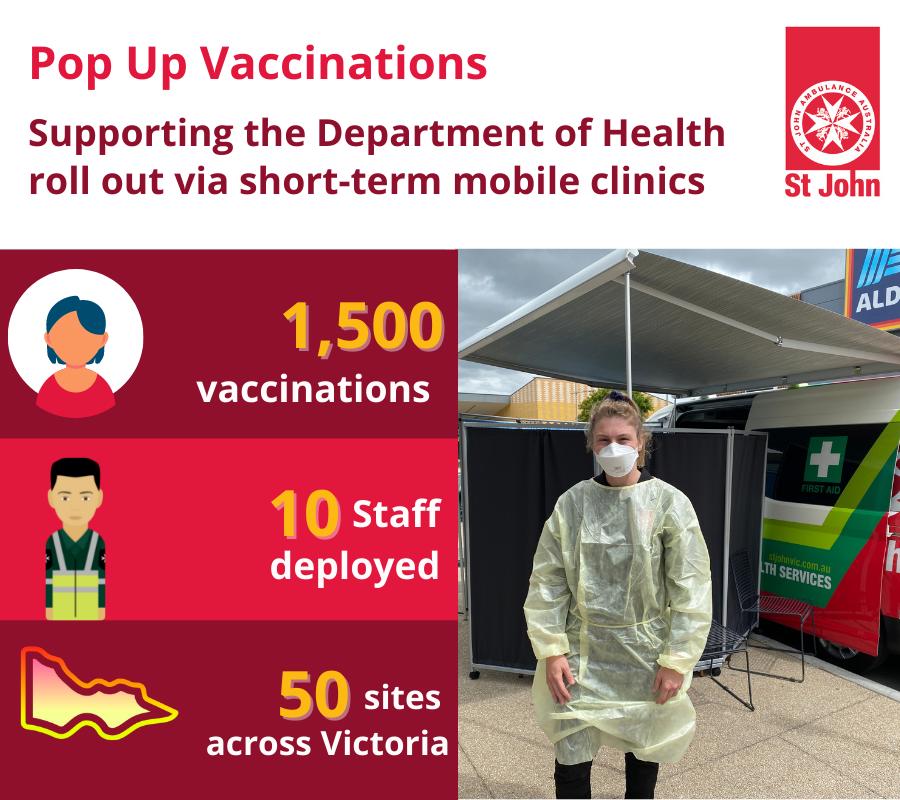 Vaccination Site Supplies – Ready to Go Support
As well as providing staff and vehicles for the pop-up vaccination sites, many more of the longer term yet temporary sites across Victoria needed more than just needles, vaccine and staff – they needed equipment. Without AEDs, wheelchairs, first aid kits, EpiPens, examination tables and privacy screens, vaccinations would not have been able to take place at sites that were never intended for medical use. Thankfully St John Ambulance Victoria maintains a supply of all of this equipment in order to operate thousands of events each year and were able to make it available to over 76 sites. Delivery, coordination and pick up of the equipment for each vaccination site became an impressive logistical exercise for the St John team.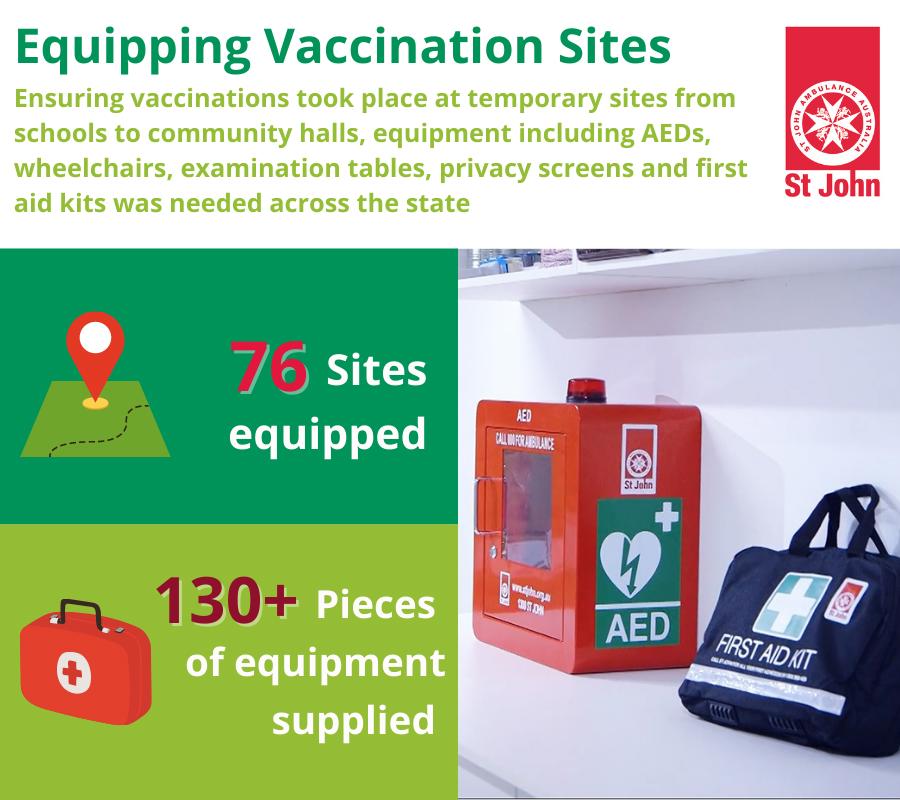 Rapid Antigen Testing Services – Flexible and Fast First Line of Defence
A new product and a new service is never something St John Ambulance have steered away from. With the approval of rapid antigen testing in Australia came both a new product we offered and the health service delivery, as there was requirement for clinical oversight from an AHPRA registered health professional.
After launching in October, St John was overwhelmed with interest from forward thinking organisations who wanted to remain open and operational to staff or patrons and do as safely as possible. Our team have completed everything from fully managed on-site testing at businesses and events, virtual and remote testing via Zoom and a DIY service whereby we trained our customers' staff to conduct the testing themselves.
The service continues to evolve, and the potential for rapid antigen testing to help businesses avoid shutdowns is extraordinary. It has even been used by St John Ambulance Victoria with its own staff to avoid closing important facilities when notified of potential risks.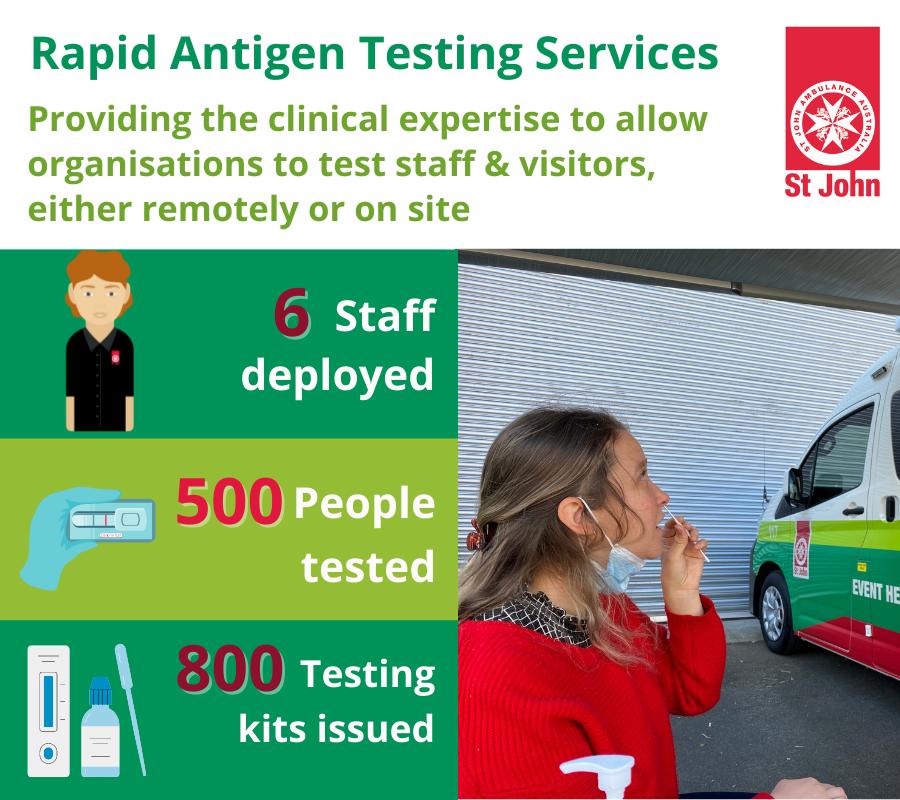 All of this is only some of the outstanding effort St John volunteers and staff have contributed to ensure the state has been able to turn the corner on COVID response. By no means are we finished our work – since 1883 we have been Here for Good, even in the most challenging of circumstances.
Here to support the health response, providing an overflow or surge capacity that is so greatly needed at this time, St John Ambulance is always available to help those in sickness, distress, suffering or danger. It is out global ethos and our hallmark. We thank our staff and volunteers for their selfless dedication to the Service of Humanity – you are all incredible people, and we could not have done it without you!
We also thank our supporters and donors, your assistance and generosity are greatly appreciated and needed as we still receive no government funding supporting our volunteers, our equipment and capacity. If you would like to donate, please visit the link below.
*Note: all figures provided are from January-November 2021