The First Line of Defence
Many organisations are turning to rapid antigen testing to welcome staff and visitors on site, with the peace of mind they have completed a screening.

St John rapid antigen testing services offers TGA approved tests to all organisations large and small so they can maintain operations as safely as possible.
In just 15 minutes, results are available and people can continue with their day.
3 options for rapid antigen testing are available, tailored to your needs
Option 1. Fully Managed Testing Service

Option 2. DIY Testing Service

Option 3. Virtual Remote Testing Service

- St John trained staff at your site throughout testing to process samples and interpret results;

- St John supplies test kits and liaise with your staff;

- St John is responsible for clinical oversight of delivery and results.

- St John trains your staff on how to run rapid antigen testing on your site, how to process samples and interpret results;

- St John supplies test kits and full PPE required to administer tests;

- You are subscribing to clinical oversight from a St John health professional and on-call for support for a monthly fee

-St John Healthcare Professionals supervise your staff being testing virtually at home before they arrive on your site.

-Suitable for smaller, remote or multi-worksites

-Employee receives results after a 15 minute wait.
Reduce the risk of illness, shutdowns and loss of trade with rapid antigen testing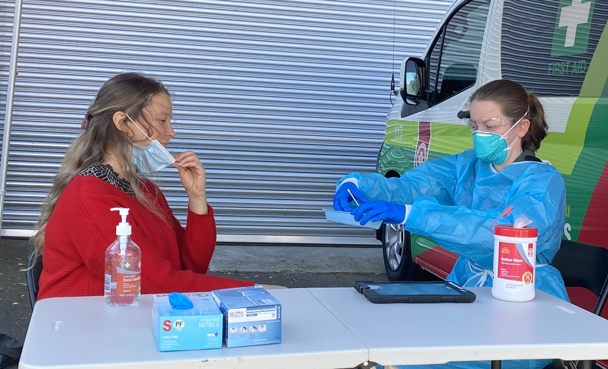 How Does Rapid Antigen Testing Work?
While conventional PCR tests are looking for 'positive' cases, where the individual does have symptoms, they take up to 24 hours to receive results. In contrast, rapid antigen testing seeks to confirm a negative result, where the individual does not have symptoms, with a result in just 15 minutes.
The process is simple to identify COVID-19 in minutes:
Your staff or visitors insert the swab to their own nose, guided by our staff to ensure best placement. They can be at home being supervised remotely via Zoom, inside their vehicles within in a carpark, outdoors or in a large well ventilated entry area – as long as they are outside your main facility.
The swab is handed to our staff to process the sample and interpret test results, or your staff are guided by our health professionals remotely on how to administer
Your staff or visitors wait in their homes, vehicles or outdoors for 15 minutes until results are received
The presence of a negative result allows them to continue entry to the facility
The absence of a negative result triggers your own COVID safe plan and notification of the relevant personnel in your organisation
Ongoing testing at least every 3 days per individual is recommended to ensure best accuracy
Its important to note that Rapid antigen tests are not a replacement for PCR tests, and individuals displaying COVID symptoms (sore throat, etc) must not proceed with a rapid antigen test. The only way to rule out COVID-19 is to have a standard PCR test, even if the individual only has mild symptoms.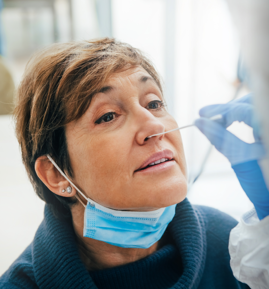 Rapid Antigen Testing Is Ideal For The Following Sites:
Logistics and distribution centres
Construction sites
Manufacturing
Schools and educational facilities
Retail
Large corporate offices
Aged care facilities
As Part Of The Rapid Antigen Testing Service, St John Offers:
AHPRA registered health professional staff for clinical program oversight
Trained staff at your site supporting your people to self-administer swabs OR training of your own staff (eg workplace first aider) to deliver and supervise testing, with on-call support 24/7
Ongoing supply of TGA approved rapid antigen tests in batches of 20 units