At St John, we've implemented industry leading technology that keeps Event Organisers updated with access to real-time reporting on casualty and trend data. This data enables them to better respond, plan and minimise risk at their events.
Our focus is on continual service innovation and improvements that will save lives through First Aid, while continuing to raising the bar in delivering high quality and best value services for our premium customers.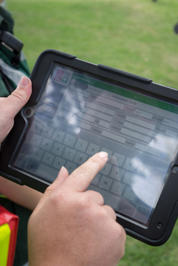 THE ST JOHN CLIENT PORTAL GIVES EVENT ORGANISERS REAL-TIME ACCESS TO:
Casualty data – including patient contact information*
Heat mapping of where casualties are occurring
Trend mapping
Precise GPS location of our responders in the field
*Patient contact information is shared subject to Australian privacy law. For further information on this please contact us.
The St John Client Portal dramatically enhances the quality and timeliness of data available to event organisers. This data can then be filtered and exported into XLS/CSV.
Our use of Electronic Patient Care Records has already assisted many St John clients to improve their event planning processes and communicate more effectively throughout the event, which helps minimise risk, improve response times and provides confidence that patrons are being delivered the highest standard of care.
As the only Event First Aid provider with the capability to capture patient records electronically in the field, you can trust St John to give you access to vital information you need, when you need it.
Benefits of using Electronic Patient Care Records
Electronic Patient Care Records (St John)
Searchable data provided in real-time to Event Organiser and available anytime 24x7
GPS Tracking available in real-time, improving responder time at events
Customisable reporting – if there's a format or dataset you need, we work with you on creating it
Paper Patient Care Records (Other provider)
Paper record cumbersome and inefficient to collate, difficult to read, may take weeks or months to digitise, records potentially lost
No real-time digital tracking, crew locations based on paper maps/radio and slower to respond
Limited reporting ability
Reporting – Where Electronic Records Are Not In Use
St John Ambulance has responded to customer feedback and enhanced event reporting is now available to all community events we attend.
If you require reporting, please advise your First Aid crew on arrival and they will collate copies and provide to you at the conclusion of your event.
No matter what your reporting needs, St John works with you to provide a solution that exceeds your expectations.