St John Ambulance Victoria's Response Capability
30 Apr 2020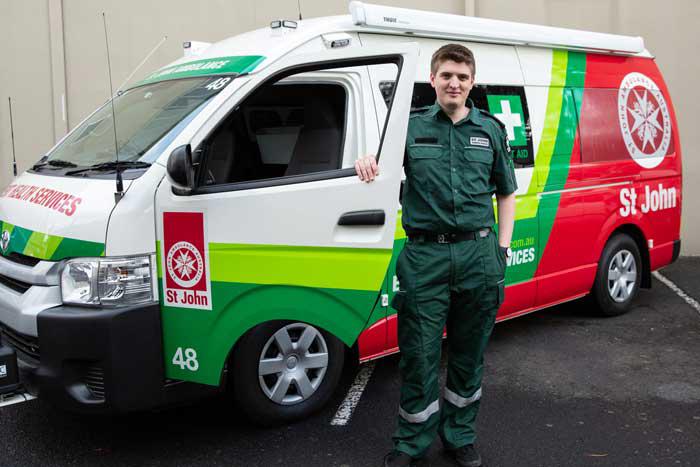 During this time of the COVID-19 pandemic, St John Ambulance Victoria is well prepared throughout our Non-Emergency Patient Transport and Volunteer operations to provide additional support to the Victorian community. Through the State Health Emergency Response Plan, should additional support be required for an emergency response, St John is well placed to provide significant surge capacity and support in other community roles.
The public should be reassured that organisations such as St John and many others have been readying to be available for a range of scenarios. A well-staffed, trained and equipped group of people are dedicated to helping Victorians get through this crisis. The care and health of the public remains at the forefront for St John, in line with our mission 'For the Service of Humanity'.
Our extensive capabilities are outlined below

1. Vehicle Capability
With over 200 vehicles in total, St John has an extensive transport capability. Vehicles that can be used for transporting patients are outlined below.
Non-Emergency Patient Transport Fleet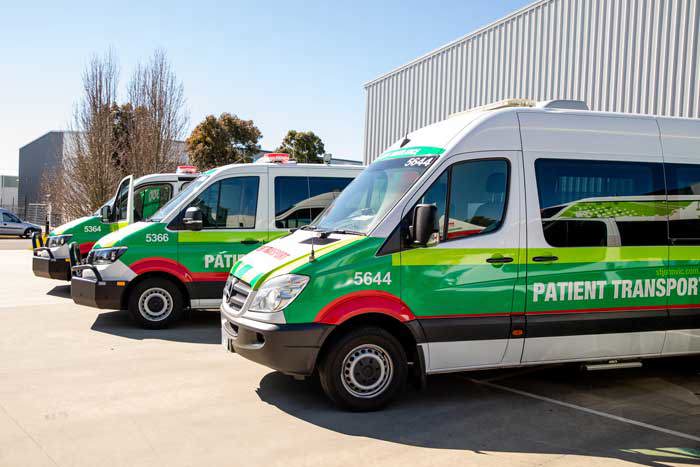 St John's current NEPT Fleet consists of:
41 x single stretcher vehicles (Mercedes Sprinters and Volkswagen Crafters)
16 x dual stretcher vehicles (Mercedes Sprinters, some of which have been removed from service but now available again.
3 x CPAV/Bariatric specific vehicles (Volkswagen/Mercedes Sprinters)
7 x hoist vehicles (Mercedes Sprinters and Volkswagen Crafters)
5 x sedans (Toyota Camry, Toyota Prius)
Event Health Services Fleet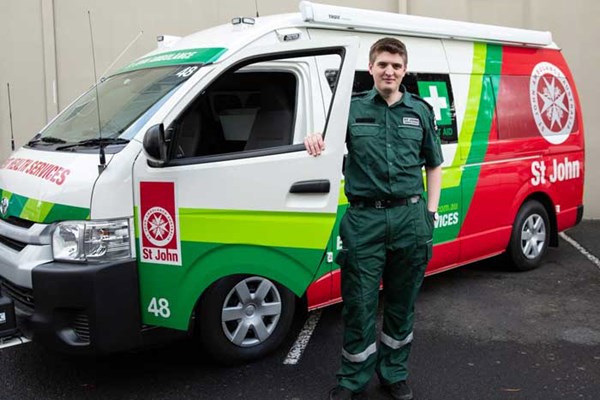 This additional fleet that can be called upon to support the emergency response consists of:
58 x single stretcher vehicles (Toyota Hiaces)
8 x single stretcher 4WD vehicles (Toyota Landcruisers)
15 x sedans
10 x utility vehicles
2. Capability In Our People
St John have over 500 staff across the entire organisation. This includes Non-Emergency Patient Transport staff, as well as First Aid Responders, First Aid Trainers and other skilled staff. Coupled with over 2500 Volunteers, this is a significant team of qualified and passionate people who can respond to assist the community.
Non-Emergency Patient Transport: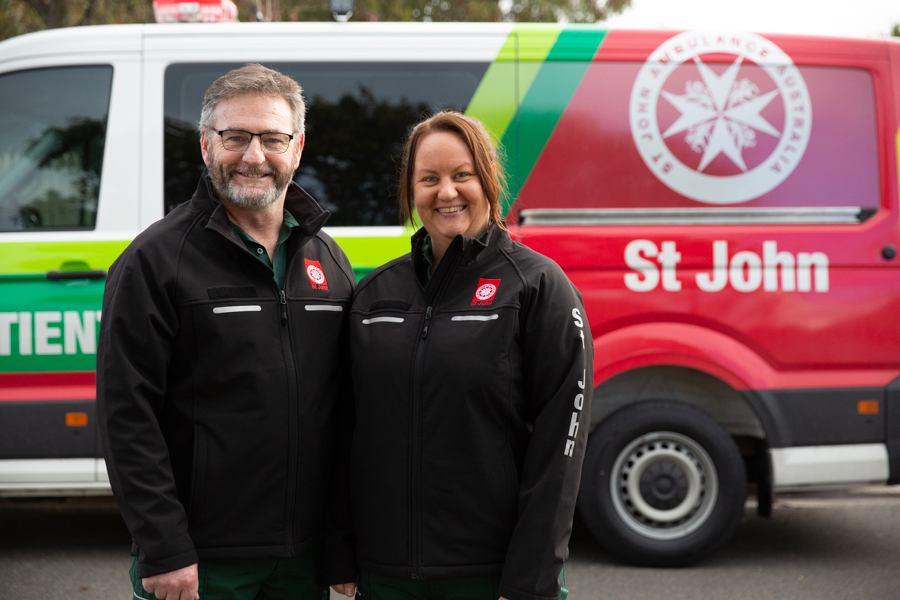 The NEPT team currently consists of:
92 x Ambulance Transport Attendants
177 x Patient Transport Officers
10 x Communications and Administration staff
4 x Clinical Instructors, who required as a minimum 18 of Ambulance Transport attendant experience
Volunteers: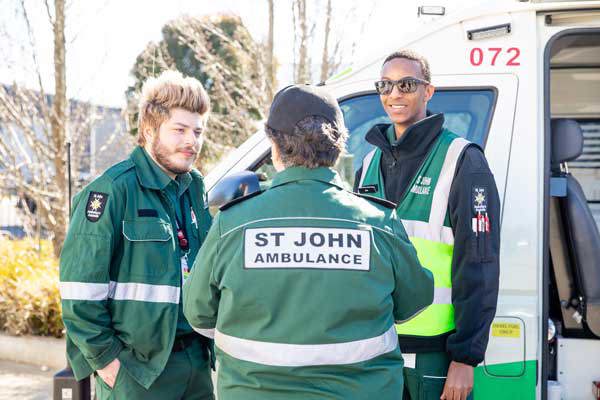 There are 2500+ Volunteers among St John ranks in Victoria alone, 1800 of which would be able to support Ambulance operations. This consists of:
First Aiders: 1950
First Responders: 682
Health Care Professionals:

Enrolled Nurses: 42
Registered Nurses: 105
Paramedics: 45
Doctors: 58
Support Structure:
These people at the front line are supported by back of house network to maintain quality and clinical standards:
Clinical Governance Committee – St John is supported by a committee comprising multiple Health Professionals across various disciplines.
Operations Management Team
Patient Care Development Team
Clinical Audit and Training team
Quality, Risk and Projects Team
3. Equipment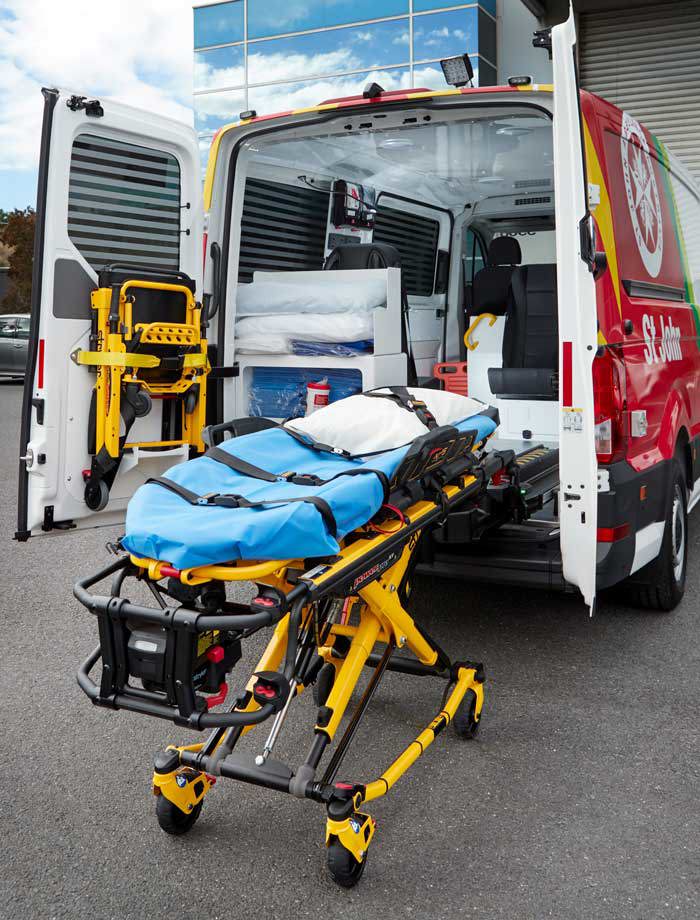 203 Defibrillators
105 Oxygen kits
135 stretchers
117 Carry chairs
24 Spine boards
Licenses and Compliance
DHHS NEPT license St John currently has 49 vehicles licenced to work in NEPT. An application to expand this to over 100 vehicles to allow for additional surge capacity is in progress.
Drugs, poisons and controlled substances Health Services Permits for all NEPT sites are in place.
Child Wise Certified: a child safety accreditation
ISO 9001:2015 quality certification
Public Liability, Professional Indemnity & Product Liability insurance St John has extensive insurance cover including Public Liability, Professional Indemnity and Product Liability. This is because we have a significant retail presence across Victoria with the sale of our branded First Aid and First Responder products
4. Qualifications and Training
More than just first aid qualifications, our people are highly trained and experienced to deliver the highest standards of patient centred care.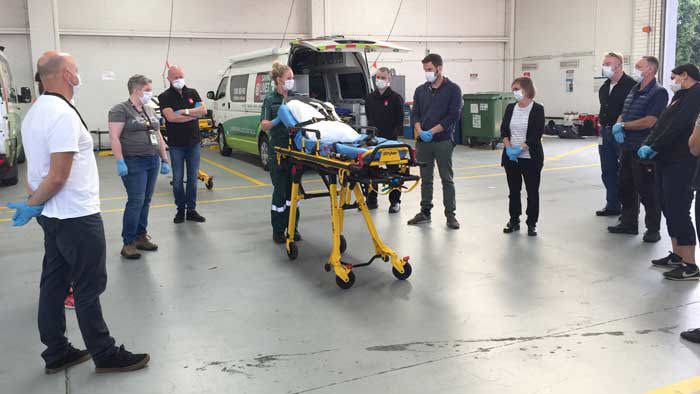 Non-Emergency Patient Transport Training
Ambulance Transport Attendants: must have completed as a minimum the Diploma in Paramedical Sciences, a 12-month intensive course,400 clinically supervised hours, plus the St John NEPT induction.
Patient Transport Officers: must have completed as a minimum the Certificate III Non Emergency Patient Transport, a 6 month intensive course, plus the St John NEPT induction.
Volunteer Training
First Aiders: at a minimum they have a current Provide First Aid qualification (HLTAID003), a full drivers licence, current Working with Children Check and CrimCheck.
FARS/First Responders: must have completed at least 3 months service and 60 hours at 10 events. All First Responders have completed training modules in Advanced First Aid, Advanced Resuscitation, Asthma, Anaphylaxis, Pain Management, Manual Handling & Patient Safety and additional internal professional development.
Infrastructure
St John Ambulance Victoria houses operations in many branches throughout Victoria.
A few key branches are currently operational:
Headquarters – Mount Waverley: includes Emergency Control Centre
Transport Services Branches:
o Notting Hill: includes state of the art Communications Centre running 24/7
o Frankston
o West Melbourne
o East Keilor
o Ballarat
o Geelong
This is supported by 48 Volunteer Divisions across Victoria and a state-wide radio network.
---
St John has a rich 137-year history with origins developing the first ambulance service in Victoria in 1899. We are an organisation with our DNA firmly grounded in emergency response, supporting the community through sickness, distress suffering and danger. We have been there for the Victorian public for decades yet and will continue to serve the community for decades to come following the COVID-19 crisis.