Our Commitment to the Community
10 May 2023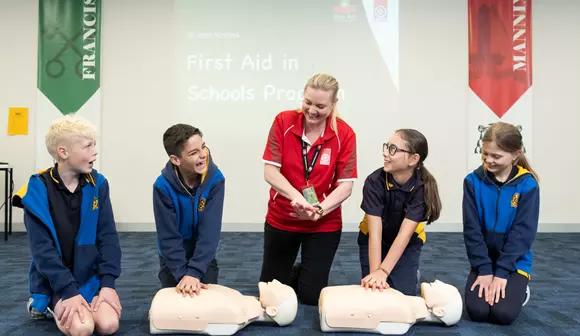 For 140 years, St John has been a reassuring presence in the Victorian community at events and emergencies. Over the years, we have also developed a range of targeted community programs to increase the resilience of at-risk Victorian communities. As part of our continued commitment, we offer four unique programs at no cost to the community. Here's what we have achieved over the last year through our community programs.
First Aid in Schools Reaches 10 Years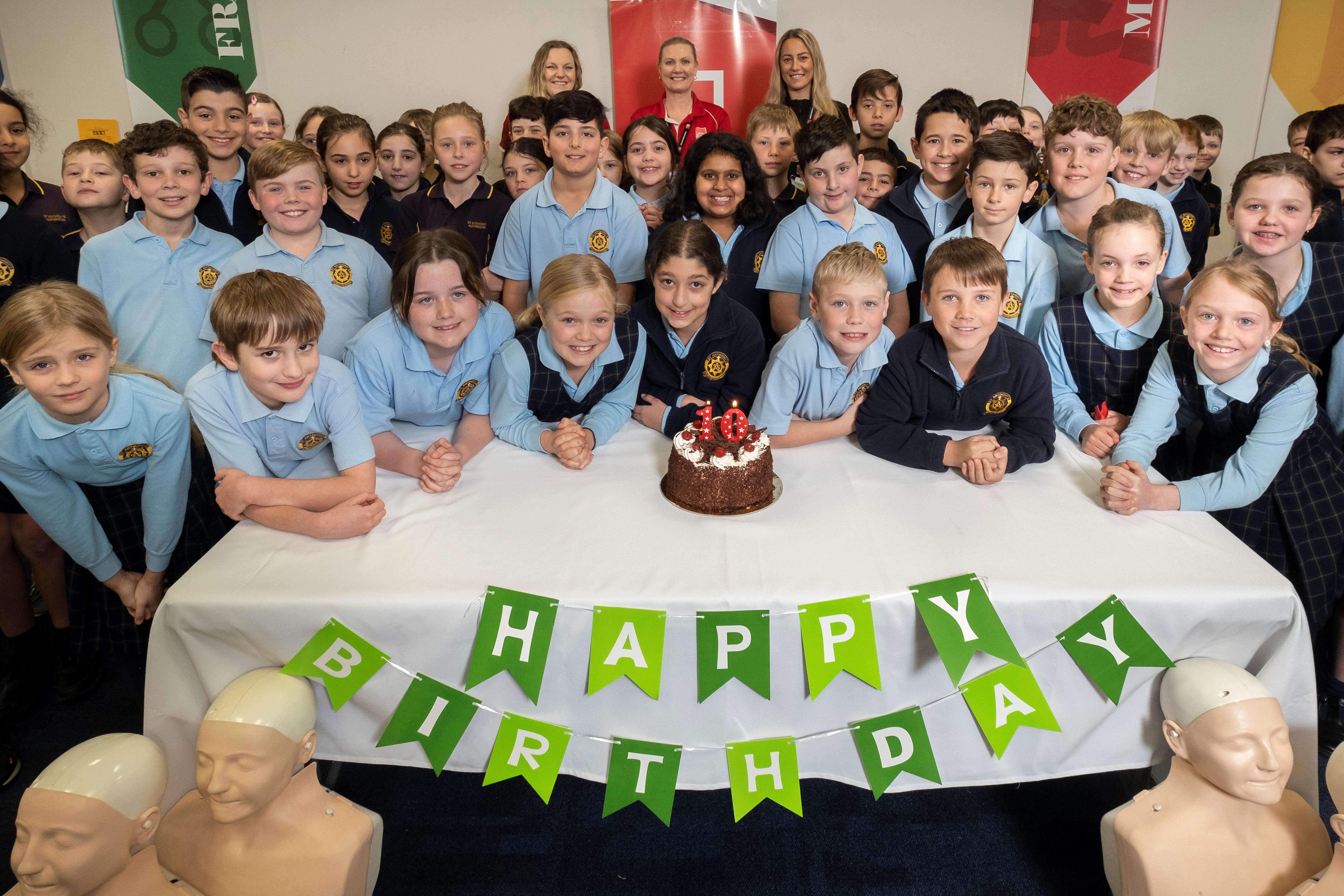 In 2022 we entered the 10th year of operating the First Aid in Schools Program in Victorian primary schools. We were incredibly proud to celebrate this milestone of our earliest community education program, with multiple birthday cakes eaten and many candles lit. Since 2013, St John Ambulance Victoria has equipped nearly 1.3 million students with important First Aid awareness of the basics of first aid knowledge and skills. Importantly, multiple lives have been saved as a result – parents, siblings, grandparents, and friends.
The year saw almost 70,000 Victorian schoolchildren trained for free via the program as we returned to a year without interruptions to our service. Demand from schools was strong and dates booked out rapidly. Many of the improvements to delivery including games and activities that were introduced for online learning found their way into the classroom as we returned to face-to-face delivery. The workforce continues to grow to allow us to return to pre-COVID delivery levels in 2023.
CPR Lab Returns to Popular Demand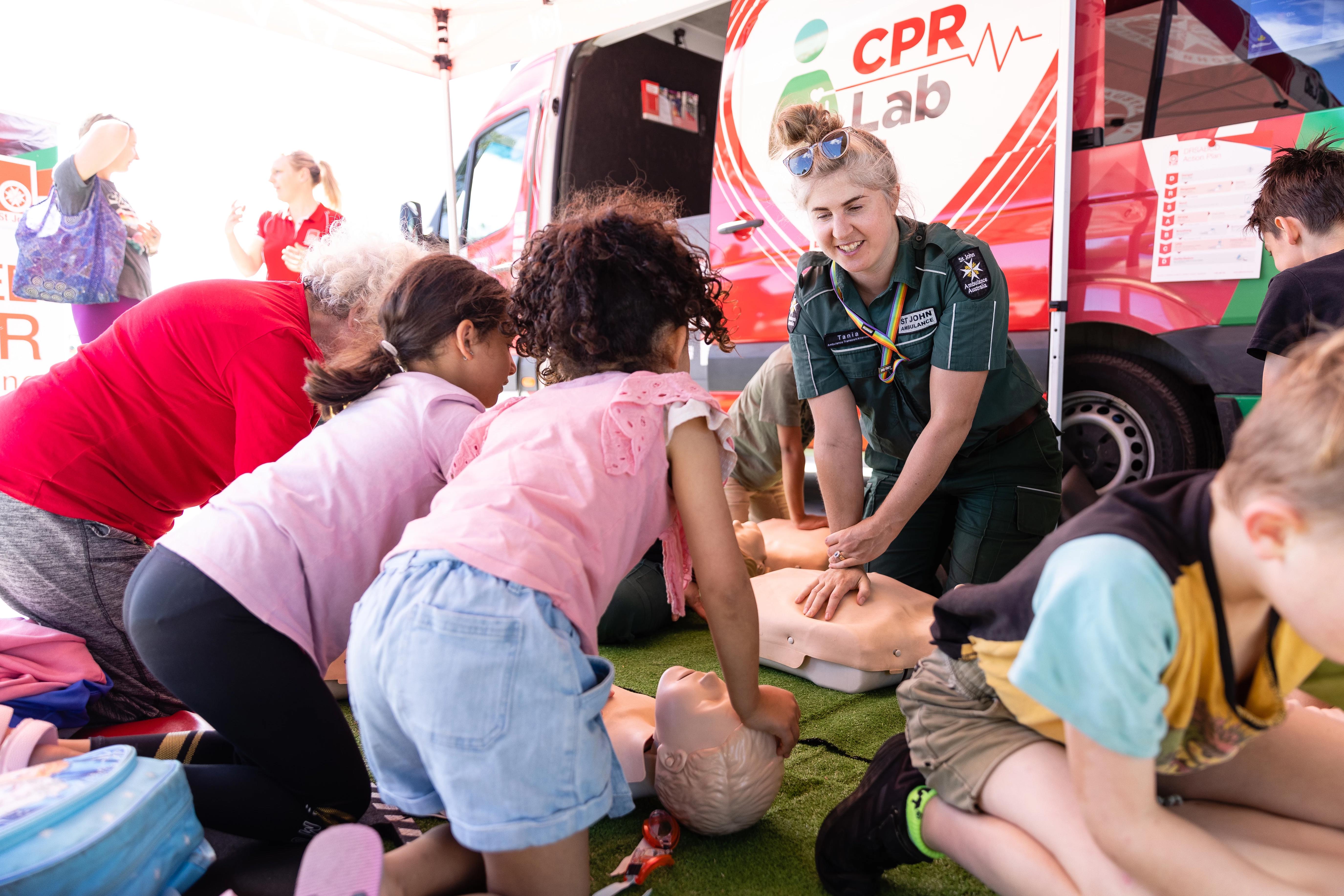 2022 was a unique year for CPR Lab: while many events resumed post-pandemic, a number could not take place due to weather and the floods. Nonetheless, 3,587 adults and children attended CPR Lab sessions across Victoria. In total, we attended 19 events across 28 days, including the Australian Grand Prix, Maroondah Festival, and the Warrnambool Show – the busiest of which was the Good Friday Appeal Kids Day Out, with 830 people learning CPR in just one day!
We have seen strong enquiries into 2023 for the St John Mobile CPR Learning Lab to travels around the state teaching Victorians lifesaving CPR in just 10 minutes. There is no doubt that with the growing incidence of sudden cardiac arrest at almost 7,000 in the last year that the public are looking to St John to provide them with the skills, knowledge, and confidence to respond with CPR in an emergency.
Defib In Your Street – A New Approach to Saving Lives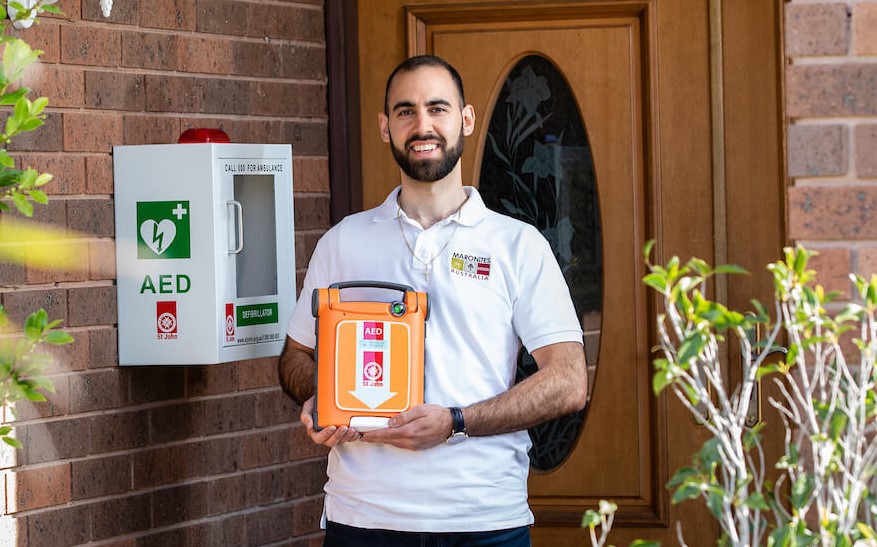 In March, we launched the pilot location for Defib in Your Street, one of two brand new community programs launched in the year by St John.
A first of its kind program, Defib In Your Street was designed with a very focused goal in mind — to empower communities with some of the state's highest rates of out of hospital sudden cardiac arrest (OHCA) to saves lives. This was supported by installing a network of 24/7 publicly accessible defibrillators and providing free training to a large cohort of residents in CPR.
Having identified a top 10 list of Victorian postcodes with a high incidence of sudden cardiac arrest and low prevalence of defibrillators and bystander response, the program began in the northern Melbourne suburb of Reservoir. Before Defib In Your Street launched in March, there were no defibrillators available 24 hours in the entire suburb of over 50,000 residents. By December, we can gladly report that all 29 defibrillators planned for installation were placed at residential homes, public housing estates, community centres and facilities and train stations. Now, 90% of residents in Reservoir are within 400m of a Public Access Defibrillator (PAD) that can be accessed at any time, by anyone. ​
The program has received widespread positive feedback from the local community and wider Victorian public, with many praising the initiative for increasing accessibility to life-saving equipment.
Partnering with La Trobe University to evaluate the program, as well as Ambulance Victoria for ongoing data sharing, will allow us to monitor the short, medium, and long term effectiveness of installing these devices. These important partners will enable us to continue this program into the future by identifying other communities with high rates of OHCA and low rates of bystander intervention.
We are proud to have made a difference in the lives of many through this program and will continue to work towards our goal of increasing accessibility to life-saving equipment in communities across Victoria. We are committed to saving lives and making a positive impact in the communities we serve and will gradually roll out to more locations as greater support and funding emerges. A request was put in to the Victorian government to allow the program to roll out to multiple locations concurrently. Without this support, St John is only able to roll out one suburb at a time, which does not meet the immense community need.
With generous donations from the NewsCorp Australia Staff Donations Fund, Harcourts Foundation, Pellicano, La Trobe University and City of Darebin, we've not only been able to purchase these devices to install but also teach nearly 3,000 residents of Reservoir how to both do CPR and use the defibrillators installed in their local neighbourhood. Thank you to all our supporters.

We're excited for 2023 and, at the time of writing this report, are poised to make an announcement the next location we will bring this life-saving program to.
Party Ready – Keeping Teens Safe at Social Events
With a return to schools and workplaces also comes a return to parties and gatherings. St John had a program in early development stages since 2019, as we were aware of community interest and need for a program to support students in secondary school with age and situation-appropriate skills and knowledge. Party Ready emerged as the solution and was developed and piloted in August 2022 to a bright-eyed group of Year 9 students at Billanook College.
Feedback on the initial sessions was incredible and we were able to visit additional schools in Term 4 to continue refining the program further. 2023 will see the program roll out to a widespread range of schools and locations.
From the basics of planning ahead and watching out for their mates, to CPR and applying a defibrillator, through to mental health assistance and substance overdose, Party Ready will give young people the confidence to de-escalate the immediate situation as well as help them to direct their friends to an appropriate intervention for serious concerns.