5,733 Hours and Counting – A Selfless Story
24 May 2018
In 1992 Allie Ford made a decision to devote her free time to aiding her community with St John. As a teen, the commitment to participating in such a selfless pastime was motivated by friendships she had fostered, she was completely unaware how instrumental this decision would be to becoming the woman she is today.
Allie's journey with St John began in the UK as a youth cadet and steadily progressed into more senior roles as an adult member and chair of her division.
After relocating to Australia in 2001, Allie knew she wanted to continue her journey giving back and joined St John (VIC) soon after. With over 25 years' experience volunteering with St John (VIC) Allie has played an integral role in the success of many events throughout Melbourne.
The presence of St John (VIC) volunteers at events provides reassurance to the community that if a health emergency was to strike; it does not need to end in tragedy.
Allie always hopes that her life-saving First Aid skills will not be required when attending an event. But, there are many members of the community who are eternally grateful that volunteers, like Allie, were around when they were needed most.
"I love being able to play a part in a team that ensures thousands of people safely enjoy themselves on a day out in their community".
With a grand total of 5,733 volunteer hours, Allie takes pride in her work with St John and speaks fondly of the opportunities the organisation has provided her with over the years.
Having labelled herself a 'theatre tragic', nowadays Allie spends most of her volunteer hours providing First Aid at one of Melbourne's most iconic theatres. In fact, she holds the record at St John (VIC) for the most hours served at any one theatre; totalling to 587 hours or 160 shows, 59 of which were completed throughout 2017.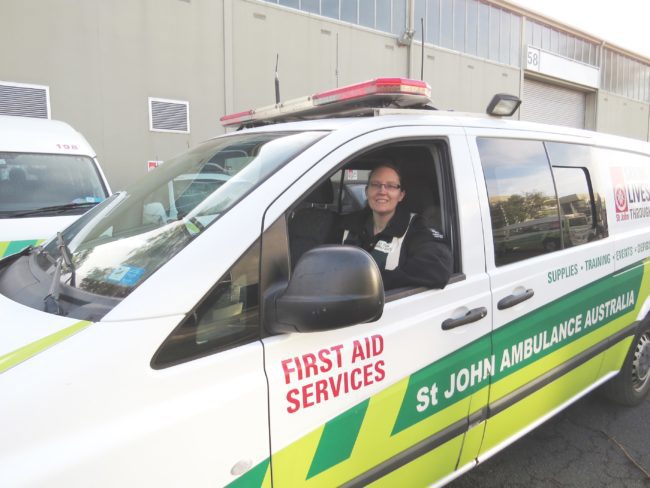 Allie is now a trainer at the Phoenix Division, teaching and developing the skills and readiness of fellow volunteers.
"Being able to help the members of my division develop and meet their personal goals is the most rewarding aspect of volunteering, for me".
As a trainer, Allie has been the cornerstone to the progression and success of many volunteers; some who now have professional careers as nurses, paramedics and doctors.
However, Allie is quick to recommend St John as a platform for anyone wanting to develop professionally and acquire and refine lifelong comprehensive skills.
"St John comprises people of all ages, from many different backgrounds".
"It's a great organisation for developing and sharing skills that are useful in many professions: communication, adaptability, teamwork, leadership and logistics to name a few".
Allie's partner, Richard Ogley, is also a long term St John (VIC) volunteer. The couple find comfort in providing First Aid at events throughout the community and sincerely enjoy giving back.
"The fact we get to spend time together whilst doing something really valuable for the community is just a bonus".
"St John provides so many valuable opportunities to meet people from all walks of life at diverse activities and events".
Almost two decades have passed since Allie began volunteering with St John as a teen. Her volunteer work has become a fundamental component of her identity and is a reflection of her altruistic and caring nature.
"It's a fantastic way to give back to the community".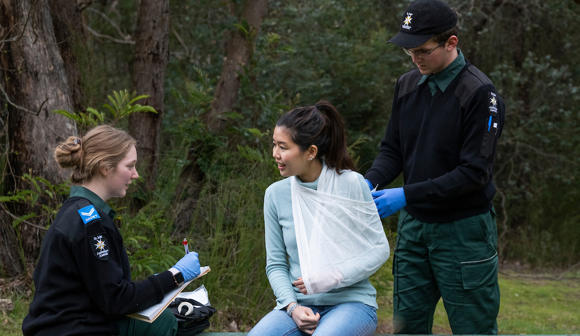 Volunteer with St John
Join our team of dedicated volunteers who provide first aid services at events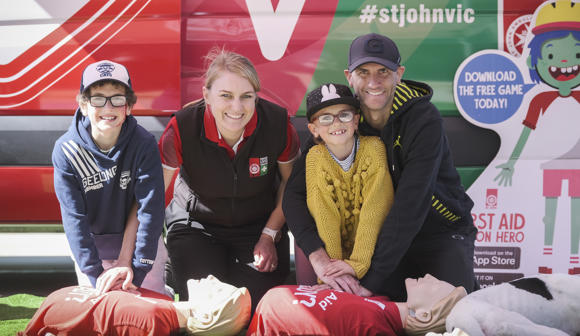 Community Programs
We deliver programs that make a difference and create resilient communities.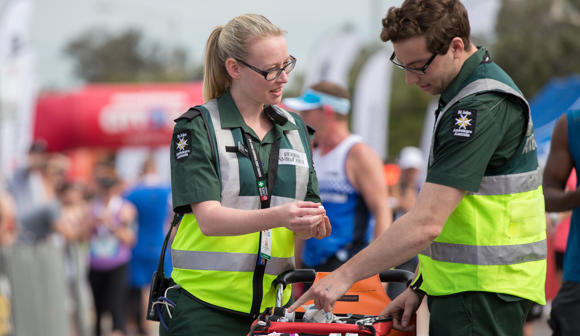 Event Health Services
St John Ambulance is the largest and most comprehensive provider of First Aid & Event Health Services in Victoria.