Temperature Screening During COVID-19
While 80% of COVID-19 patients may only experience mild symptoms, they may display an elevated temperature.
Many workplaces and public sites are now pre-screening staff and customer temperatures prior to entry as a preventative measure.
While we do not provide a COVID-19 test or diagnosis, temperature screenings and health questionnaires are measures your organisation can implement to help restrict unwell individuals from entering the workplace.
With St John trained and qualified staff conducting temperature screening on all incoming individuals, organisations can then make an informed decision whether an employee should be granted or denied access to the workplace.
Depending on your workplace requirements, we can provide:
Screening post staffed by an appropriate number of St John trained and qualified staff
Screening kit includes first aid kit with non-contact infrared forehead thermometers
Staff equipped with the appropriate personal protective equipment (PPE) to enable them to provide the temperature screening service in a safe manner
Staff who conduct a health questionnaire with pre-screening questions
Temperature readings and questionnaire responses can be recorded for retention by the customer
If readings are greater than 37.5°C, employers will be notified
Temperature screening is ideal for the following sites:
Logistics and distribution centres
Retail
Large corporate offices
Aged care facilities
Other healthcare facilities
Temperature Screening
Enquire now to receive a quote and more information about screening in your workplace today.
I would like to pass on my appreciation to your staff who assisted us with our temp testing at Wyndhamvale over the Easter weekend. All staff members who attended the site were professional and helped with any task asked of them, they were polite to all our staff, and I would not hesitate to use them again if required
Tony Green
V/line
Note: Temperature screening is not intended as a form of diagnosis for COVID19
Prefer to do your own screening?
We can provide Temperature Screening Kits which contain all the essential items needed to understake temperature screening at your organisation.
Kit Contains:
Non-contact infrared forehead thermometer
50 pack gloves
50 pack surgical masks
250ml hospital grade ethanol based hand sanitiser
1 pair medical eye goggles
10 pack antiseptic swabs
PLUS every kit purchase comes with our Infection Control eLearning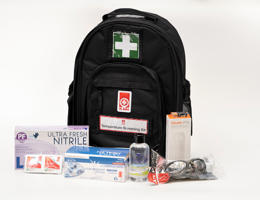 Temperature Screening Kit
Contains all the things you need to conduct temperature screening.