First Aid eLearning Course
This course features videos, quizzes and interactive learning. Either complete this course in one session or complete one topic at a time, your eLearning progress will be saved as you go.
Fully online
Closed captioned
Non accredited bitesize learning
Mobile friendly
Easily completed within 1 hour.
Participants will receive a St John Certificate of Completion.
Who should do this course?
This course is ideal for anyone who might provide first aid but is unsure or concerned about the legal implications of doing so.
---
What do other people think?
This is a necessary component to First Aid. It was well paced and covered the legal issues well.
Rita
Good knowledge to have
Laura
Precise and well presented.
Tooba
Other People Who Do This Course Also Like: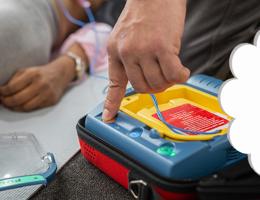 Bitesize Defibrillation
Learn about defibrillators, what they are, how they work and when to use one in this interactive online course.