End of Financial Year First Aid Advice
20 Jun 2019
End of Financial Year is fast approaching and it's important that every business has ticked all the boxes available to benefit their business before tax time arrives.
But far more important than financial savings, End of Financial Year is the ideal time to ensure your business is well placed to save a life. Checking your Kits, Training schedule and Defibrillators means you are as prepared as possible for any emergency.
It's the best time of year to make valuable purchases for your business for two reasons; to maximise on tax incentives and to take your dollar further with end of financial year discounts. If there's something you know your business will need in the next few months, now is always the most cost-effective time to buy.
$30K Business Tax Write Off Explained
Any tax saving is money back in your pocket that you can reinvest to grow your business. So taking advantage of any government incentives makes good business sense.
The Instant asset write-off in Austalia has been increased and extended.
The instant asset write-off now also includes businesses with a turnover from $10 million to less than $50 million. These businesses can claim a deduction of up to $30,000 for the business portion of each asset (new or second hand), purchased and first used or installed ready for use from 7.30pm (AEDT) on 2 April 2019 until 30 June 2020.
The time is now for small businesses to optimise their purchases. This scheme allows businesses to claim an immediate tax deduction for items up to $30K, instead of depreciating over several years.
If you want to improve your businesses tax position, there are some things your business may benefit from purchasing now rather than waiting until after 1 July.
As always, you should consult your own accountant for advice specific to your situation.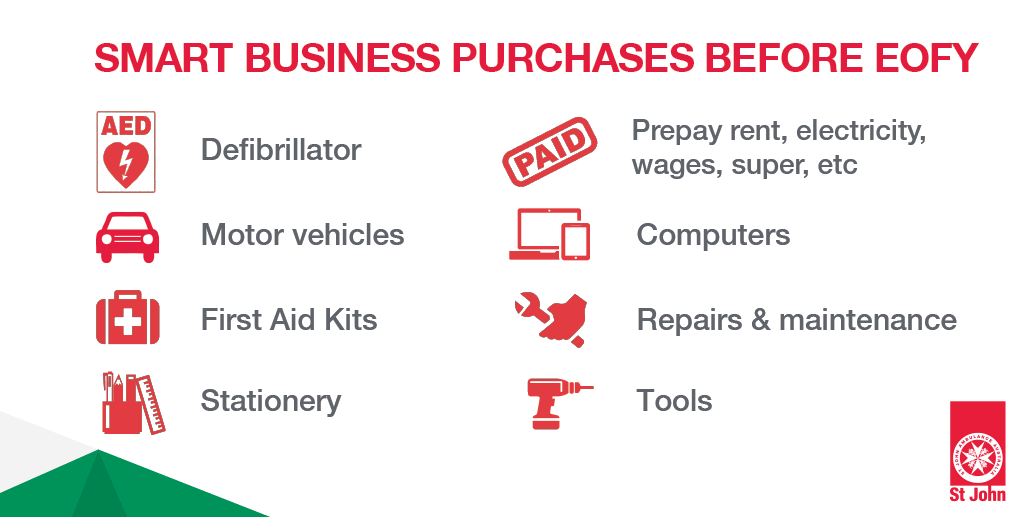 End of Financial Year First Aid Kits
First Aid incidents can occur anywhere, at any time, so it is essential every workplace is always prepared with a fully-equipped First Aid Kit.
As a business it's not just a moral obligation to have a First Aid Kit onsite, it's a regulatory requirement. By following the Worksafe First Aid in the Workplace Compliance Code you are guaranteeing your business is providing optimum safety and upholding its Duty of Care care at all times.
If your workplace does not have a fully stocked First Aid Kit, items need to be replenished, or you don't have enough kits for the size of business, maximise on the end of financial year sales and ensure your business is First Aid ready.
Not sure how many First Aid Kits your workplace needs?  See here for a useful outline: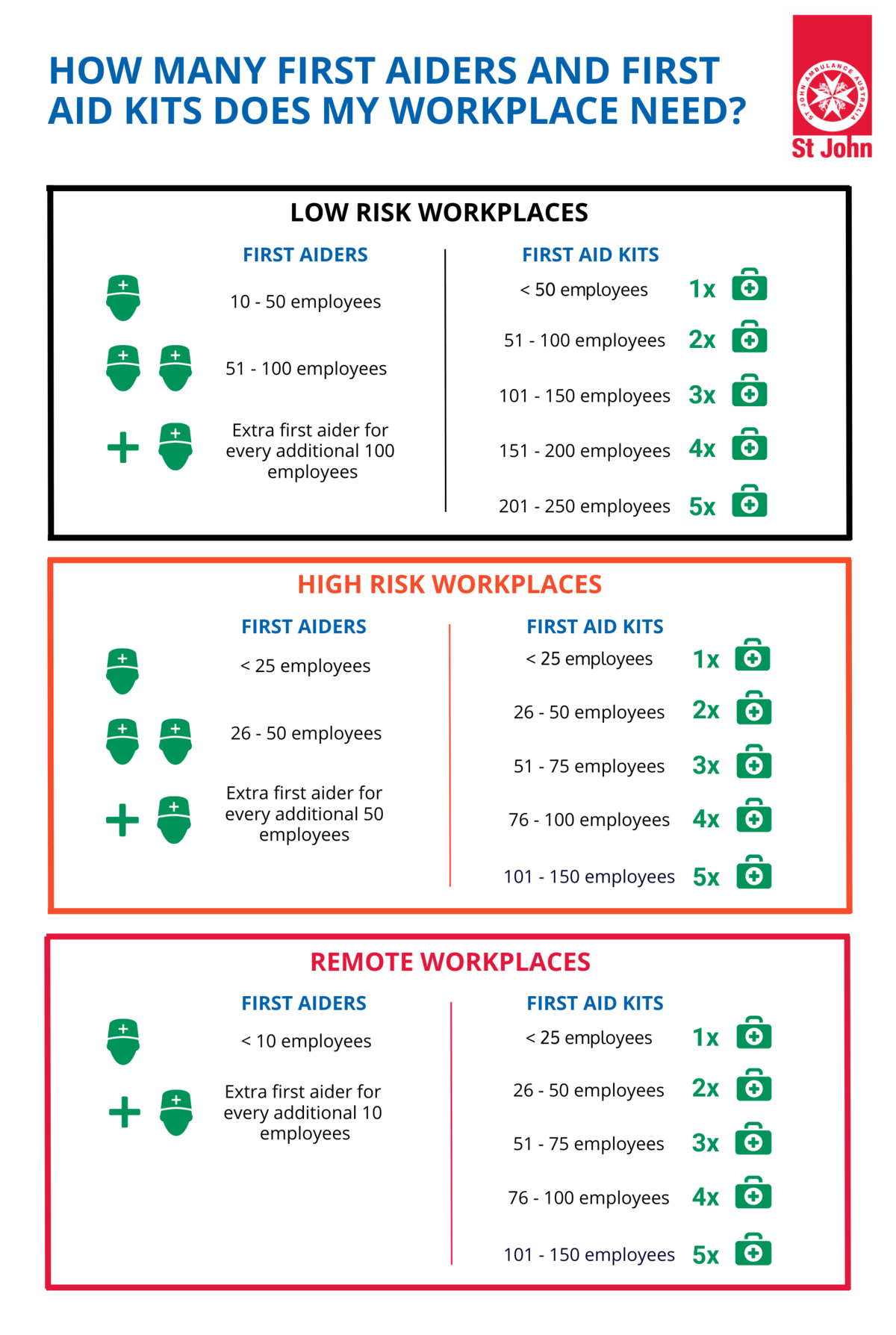 End of Financial Year Defibrillators
With people spending one-third of their lifetime at work, there is a strong chance of a cardiac arrest occurring at the workplace. Defibrillators can be the difference between life and death. If the casualty receives defibrillation within the first few minutes, the chance of survival can increase from 6% to over 70%.
If your business does not have access to a Defibrillator, tax-time is the perfect opportunity for you to ensure your workplace is prepared in a cardiac emergency.
Not only are you enhancing your workplace safety and reducing risk, but if you purchase before the end of financial year your business can allocate the Defibrillator to the $30K Write-Off scheme. The scheme allows small businesses an opportunity to pocket more money at the end of financial year from purchasing much-needed assets such as Defibrillators.
At St John we've put together a very rare offer on a Defibrillator bundle that makes it more affordable than ever to invest in a Defib, see here.
First Aid Training
If you're looking at ways to gain even further deductions, using spare budgets for First Aid training is a wise choice. Take a look at any employees that are due to renew their First Aid courses or staff who are earmarked for a First Aid course and haven't yet booked in. CPR refreshers are due every 12 months and the Provide First Aid certificate is due every 3 years.
---
Businesses need First Aid equipment, trained staff and even Defibrillators, so it makes sense to purchase them at the most cost and tax-effective time. At St John, this happens to be the End Of Financial Year, when we've tailored our offering to make it as easy as possible for businesses to be First Aid ready.
The above information is general in nature and does not take into account your individual circumstances. You should consider whether the information is appropriate to your needs, and where appropriate, seek professional advice from a financial advisor.
PROVIDE FIRST AID
Learn how to manage a range of common first aid scenarios.
MENTAL HEALTH AND CRISIS SUPPORT
Learn how to recognise and support people dealing with a range of common mental health issues.
INFECTION CONTROL ELEARNING
Workplace infection control course completed online within 45 minutes.