Join our team of dedicated volunteers who provide first aid services at events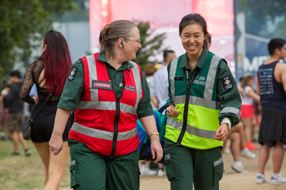 As a St John First Aider, you will be taught to deal with a variety of patient needs from applying a simple band-aid through to performing Cardiopulmonary Resuscitation (CPR). St John provides a comprehensive training program so you do not need any prior knowledge/skills to join.
The steps to becoming a St John First Aider:
1. Complete the online application
2. We require details of two referees, to be contacted for reference checks as part of your volunteer application process.
3. Attend a group information/recruitment session
4. Acquire the Nationally Recognised HLTAID003 Provide First Aid Certificate
- You do not need to have the certificate prior to submitting your application. Once your application is approved for progression we will provide you with access to one of our first aid courses FREE OF CHARGE
- If you already have a valid/current HLTAID003 Provide First Aid qualification you can upload your certificate as part of your online application
5. Submit to a National Police Check – Existing checks will not be recognised, all applicants invited to progress will be expected to submit to a new check, the cost of which will be covered by St John
6. Submit to a Working With Children Check – Existing checks will be recognised, all progressing applicants without an existing check will be required to submit to a new volunteer check
7. Provide a suitable photograph for a unique identity card
8. Attend a one day induction session
Volunteer Development Pathways
Once part of St John you will have the opportunity to explore and experience a range of specialist and leadership roles, the most common roles being;