This free Program is delivered by St John Ambulance, teaching primary school students on the importance of First Aid and what to do in an event of an emergency.
VIRTUAL PROGRAM DELIVERY
UPDATE 26 JUNE 2020:
Due to COVID-19 restrictions, the program will be delivered live via Zoom from Term 3.
Currently, schools who booked the program in Term 2 are being contacted to adapt their booking for the Virtual program in Term 3. These bookings will be preferenced over new bookings, however new booking enquiries will still be taken.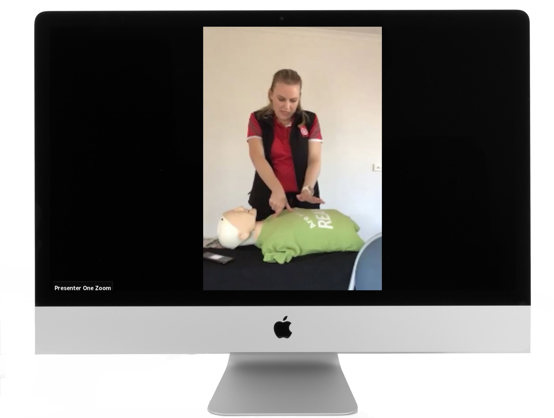 About the Virtual Schools Program
In 2019, The St John Ambulance First Aid in Schools Program delivered free First Aid training to more than 174,000 Victorian Primary School Students at no cost to schools or parents and so far, we have taught more than 1,000,000 children since the program started in 2013.
The knowledge and skills gained in our First Aid in Schools Program will develop First Aid awareness in school children and contribute to building a more resilient community. This learning is age-appropriate and integrates with the Victoria Curriculum F-10.The program has been adapted to suit a Virtual delivery using Zoom technology during the current pandemic, until a time when external visitors will be allowed back into schools.
The program has been adapted to:
Keep students from making contact with each other (they will not be asked to touch other students to practice first aid)
Keep students from touching their own faces
What your school needs to be able to run the Virtual First Aid program
As we use Zoom for 2 way interaction between the First Aid Presenter and students, there are a couple of things your school will need to facilitate this program:
Teachers laptop that can be connected to a larger screen such as a smart whiteboard/TV or data projector, to allow all students to see the presenter clearly
A clear space in front of the screen to allow for students to be seated participate in activities
Able to access Zoom at your school (you are not required to set up a Zoom account)
Note that sessions will not be recorded.
The St John Ambulance First Aid in Schools Program consists of the following groups:
Storytime
30 MINS
Through a storybook, the children will see how Johnny Bear identifies an emergency, puts the Danger, Response and Send for help strategy into action and helps call 000 in an informative session. Students will learn the first aid chant that will help them remember what to do in an emergency. Includes a fun quiz on first aid to get students up and involved.
45 MINS
Students learn how to spot DANGER in an emergency, RESPOND accordingly and SEND for help. They will be guided on what number to call and act out a scenario to get them comfortable calling 000 in real life. Students will play a fun and interactive game as teams compete in the first aid quiz. By the end of the program, students will leave with essential skills and knowledge which they can call upon in an emergency situation.
45 MINS
Following on from the Prep – Grade 2 modules, students will revise 'DRS' which involves assessing for dangers, obtaining a response and calling Triple Zero. The main focus of this module will be demonstrating how to check airway and breathing and how to place a patient into the recovery position. Students will then apply the knowledge they have learnt through an interactive game based on the DRSAB action plan.
45 MINS
Reiterates the learning of standard modules 1 & 2, however incorporates a practical CPR component, guiding students through how to perform CPR and when it is required in a Frist Aid situation. Students will also participate in group problem-solving scenarios based on a variety of first aid situations allowing them to apply their knowledge.

What Schools Are Saying About The Virtual Program
The kids loved it! They had heaps of fun learning the information in an interactive way. It was very well presented. Questions and activities were targeted and engaging for the students. It was also very inclusive for all students of all abilities.
Sam Wight, Year 2 Primary Teacher
Alamanda K-9 College